The 5 best cities for starting your career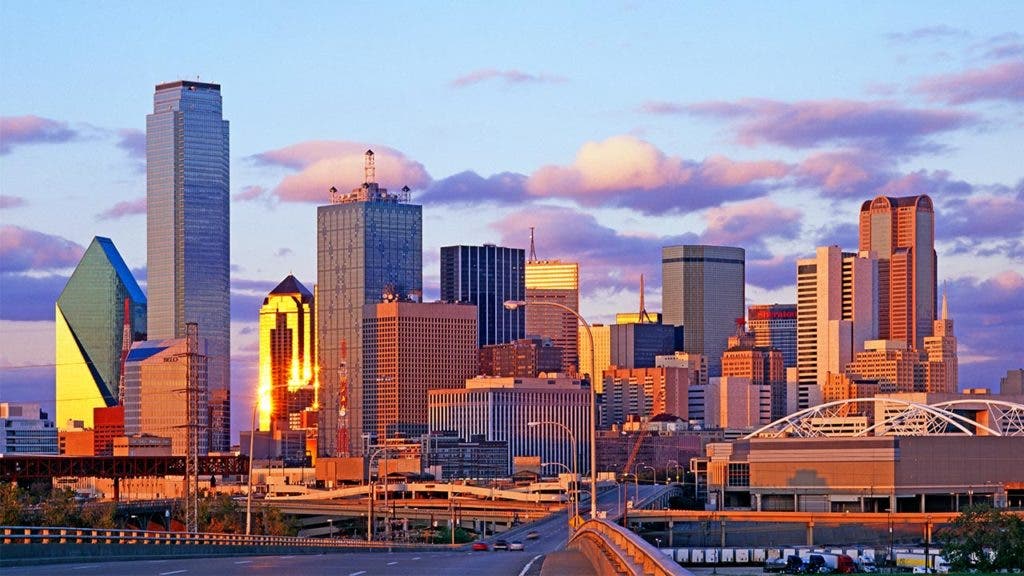 Just graduated?
Welcome to the real world, full of major decisions to make your head spin (or eat your weight in comfort food, whichever comes first). No pressure or anything, but one of the biggest choices you'll have to make comes immediately after you've popped the last of that grad champagne.
It's where you'll start your career as a fresh-faced worker.
While Netflix sitcoms and blockbuster rom coms might have you thinking that being successful means working in an (expensive) big city with shiny lights and towering skyscrapers, an analysis from Bankrate found some of the best cities for launching your career are hidden gems, nestled in the middle of the country.
And know what's so cool about this list? It takes into account more than just employment opportunities, because your life shouldn't be all work and no play. The analysis also includes affordability and lifestyle factors (including REAL IMPORTANT STUFF like bars per 1,000 residents and the share of 22- to 26-year-olds in the local population) and career potential.
Here are the top five cities for launching a career, according to Bankrate.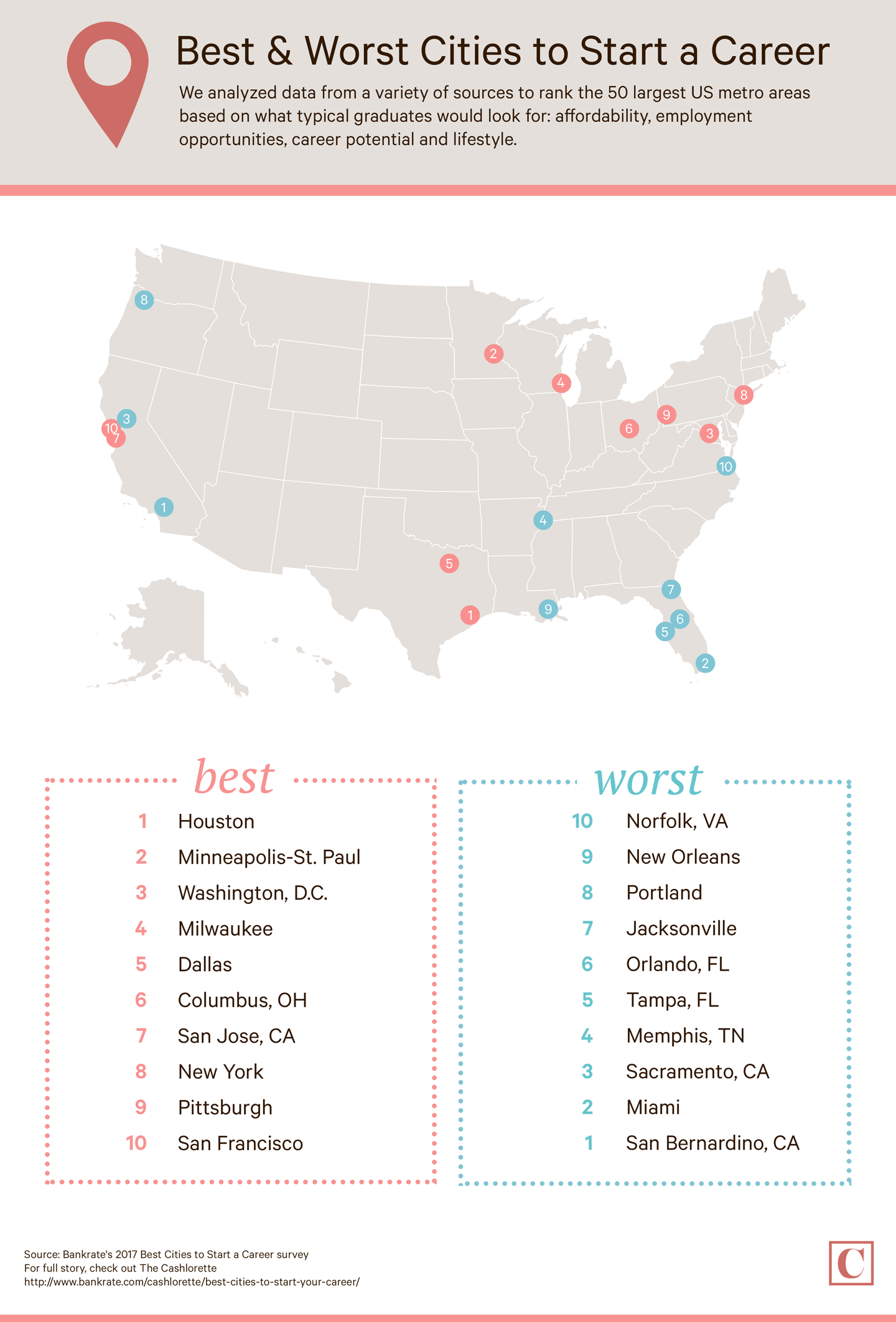 1. Houston
The city that's really sizzling for recent college grads? Houston.
With a metro area population estimated at around 6.7 million, this bustling city touts median full-time pay for recent college grads (ages 22 to 26) of $43,500 a year.
Houston's affordability is on point, with the median rent eating up only 22.7 percent of a new grad's income, one of the lowest among the nation's 50 largest metros. (YASSS!). With better-than-average pay and lower rents, you have no excuse: Start saving!
Plus, if you're swiping through Bumble BFF, you'll likely find that bestie you're looking for: Houston's share of 22- to 26-year-olds in the population is a higher-than-average 7.2 percent.
2. Minneapolis-St. Paul
The Twin Cities are seriously winning (twinning?) for recent college grads.
In Minneapolis-St. Paul, a whopping 88 percent of people ages 22 to 26 are employed, versus an average of 81 percent across the 50 biggest metro areas! If you're a new grad, your rent typically will gobble up only 29 percent of your income, and you can use that cash instead on happy hour. There are 11 bars per 100,000 residents in the metro area.
3. Washington D.C.
Capitol Hill might be a bit cray right now, but Washington, D.C. is actually a booming place to launch your career, and it clutches the third spot on Bankrate's list.
The playground for politics offers a median income of $45,000 for recent college grads, plus a good amount of arts (free Smithsonian museums!), entertainment and recreational establishments to keep you busy when you're done with the workday. One popular D.C. spot even offers up pizza slices the size of your face, if that's your thing.
4. Milwaukee
Turns out, you can make some major money in Milwaukee, especially if you're a recent college graduate. The median full-time annual pay for recent college grads is $38,000, and the city touts major affordability, with the median rent taking up only 22.7 percent of a new grad's income. Compare that to 43.7 percent in California's Silicon Valley.
And it's Milwaukee, so you know you'll get some good brews! There's a whopping 32 bars for every 100,000 people living in the city, versus an average 12.4 percent for the 50 top metros. Be sure to put yourself on a budget when it comes to all that Milwaukee brew.
5. Dallas
Everything's bigger in Texas, right? Apparently, even career potential. Another Texas city nabs a spot in Bankrate's top five: Dallas.
The Dallas metro area has a lively population of 7.1 million and better-than-average 81.9 percent employment among 22- to 26-year-olds. The local "friend factor" also is super solid, with people in that young adult age group making up 7 percent of the population.
Looking for advice on starting your career or just living the luxe life for less? Follow The Cashlorette on Facebook!
Methodology: To come up with the ranking, we analyzed data from Georgetown University's Center on Education and the Workforce, the U.S. Census, the Bureau of Labor Statistics, Gallup-Healthways Community Well-Being Index and the Council for Community and Economic Research to score each of the 50 largest US metro areas on a 50-point scale.