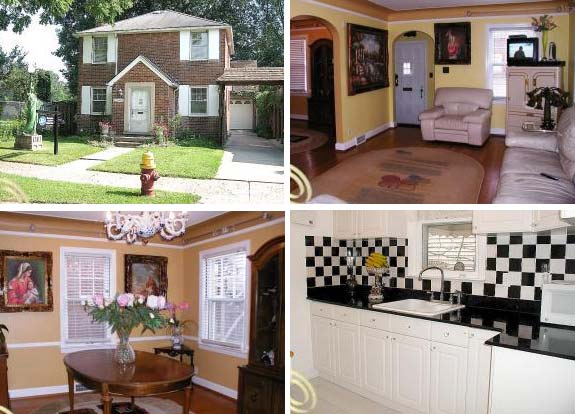 See other median home buys in other cities:
Detroit metro area median home price: $66,500.
The market for homes in Detroit "has been hit really hard with short sales and foreclosures," says Deitra J. McBryde, president of the Detroit Association of Realtors.
But with manufacturing — especially the auto industry — gearing up, this is a city that is bouncing back, she says.
Asking price: $69,000.
A three-bedroom brick house in Detroit.
Metro median price: $66,500.*
Amenities

3 bedrooms, 2 ½ bathrooms.

1,200 square feet.

0.09 acre.
Features

Hardwood floors and crown molding throughout.

Modern kitchen with granite counters and tile floors.

Detached two-car garage with guest suite.
Listed by: Real Estate One (West Bloomfield).
See typical homes in these cities
Back to main story
In Detroit proper, for a bit more than $66,000, buyers can pick up a two- or three-bedroom condo — perhaps even something on the waterfront — built anywhere from the 1920s to the 1970s, McBryde says.
"A lot of them were built in the 1930s," she says. "You can see all the old architecture. A lot of the homeowners have put in stainless-steel (appliances) and granite — they've updated their condos." Many of those will be foreclosures or short sales, she says.
Detroit's suburbs offer a mix of options. Often the homes are from the 1960s and '70s, she says. And depending on what you want, the condition and where it is, the median price will buy anywhere from 1,300 to 2,000 square feet. While the homes at that price won't be fixer-uppers, they likely will need some updating, she says.
*Source: National Association of Realtors, fall 2011.