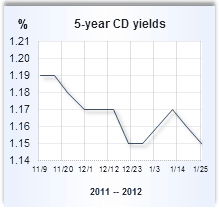 Interest Rate Roundup
Compare
CD rates
nationally and in your area.
CDs
0.34% (1-year CD yields)
1.15% (5-year CD yields)
CD rates shifted down slightly in this week's rate survey.
The average one-year CD yield was 0.34 percent for the sixth week. The average five-year yield fell 1 basis point to 1.15 percent. A basis point is one-hundredth of 1 percentage point.
For deposits of $100,000, the average one-year jumbo CD yield was down 1 basis point to 0.36 percent. The yield on a five-year jumbo CD was down 2 basis points to 1.17 percent.
The average money market account yield was 0.13 percent for the sixth week.