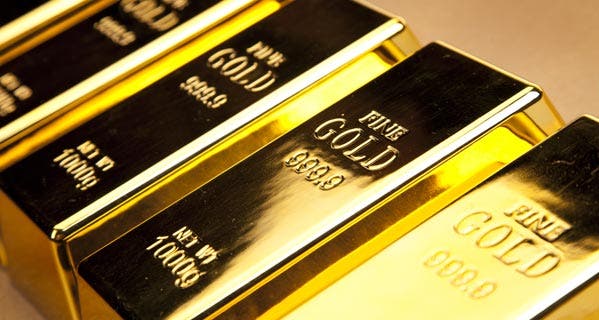 As the acute phase of the global financial crisis recedes into memory, the price of gold is dropping. Besides the falling demand for gold, other economic forces are pushing prices lower, including the strengthening dollar and the plummeting price of oil.
Gold prices are down 40 percent from the high in 2011 to 2012, according to Adrian Ash, head of research at BullionVault, a peer-to-peer gold and silver bullion exchange.
Now that fears have largely abated and the price of gold appears to be coming back to Earth, what's the allure of gold for investors?
"I think the key lesson is that gold is a useful balancing item. If you have a standard 60 (percent equities)-40 (percent bonds) model portfolio, adding gold would have reduced your risk without harming your return," Ash says.
Asset allocation
There are many theories about how investors can best spread their investing dollars around to get the best return at the lowest level of risk. The future may not look like the past; so many investors try to spread money to as many asset classes as possible. The proportions are based on individual goals and risk tolerance. For instance, someone in their 20s might go all into equities, investing in large, mid-cap and small-cap stocks in the U.S. and around the world. Another person, on the cusp of retirement, could go the other way, minimizing their exposure to stocks while maintaining a large allocation to various types of bonds.
Some asset classes experience wide swings in price. Investors expect to be rewarded for taking on greater risk by investing in more volatile asset classes, such as small caps. The price of gold, on the other hand, has historically been fairly flat for long periods of time. During periods of fear, the price spikes and then plummets on the whims of investors.
The fact that the price of gold is typically not correlated with stocks and bonds actually works in its favor.
"If you put, say, 10 percent of money in gold bullion, it works as a way of smoothing returns on other more typically productive assets," Ash says.
The table below shows the impact of adding gold to a portfolio. "Over five years, the average return without gold in a portfolio split 60-40 between stocks and bonds would have been about 11.5 percent. If you had added 10 percent gold, it would have gone down to 11.1 percent," Ash says.
The impact of gold on a standard 60-40 model portfolio

Worst performance
No gold
10% gold
25% gold
Worst 1 year (2008)
-13.97%
-12.23%
-9.62%
Worst 5 years (annualized rate)
2.55%
3.23%
3.92%
Compound annual rate
No gold
10% gold
25% gold
1975-2014
10.68%
10.39%
9.82%
Last 20 years
9.18%
9.04%
8.77%
Average 5 years (annualized rate)
11.48%
11.11%
9.53%
Source: BullionVault 2014
Adding gold to a portfolio isn't the only way to hedge your bets. Some experts caution that the valuation of gold is too capricious to include it in an investment portfolio. After all, gold offers no cash flows and is priced on sentiment.
What do you think?
Get more Investing News with our free weekly newsletter.
Follow me on Twitter @SheynaSteiner
***
Senior investing reporter Sheyna Steiner is a co-author of "Future Millionaires' Guidebook," an e-book written by Bankrate editors and reporters. It's available at all the major e-book retailers.