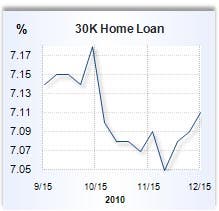 Interest Rate Roundup
Home Equity
5.51% (line of credit)
7.11% (loan)
Here's a look at the state of home equity rates from Bankrate.com's weekly national survey of large banks and thrifts conducted Dec. 15, 2010.
Mortgage rates have risen sharply in recent weeks, but loans based on home equity were little changed in the latest Bankrate survey.
The survey found that the average home equity loan rose 2 basis points, to 7.11 percent.
Meanwhile, loans known as a home equity line of credit, or HELOC, were also up 2 basis points, to 5.51 percent.
To find the best home equity loan rates in your area, check Bankrate's interactive tool.
See all home equity loan rates content.
— Gregg Fields