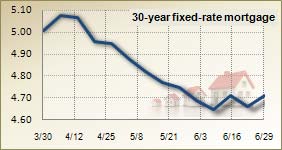 Mortgage rates jumped this week as investors put aside their concerns about a potential Greek debt default and became somewhat more confident in the U.S. housing market.
The benchmark 30-year fixed-rate mortgage rose 5 basis points this week, to 4.71 percent, according to the Bankrate.com national survey of large lenders. A basis point is one-hundredth of 1 percentage point. The mortgages in this week's survey had an average total of 0.43 discount and origination points. One year ago, the mortgage index was 4.75 percent; four weeks ago, it was 4.69 percent.
The benchmark 15-year fixed-rate mortgage rose 3 basis points, to 3.86 percent. The benchmark 5/1 adjustable-rate mortgage rose 9 basis points, to 3.45 percent.
Greece's debt workout
The spike was largely influenced by a set of austerity measures the Greek parliament approved Wednesday in an effort to avoid default by paving the way for Greece to receive additional rescue funds.
"Greece is probably going to have a bigger impact (on mortgage rates) than you might think," says John Stearns, a mortgage banker at American Fidelity Mortgage Services in Mequon, Wis.
Weekly national mortgage survey
Results of Bankrate.com's June 29, 2011, weekly national survey of large lenders and the effect on monthly payments for a $165,000 loan:
The reason a country about the size of Alabama has had such a big impact on U.S. mortgage rates lately is that investors feared the Greek crisis could spread to other countries including Portugal, Spain and Italy. The concern had kept many investors away from the riskier foreign bond market and created a larger demand for U.S. Treasury bonds. Because of the higher demand, U.S. bond yields declined and helped keep mortgage rates low.
But now that investors seem to think the Greek debt issue is being worked out, rates have started rising, says Michael Becker of Happy Mortgage in Lutherville, Md.
However, Becker says rates won't remain high. Once investors begin to digest this week's news they'll realize that Greece is delaying the inevitable.
"Do you really think kicking down the can is the way to solve Greece's problem?" Becker asks. "The risk is still there."
Bad economy helps rates
And even if investors remain confident about Greece's debt workout, Becker says the fragile economy will help hold rates down.
"We are still dealing with an incredibly weak economy," he says.
Stearns expects rates might rise in the short term but doesn't foresee a big spike beyond an eighth of a percentage point.
"There are still too many negative factors out there," he says. "(The lack of) jobs is No. 1."
Slightly better signs for housing
While most economic reports still point to a stalled economy, a couple of housing reports released this week offered hope that home prices may be close to bottom.
Home prices rose for the first time in eight months, according to the Standard & Poor's/Case-Shiller Home Price Index. The 20-city composite index increased 0.8 percent in April compared to March.
That's a small gain considering that prices are still at 2003 levels and about 4 percent lower than prices a year earlier.
"That helps, but it's not exactly huge," Stearns says.
Pending home sales increased 8.2 percent in May, according to a report released Wednesday by the National Association of Realtors. That represents a rebound from a slow month of sales in April and is the first time since April 2010 that the number was above the previous year's levels.
"Absorption of inventory is the key to price improvement, and this solid gain in contract signings implies that home values in many localities are or will soon be stabilizing as inventories get absorbed at a faster pace," says Lawrence Yun, chief economist at NAR.
That's still not good enough, says Becker.
"Unemployment claims are still over 400,000," he says. "Until that improves, I don't think we are going to see much higher rates."