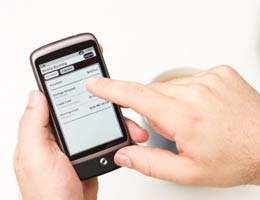 How to go mobile
There are risks when sending and receiving banking information on your mobile phone. However, the potential dangers come with powerful possibilities.
From transferring money to depositing your checks via your phone's camera to making on-time, on-the-go payments, financial institutions continue to unveil new ways to use mobile banking tools.
If you are looking to take advantage of the convenience of mobile banking, here are six steps to put your bank in your pocket.
Learn your bank's locking system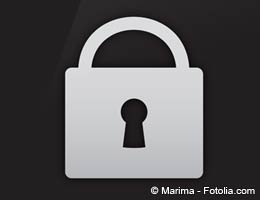 As you browse your bank's mobile banking terms, you will probably read a disclaimer about keeping your information protected through encryption. The science of encryption operates like a key that unlocks the door to your sensitive information, says Andrew Hoog, chief investigative officer at viaForensics, a Chicago-based digital security company.
"The longer the key, the more difficult it is to break the protection," Hoog says.
A 40-bit encryption can provide a low level of information security, so Hoog advises account holders to make sure their banks offer a minimum 128-bit encryption to make picking that lock more challenging for thieves.
Give yourself a text trial period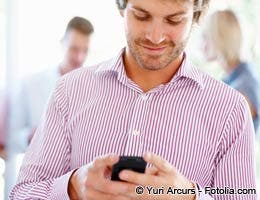 If downloading mobile banking apps doesn't appeal to you just yet, start by talking to your bank the same way you talk to your friends, via text messaging.
"Text banking allows customers to get quick snapshots of their account balances and recent transactions," says Tom Trebilcock, vice president of e-business and payments at Pittsburgh-based PNC Financial Services Group.
While texting can warn you of low balances and provide you with banking updates, Trebilcock says texting does not allow customers to make transactions and is for data exchange only.
Still, texting with your bank can provide an introduction to the convenience of managing your finances while you're on the move.
Deanna Maas, chief administrative officer at ViewPoint Bank in Plano, Texas, says the bank's mobile capabilities give customers the option for weekly balance updates and notifications if their balances fall below a certain amount. This first step includes relatively low security risks.
"It's important to note that text messages will never contain confidential information about you or your accounts, and messages will never contain full account numbers," Maas says.
Take a smart shopping trip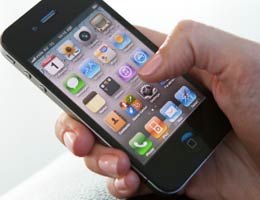 Once you have grown accustomed to texting with your bank, you can begin to explore other mobile banking services.
Some smartphones include remote wipe or erase protection, which allows a user to remove information from a mobile device if the phone is lost or stolen. Hoog says other phones may include even bigger hurdles for thieves such as fingerprint identification systems.
While finding a phone with additional security features can be helpful, finding apps that adequately protect your information is equally essential.
Hoog says an app that only requires a user name and password can be relatively easy to unlock if your phone falls into the wrong hands. He advises mobile banking customers to look for applications that use two-factor authentication, which means the app will ask for an additional piece of information before allowing you to log in.
Compare the possibilities and the fees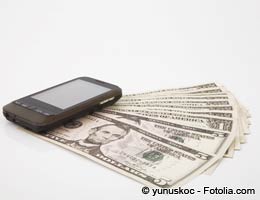 Most mobile banking programs are free, but the potential for fees does exist, says Greg McBride, CFA and Bankrate's senior financial analyst.
If you plan to bank with your smartphone, McBride advises shopping for a bank that offers a combination of functional mobile tools with competitive pricing.
McBride says banking customers who want the best package of technology and price will most likely turn to the biggest banks in the near future.
"The larger banks have the scale to absorb the upfront costs of research and development," McBride says. "As the price of technology declines, smaller banks will be able to offer the same product."
The spread of technology appears to be occurring rapidly. With more local and regional banks beginning to offer some type of mobile banking capabilities, banking customers can compare the service offerings at a range of banks to find features that fit their needs.
Power up, but keep yourself protected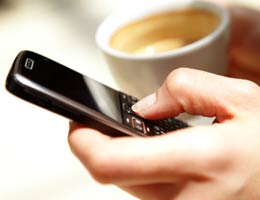 Once you're ready to begin making payments, transferring funds and conducting your day-to-day banking activities via your mobile phone, security still needs to be a top priority.
Mike Benardo, chief of cyber fraud and financial crimes for the Federal Deposit Insurance Corp., says mobile banking users should take the same security precautions they would when conducting online banking activities such as only visiting trusted websites.
And, you will want to use a trusted connection to get to those websites. "Be aware of the Wi-Fi networks that you use," Hoog says. Mobile devices connect to Wi-Fi networks the same way computers do, so a list of networks may pop up. Hoog says using unprotected public networks is dangerous.
Hoog says public wireless networks can provide an easy trap for online thieves. Using your mobile carrier's built-in network makes hacking much more challenging for data and identity thieves.
Your phone's size also can make you more susceptible to identity theft risks. Because of the limited screen space on a smartphone, verifying a website can be much more challenging.
Some online thieves are quite talented, and those emails that appear to be from your bank may actually be malicious. "Clicking on links from a mobile device can be pretty risky," Hoog says.
Closely watch account activity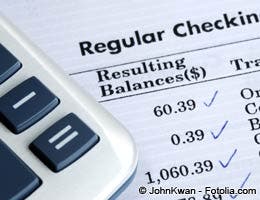 Even in the event of identity theft, the government has your back while you're banking.
Benardo says all account holders at FDIC-insured institutions are covered by the Electronic Fund Transfer Act and the Federal Reserve Board's Regulation E. These two regulations limit the amount of personal liability for fraudulent charges to $50 when reported within two business days of the transaction.
Still, Benardo says account holders must be vigilant in reviewing their bank statements. If they fail to report fraudulent activity within 60 days of the occurrence, their institution may hold them responsible for all of the charges.
"The quicker you are aware of a fraudulent transaction, the better off you are in terms of protection," Benardo says.