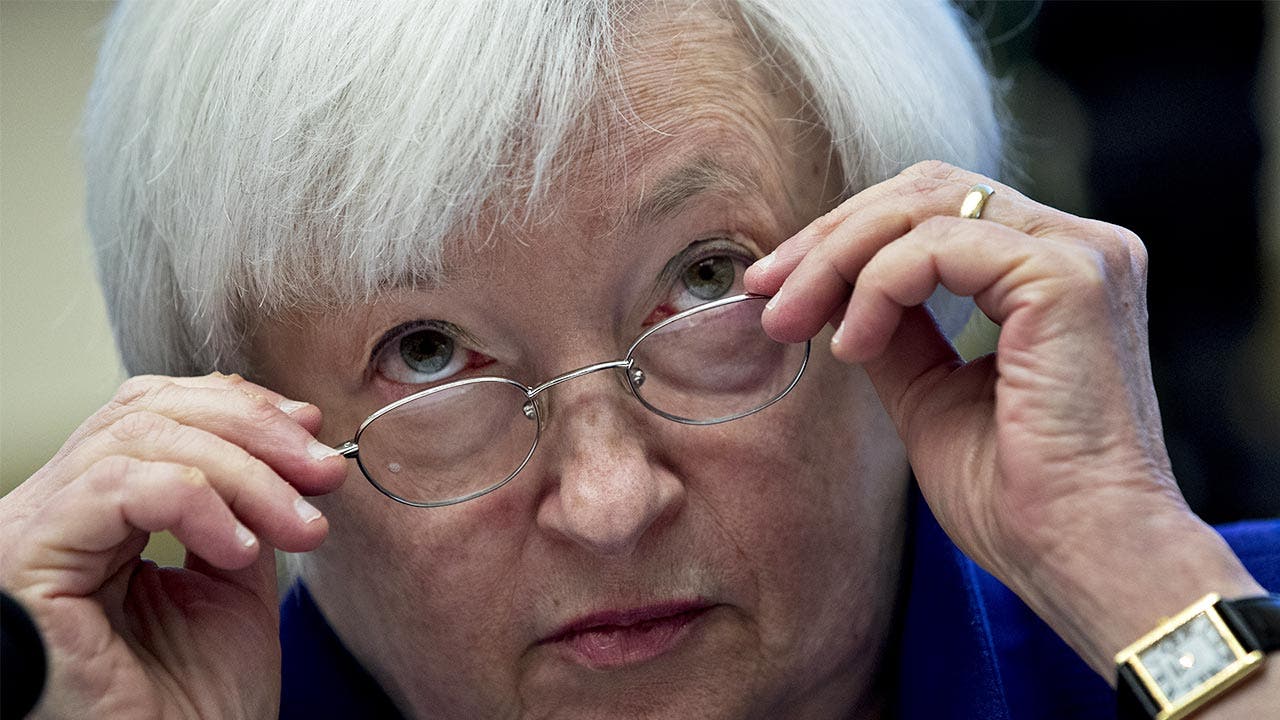 The Federal Reserve is almost universally expected to raise interest rates this week.
Is that it? End of story?
Not even close.
After the Fed boosts its benchmark rate by another quarter point — which would be only the fourth such rate hike since the financial crisis a decade ago — there will be plenty to learn from the central bank's statement, its accompanying economic projections and Fed chief Janet Yellen's news conference.
Here are six things to watch for.
1. Hints of future rate increases. The economic projections will include Fed officials' predictions for future rate hikes. Their previous forecasts called for three rate hikes over the course of this year and each of the following two years. But Lindsay Piegza, chief economist for Stifel Fixed Income, thinks that pace has become "increasingly unlikely given the tepid pace of activity at the start of the year and the lingering trends of moderate production and consumption." She thinks the Fed will dial things back.
Why it matters: A steeper path of rate hikes means borrowing costs go higher more quickly for everything from mortgages to car loans and credit cards. But, it also would mean better savings rates. If the path forward involves fewer rate hikes, then borrowing costs will remain in check, but so will savings rates.
2. The fate of the Fed's bursting balance sheet. If you were walking around with a huge wad of money in your pocket, you might feel rich but would want to be careful. The Federal Reserve has a similar "problem," with $4.5 trillion dollar in assets on its hands from buying government bonds and mortgage-backed-securities in the wake of the financial crisis and Great Recession. We're waiting to hear more about how and when the central bank intends to reduce that massive stash.
Why it matters: The Fed wants to avoid fueling rampant inflation by holding onto the assets for too long, or causing financial market volatility by dumping the assets too quickly.
3. The Fed's take on the rest of the government. Federal Reserve Board Chair Yellen and her colleagues have previously described "policy uncertainty" coming from President Donald Trump and the Republican Congress. Now, there's growing concern that lawmakers could fail to raise the federal debt ceiling this year, risking a damaging default. "I would expect them (the Fed) to make some statements concerning the need to have as little disruption in the markets as possible," says John Bredemus, investment strategist with Allianz Investment Management.
Why it matters: The president has talked a good game on boosting economic growth to 3 percent or higher, but Congress is moving slowly on his legislative agenda, and continuing investigations are forcing attention to be placed elsewhere. If a tax cut and/or infrastructure spending measures don't pass, look for dampened business and consumer confidence and possibly fewer interest rate hikes.
4. The inflation outlook. Officials at the Fed keep saying they're confident inflation will rise to their 2 percent target. But that has yet to happen. "Growth is accelerating, inflation is not," notes Jamie Cox, managing director for Harris Financial Group. Related to the lack of inflation: Wage growth for American workers continues to be subpar compared to past recoveries.
Why it matters: Hey, we'd all like to have more take-home pay, right? The Fed wants to see inflation return to a normal pattern, as it attempts to "normalize" interest rates. For now, rates remain historically low, and so does inflation.
5. How the rate-hike vote comes down. If the Fed's official statement on this week's likely rate increase indicates any dissent among policymakers, that's a sign of opposing views within the central bank.
Why it matters: The Federal Reserve isn't completely immune from the political polarization gripping Washington and the nation. Republicans in Congress would like to restrict the Fed's authority, and President Trump could add new appointees who'd be more likely to challenge Yellen and past policy decisions.
6. Janet Yellen's tenure. Nominated by President Barack Obama, Yellen will come to the end of her term as head of the nation's central bank early next year. There's been little said by her or by officials in the Trump administration about whether she'll be reappointed. Some reporter will likely ask her about that at her news conference.
Why it matters: Yellen, as one of the world's most powerful financial authorities, has presided over a period of continued improvement for the U.S. economy and financial markets as interest rates have remained at historically low levels. If she's replaced, there's a risk the next chair might not be as successful.
Follow me on Twitter: @Hamrickisms