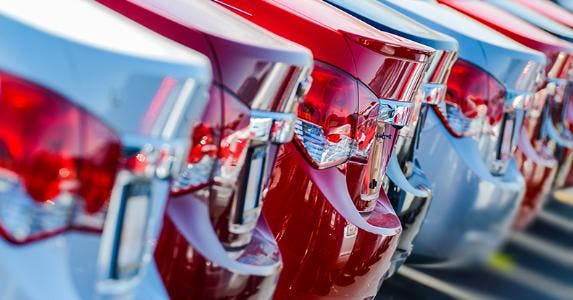 As the holiday season approaches, you may be thinking of treating yourself to the ultimate gift — a new car. While your budget already might be stretched due to holiday spending, the end of the year can be a good time to save money and get a great deal.
Look up auto loan rates at Bankrate.com
The money you save on a new car purchase could be worth the short-term effects on your budget, or it may make more sense to curb other holiday spending and allocate that money toward a down payment and the taxes and other fees associated with buying a new car this holiday season.
"Annual sales are a key metric for automakers, so they are anxious to land as many last-minute sales in the final days of the year as possible," says Karl Brauer, Kelley Blue Book senior analyst.
Automakers know that consumers don't want to be traipsing through dealership parking lots in the cold weather during the holiday shopping season, so they try to entice customers into getting in the door. "Over the years, we've seen automakers offer aggressive incentives combined with a strong marketing push to break through the holiday noise and create a year-end spike," Brauer says.
Rainy-day car deal
Rainy and snowy days can be an especially good time to get deals since people don't want to be outside in bad weather. "If you hit the dealership anytime that demand is low, you'll be more likely to save compared to the shopper who negotiates when the dealer is busy closing sales," says AutoTrader.com editor Brian Moody. If you're buying a new car, look for the best auto loans at Bankrate.com.
While car shopping during bad weather can be good for the wallet, buyers should still be careful that they are not buying a car on impulse. Moody advises taking a thorough test-drive, which should last at least 45 minutes. Bring family members and any larger items you regularly travel with such as golf clubs or strollers to make sure everyone, and everything, fits comfortably.
Deals can be especially hefty on the previous model year — such as the 2014 models, now that most of the 2015 models are on sale.
"Dealers are very eager to sell the outgoing year's models," says Jeremy Acevedo, an Edmunds.com analyst. As a result, automakers are most interested in making deals in July and August, when the new model-year cars begin to arrive, and in November and December, when they are trying to get last-minute sales on the books as well as clear out any cars left from the previous model year.
Where to look for discounts
Still, Moody says the greatest discounts can be found on 2014 models for cars that have been redesigned for 2015. "If you don't have to have the latest and greatest model, this is an easy way to save," he says.
Buying a car before the end of the year also can mean additional tax benefits for individuals and businesses, depending on the type of car purchased and how it will be used. "For example, many plug-in hybrids and electric cars have tax credits that buyers apply to the calendar year purchased, which means that those buyers who purchase at year-end only need to wait a few months to benefit, assuming they file their taxes in April," Brauer says.
Don't forget to check automaker and dealer websites for special offers before you shop for a new car. "No matter what time of year you decide to buy, you can get the best deal by checking online for customer cash rebates, lease deals, low-interest incentives and dealer cash that can potentially be shared with customers," Acevedo says.