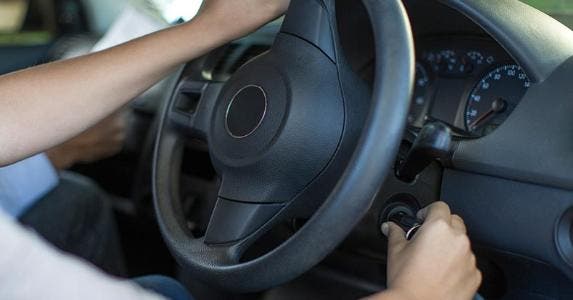 Dear Driving for Dollars,
I've started carpooling to work with a friend, so I'm not driving my car as often. I've noticed that it is really hard for the engine to turn over and start when I haven't driven the car for a few days. It almost didn't start once when I was leaving an airport parking lot after returning from a 2-week vacation over the holidays this December.
Why is that?
— Janie
Dear Janie,
There are a few possibilities of why it's hard to start a car, but since you describe this problem as only occurring after the car has been sitting parked for a few days or more, it's most likely that you need to replace your battery.
Car batteries lose juice
To put it simply, car batteries, like all batteries, lose their ability to hold a charge after a while. So, a battery that is a few years old will have less "juice" to start the car than a battery that is new. If the power that is stored in the battery is just barely enough to get an engine to turn over, then you'll experience the issue you are describing.
RATE SEARCH: Compare car loan interest rates now at Bankrate.com.
Since cold temperatures reduce a car's battery power significantly, it's most likely that your car battery is getting old, and the cold temperatures are reducing its performance just enough to cause these problems.
Visit your local auto parts store and ask them to test the voltage on the battery, which they will usually do for free. They can help determine if an old battery is the reason it's hard to start a car. If it is, get the battery replaced there. It's a simple job that you can do yourself, but some auto parts stores will do for free if you buy the battery from them.
If the car is parked too long
If it's not the battery, then you'll probably need to visit a trusted mechanic to determine the problem.
Keep in mind that car batteries fail faster in cars that are parked for longer periods, so while you are saving gas costs and wear and tear on your car by carpooling, you may find yourself in a situation where it's hard to start a car sooner than you expect.
RATE SEARCH: Comparing car loans? Check interest rates now at Bankrate.com.
To prevent that, consider buying a battery maintainer, such as those at SaveABattery.com, which operates while your car is parked to "exercise" the battery by charging and discharging it similar to driving.
Many units also come with screens that show how much voltage the battery has, so you know if you have enough "juice" and don't have to risk getting stuck at the airport after a trip or some other inconvenient time.
Wondering about your "maintenance-free-car battery? Read Do car batteries really need maintenance?
Bankrate's content, including the guidance of its advice-and-expert columns and this website, is intended only to assist you with financial decisions. The content is broad in scope and does not consider your personal financial situation. Bankrate recommends that you seek the advice of advisers who are fully aware of your individual circumstances before making any final decisions or implementing any financial strategy. Please remember that your use of this website is governed by Bankrate's Terms of Use.