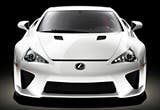 While this year's Tokyo Motor Show was smaller than in past years due to the economy, several new cars were introduced that will be heading to U.S. soil. All the notable entries targeted fuel efficiency with one exception — a new supercar from Lexus. Here's a quick overview.
Lexus took the wraps off its LFA, its first low-volume supercar. The supercar class is a small segment of the car industry made up of ultra high-end, exotic sports cars. The 4.8-liter, V-10 engine produces 552 horsepower, while much of the chassis and body is made of carbon fiber-reinforced polymer. The $375,000 car will be built by hand beginning December 2010, with a limited production of just 500 cars.
Honda unveiled another version of its CR-Z concept car, a hybrid coupe that will arrive in the U.S. next year. An updated version of Honda's CRX that was popular in the 1990s, the CR-Z will be a performance-minded two-seater. It will be powered by a 1.5-liter, four-cylinder engine, a slightly larger version of the engine in the new Insight, and paired with Honda's hybrid system to improve performance and fuel economy.

Honda CR-Z
Honda Odyssey fans got a peek at what their next minivan might look like when Honda unveiled its Skydeck concept, a six-seat, futuristic minivan with a glass roof. While the Skydeck is clearly a concept car, Honda did say it provided a glimpse into Honda's future styling direction.
Subaru also showed its interest in hybrids with an all-wheel-drive hybrid car. The company said it will offer its first hybrid in one of its current models, beginning in 2012, according to industry magazine Automotive News.
With an eye on inexpensive, fuel-efficient small cars, Nissan says it would offer a new small car in the U.S. that would be priced below the Nissan Versa, which starts at $9,990. The new vehicle will be a replacement for its subcompact Micra, which is sold overseas.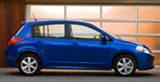 Nissan Versa
Nissan also announced that it will expand its electric vehicle lineup, after its new Leaf goes on sale late next year. CEO Carlos Ghosn said that one car would be a high-performance luxury car from its Infiniti brand that seats four, and the other would be an electric version of its NV200 small commercial van that will soon be built in its Canton, Miss., factory. No official on-sale dates were announced for either electric, but they could be available as early as 2012.
Honda, which has previously said it would not consider building electric cars, also indicated at the show that it is considering launching electrics in the U.S. as an interim step on the road to fuel-cell vehicles. Several automakers are working on putting electric vehicles into production, including Mitsubishi, which showed its PX-MiEV concept car, a plug-in hybrid that primarily runs on electric power, but has a gasoline engine that can either act as a generator for the motors or provide extra power when needed.
If you have a car question, e-mail it to us at Driving for Dollars. Read more Driving for Dollars columns and Bankrate auto stories.