Thieves stealing car parts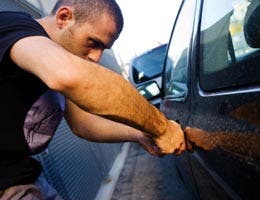 A huge fear for car owners is that their car will one day be stolen. But thieves don't always try to rip off entire cars. Instead, many simply prefer to steal the car parts, says Michael Calkins, manager of approved auto repair with the AAA in Heathrow, Fla.
That's because stealing a car part usually requires less skill, can be accomplished in minutes and can mean quick money from selling it, says Calkins.
"If it's easy to steal, they'll take it," he says.
Here's a look at the top car parts that thieves want, and how owners can protect their vehicles.
Portable GPS units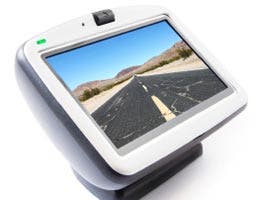 Portable global positioning system, or GPS, units that help drivers with directions are popular prizes for thieves, says Richard Ward, director of the Auto Claim Department at MetLife Auto & Home in Warwick, R.I. If an owner has one, Ward recommends removing this car part from plain view when the car is parked. It would cost about $150 to replace.
However, if the GPS attaches to the car with a suction cup, it will probably leave a residue ring on the vehicle when removed, he says. When thieves see that, they'll know that the odds are good a GPS unit is in the car.
The thief may break in the car to try to find the unit, even if it's not visible, says Ward. "The best thing to do is remove the GPS and then use an antibacterial wipe to get rid of any ring that's left behind," he says.
A stolen unit is added trouble for car owners if they input their home addresses in this car part, because it could give thieves another mark to target. Instead of entering a residence in the "home" section of a GPS, enter the address of a local business that's nearby, says Ward.
Catalytic converters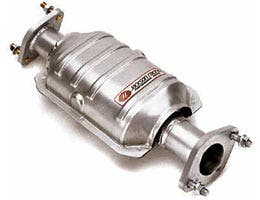 The catalytic converter is located beneath the car and helps to keep toxic emissions out of the environment. The car part is made from precious metals such as platinum and rhodium. These materials have increased in value over recent months, making the catalytic converter a popular choice for thieves who can sell it for scrap metal to recycling yards, says Ward. He says the cost to replace the part is about $1,000, including parts and labor, and possibly up to $2,000 if thieves cause substantial damage to the exhaust system.
He says likely targets for catalytic converter theft are vehicles that sit high off the ground, such as SUVs and pickup trucks. "An experienced thief can cut one off in two minutes," he says. "And as a result, it compromises the car's entire exhaust system."
Ward says that a car owner can tell when his catalytic converter is missing. When he starts the car, "it sounds like a loud, bad truck," instead of a car's normal hum.
Fortunately, laws have recently passed in many states to deter thieves from selling the car parts, says Calkins. Under these regulations, if a salvage yard or recycling center buys a used catalytic converter, it has to document the seller's identity, he says.
DVD-CD entertainment systems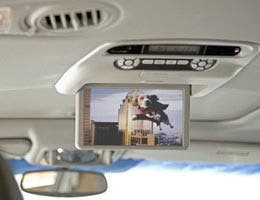 Criminals hunt for entertainment systems, particularly ones with aftermarket upgrades, says Calkins. They're valued at $300 or more. But the biggest headache for owners isn't the theft of this car part, but the collateral damage caused by crooks, yanking out the equipment, he says.
"Thieves will do whatever is necessary to get the car parts. They'll usually break a window, but they may also pry open a door or cut wiring harnesses," he says. "This can cause damage to the door frame and window mechanism. It's not uncommon for a simple radio theft to cost thousands of dollars in repairs."
To prevent the theft of this car part, Calkins suggests keeping entertainment devices covered from view whenever possible and using a car alarm for deterrence. He also suggests that owners think twice before installing a stereo upgrade to replace the existing version. "There isn't as huge of a market for the factory car systems," he says.
Rims and tires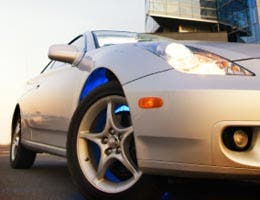 Criminals steal custom rims and tires because they can easily find customers for these car parts, says Calkins. They are also relatively easy to take, and rims alone can run $500 or more. "Thieves don't have to tow the car to take the tires. They can simply get a crew of people to come in and remove them within minutes," he says.
To discourage theft of these car parts, Calkins advises taking normal precautions like parking in well-lit areas and secure garages. He also suggests buying wheel locks, which are special lug-nut replacements that deter theft. A set of four retails for around $20.
Unsecured items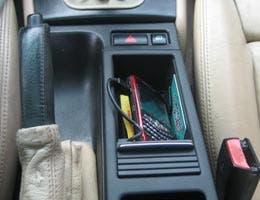 Loose gadgets that are left in cars, such as iPods, cell phones and laptops, are easy targets just as some attached car parts, says Ward. Most laptops alone cost at least $500, while cell phones and iPods can run well over $100, depending on the model.
And because they're not actually attached to the car, they probably wouldn't be covered under a car insurance policy if stolen, he says.
Unsecured items could be covered under homeowners insurance or renters insurance. Unfortunately, there may be a high deductible under the policy, and the value of the stolen property may not reach that threshold, says Ward.
The best advice is to prevent it from happening in the first place. "Keep unsecured items in a trunk or locked glove box, or leave them at home," says Ward.
Read more car stories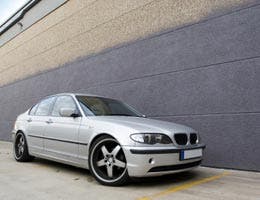 For more information about cars, check out these stories at Bankrate.com:
More From Bankrate