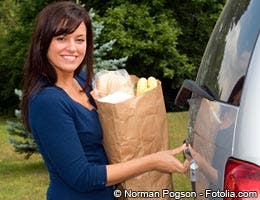 4 ways to help your car pay for itself
Another option for making money from your car is to run errands for others. Drivers who have extra time can deliver groceries and packages to the elderly or to people who need these services, says Karl Brauer, former editor in chief of auto website Edmunds.com.
Operators would be driving their own vehicles for errands, so they wouldn't face the same insurance exclusions as if they let someone else drive their cars, Brauer says. However, drivers should still consult with their car insurance providers because their policies could still be impacted.
For example, if you substantially increase the number of miles you drive per year, your car insurance rates would likely rise, Brauer says. The amount of the price adjustment would vary, but it could be substantial if you're putting thousands more miles on your car.
"It wouldn't surprise me if the premium increased between 20 percent and 50 percent," Brauer says. You'd have to make sure your delivery business earns more than the increase in premium, he says.
Drivers also should consider other expenses related to more usage. The car's brakes, oil and transmission fluid will see much greater wear with in-town driving. "It could increase maintenance costs," Brauer says.