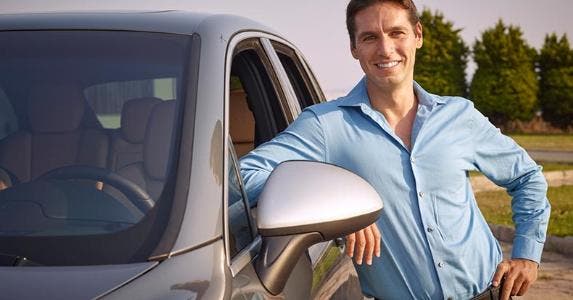 iStock.com/stockvisual
Making the monthly car payment just got easier.
Getaround is a company whose mobile app makes peer-to-peer car-sharing possible. It allows users to rent out their cars and generate some extra cash flow.
How car-sharing works
Getaround operates in 11 cities: Portland, Oregon; Berkeley and Oakland, California; Evanston, Illinois; Arlington and Alexandria, Virginia; Silver Spring and Bethesda, Maryland; and San Francisco, Chicago and Washington, D.C.
Once car owners sign up for Getaround, someone from the company reaches out to get more information and schedules an appointment to have the Getaround Connect device installed in their vehicle.
After Connect is installed, Getaround lists the car on its website. This happens every Friday, says Getaround spokeswoman Hailley Griffis.
Renters who have logged in their driver's license can open the Getaround app to find a car near them and book it from their phone.
© Getaround
The car remains in one predetermined parking spot or parking area, and the renter retrieves it from that location and returns it there after use, Griffis says. Renters can use the Getaround app to lock and unlock the car during their rental.
Find the best auto loan rates at Bankrate.com.
Making extra money with your car
You can earn some cash when you're not using your vehicle, and you set the rental price.
On average, Getaround car owners earn $500 per month sharing their vehicles, or $7.50 to $8 per hour, Griffis says.
"This is a huge step to help cover a car owner's monthly payments, insurance and parking costs," Griffis says.
It's also good for renters, allowing more people to live car-free lives, Griffis says. Renters can choose from a variety of cars at any time, without committing to ownership. And, insurance is covered. Getaround insures every car up to $1 million during rental periods.
The cost of car-sharing
The obvious downside is that you have to be willing to share your vehicle. If you have a brand-new car, you might be reluctant to let a stranger drive it.
In addition, this program is currently available in only 11 cities.
Owners have to pay a 1-time fee of $99 to have the Getaround Connect device installed in their vehicle, plus pay $20 per month to cover data network access for the Connect. That's a potential disadvantage, but owners probably can make up the difference quickly by renting out their vehicle.
Check for the best auto loan rates at Bankrate.com.
The program has gotten some attention. Ford was so interested that it worked with Getaround on a pilot program using the carmaker's customers.
Thinking about buying a car? Check your credit score for free at myBankrate before going to the dealership.
The future of peer-to-peer car-sharing
The sharing culture is growing, especially among the younger generation. Recent studies have shown that many millennials are open to ride-sharing opportunities that can save them money and make increased use of resources.
No doubt, car-sharing could change the way we look at transportation and could benefit the economy. Here's how, according to Griffis:
Each shared car takes 10 to 13 cars off the road. Fewer cars equate to more parking, less pollution and less traffic.
Car-sharing can boost the local economy by enabling micro-entrepreneurship and returning money directly to the community.
Car-sharing can provide sustainable transportation options to a wider group in a community.