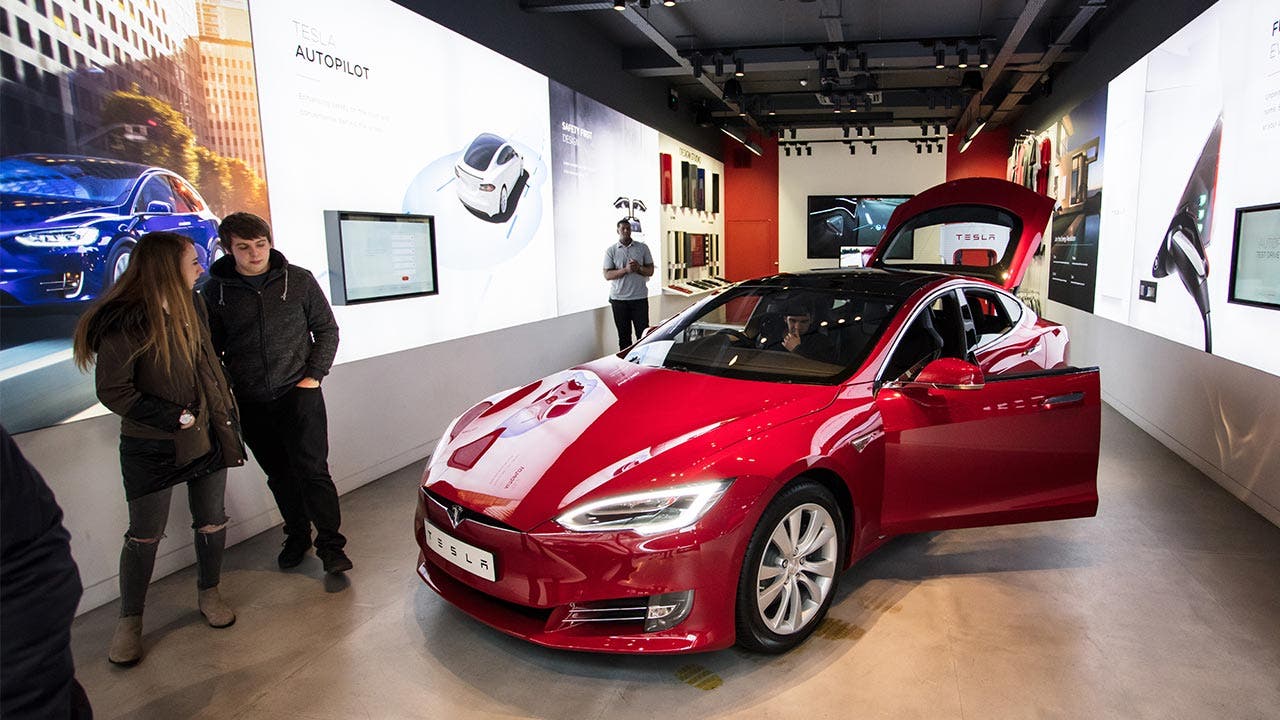 One of the major drawbacks of owning a car is having to keep paying to refuel it. Even if you don't drive that often, every time you pull up to a gas station to fill 'er up, your wallet takes a hit. Electric cars save you money on fuel and help the planet.
The electric cars made by Tesla are top of the line. They'll save you fuel money, but the price has been out of reach for many. However, that's about to change with the release of a less expensive model.
Prices for new Teslas
Your purchase cost depends on the Tesla model you buy and how many special features you want.
Tesla made some adjustments in the spring of 2017, cutting some prices while raising others. The Tesla Model S now starts at $69,500 for a model with the 75 kilowatt-hour battery. For that price, you get a four-door sedan that can go 265 miles between charges.
The most advanced Model S, the P100D, gets up to 337 miles between charges, can go from 0 to 60 mph in 2.5 seconds, and has a top speed of 155 mph. Its sticker price starts at $140,000.
Tesla also produces the Model X, a crossover SUV. The starter model, which has a 75 kWh battery and gets up to 237 miles between charges, is $82,500. If you want a souped-up model with a 100 kWh battery that gets up to 289 miles between charges and goes from 0 to 60 mph in 2.9 seconds, it will set you back $145,000.
Tesla is on the verge of releasing an electric car with a lower price. The Tesla Model 3 — going on sale and into production in early July — will have a starting price of $35,000. A $7,500 federal tax credit could cut the price to $27,500.
| Model | Features | Starting price |
| --- | --- | --- |
| Model S 75 | Four-door sedan: 75 kWh battery, can go 265 miles between charges. | $69,500 |
| Model S P100D | Four-door sedan: Can go from 0 to 60 mph in 2.5 seconds, top speed of 155 mph, can go 337 miles between charges. | $140,000 |
| Model X (base) | Crossover SUV: 75 kWh battery, can go 237 miles between charges. | $82,500 |
| Model X (upgraded) | Crossover SUV: 100 kWh battery, goes from 0 to 60mph in 2.9 seconds, can go 289 miles between charges. | $145,000 |
| Model 3 | Production beginning July 2017. | $35,000 (base) |
Cost of a certified pre-owned Tesla
You can save money if you decide to buy a used Tesla. Pre-owned Model S vehicles available from the company's certified, pre-owned program start at $49,000. Certified, pre-owned Model X vehicles start at $94,000.
Fuel costs
The price you pay to charge your Tesla depends on where you live, where you charge your car, and when you bought it.
Tesla models purchased before Jan. 15, 2017, include free lifetime access to Tesla Superchargers around the U.S. Models purchased after this date give the owner a credit for up to 400 kWh from a Supercharger per year.
Tesla Superchargers allow you to refuel quickly, and provide a range of up to 170 miles after just 30 minutes of charging. The cost of charging up at a Supercharger varies by state. In California, for example, it costs 20 cents per kWh. It costs just 13 cents per kWh in Florida.
You also have the option of refueling your vehicle at home using a standard outlet. You can install a 240-volt outlet to speed up the refueling process. To refuel at home, you'll pay whatever rate your electric company charges you per kilowatt-hour. Some areas charge lower rates at night.
Cutting the cost of a Tesla
A few incentive programs help lower the initial cost of a Tesla. The federal government offers a tax credit up to $7,500 for all-electric and hybrid vehicles, for example, so you get back a portion of the price when you file your taxes.
Many states also offer tax breaks or other incentives to Tesla owners. For example, Rhode Island offers a $2,500 rebate and Utah offers a $1,500 income tax credit.
Conclusion
A Tesla is expensive, but if you want a luxury vehicle that doesn't use gasoline and can reduce your carbon footprint, the price might be worth it. Use our auto loan calculator to see if you could afford a Tesla.