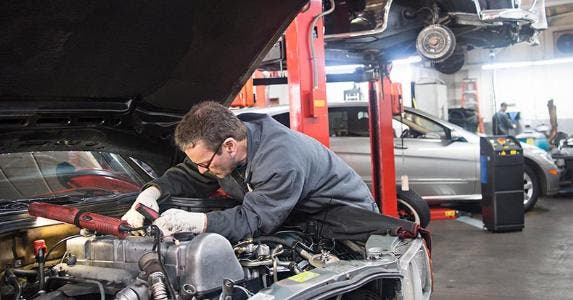 At some point, every car owner grapples with this decision: Should you take your car to a dealer or an independent mechanic for routine maintenance and repairs?
Both can meet your auto care needs and both have drawbacks.
What kind of shop is best for you, your car and your wallet? You decide. Here's a closer look at the pros and the cons of dealer and independent repair shops.
Going independent
Independent garages are smaller and less expensive than dealer shops. And many get high marks for customer service.
"People are more satisfied with independent repair shops," says Robert Krughoff, president of Consumers' Checkbook, which has been rating auto repair shops since 1976. "And they tend to be less expensive than dealers."
Independent repair shops rely on word-of-mouth recommendations and customer referrals for much of their business. So it's no surprise that many independent garages place a high premium on customer service and satisfaction.
Because independent shops tend to be small, with maybe three to five technicians, you'll get to know the owner and everyone that works there. You'll be able to ask questions directly to the mechanic working on your car.
Because of lower prices, a small independent shop is a great place to go for basic maintenance and repairs not covered by a car's warranty. Everything from oil changes on up will cost more if you take your car to the service department at a dealership.
"A lot of people think you have to go to a dealer for maintenance to keep your warranty and that's absolutely not true," says Bill Csogi, an 18-year ASE certified master mechanic. He owns Car Critic of Naples, Fla., an automotive inspection, appraisal and investigation company.
Worried that a smaller garage won't know how to fix your car's problem? Don't be. Thanks to new software programs, today's independent garages are privy to the same technical and repair information as dealers.
"In the past five years, independent shops have caught up to dealers in terms of information," Csogi says. "The independents these days have the same computer system, same records, same level of service as the dealer."
A good independent garage may know just as much about a technical service bulletin on your car as a dealer does. Manufacturers publish technical service bulletins to assist technicians in diagnosing and repairing problems in cars, trucks and sport utility vehicles.
Still, knowledge is one thing, skill is another. You'll want to choose a repair shop with certified technicians. Look for mechanics that are certified by the National Institute for Automotive Service Excellence. ASE certified mechanics must pass comprehensive exams and must be re-certified every five years.
You can also track down a reliable repair shop through AAA's Approved Auto Repair. AAA screens each shop for reliability, honesty, fair pricing and training of mechanics. ASE-certified technicians perform repairs.
To search for AAA-approved repair shops near you, use this search engine. For more information on auto repair certification programs and how to find a certified garage near you, check out the Car Care Council.
The biggest downside to going to an independent repair shop is you give up the power of your new-car warranty. For a repair to be covered by a new car warranty it must be done at a dealership. If you get the repair done any place else, you'll have to foot the bill yourself.
As good as the price and service may be at a small, independent garage, nothing beats getting a repair for free.
Keep in mind that service and pricing at independent repair shops vary widely. So be sure to shop around. You'll also want to watch out for auto repair scams.
Sticking with a car dealer shop
The biggest advantage of taking a car to a dealer shop is its tie to the auto manufacturer. If you have a beef with the service or a particular repair, you can always take it up with the auto manufacturer.
Plus, all dealer technicians receive factory-authorized instruction. So the techs at a dealership are likely to know their stuff.
"You know you're going to get a certified technician," says Lauren J. Fix, a consumer auto expert.
As mentioned earlier, any repair covered by a new car warranty must be done at a dealer shop if you want it free.
One thing missing from a dealer shop is the personal touch. You hand your keys over to a service manager or service writer, not a technician or mechanic.
"At a dealership you rarely see the tech," Csogi says. "So you don't know who's working on the car."
Now you could ask to speak to the mechanic each time you bring your car into a dealer service department. Just be prepared to meet someone new with each visit.
A large dealership could have 20 or 30 technicians or more working at any given time. So a different technician could work on your car each time you bring it in.
The other downside to taking your car into a dealer shop is the price. You tend to pay more for basic maintenance and repairs at a dealer shop.
Once a new car warranty expires, there's little tying you to a dealer shop.
You may want to compare dealer prices with a local independent garage. Tracking down a lower-priced and reliable independent garage could really trim your auto maintenance bills.
If your just-out-of-warranty car needs an unexpected repair, you'll want to give a dealer shop a call. The reason?
You may be eligible for a secret warranty or goodwill policy. If there's a widespread problem with the vehicle, the car company may make the repair for free or at a low cost.
Tired of car repairs? Compare rates for new and used car loans.