Cheap speed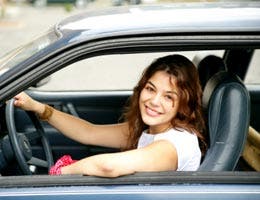 Every year, automakers push their engineers to produce more powerful and faster cars compared to the competition and last year's models. That race has been driving horsepower up industrywide since the late 1970s. From 1994 to 2004, average horsepower per 100 pounds increased 15 percent, according to the National Highway Traffic Safety Administration.
Because of that improvement, it's never been a better time to be an auto enthusiast on a budget. For 2011, automakers are offering an impressive array of relatively cheap but fast cars that put powerful engines and nimble handling within reach of budget-conscious car buyers. Even better, many speedy models have good fuel economy and plenty of space to get your more mundane driving tasks done as well.
Mazdaspeed3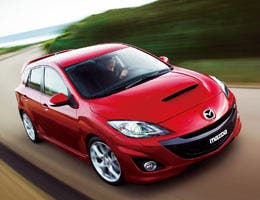 Starting MSRP: $23,340
Mazda's resident frugal fast car is a version of its popular Mazda3 compact. But instead of the Mazda3's standard fuel-injected, four-cylinder engine, Mazda engineers shoehorned in a bigger turbocharged and intercooled, direct-injection four-cylinder found in the automaker's CX-7 SUV.
The engine produces a rip-snorting 263 horsepower and 280 foot-pounds of torque through your choice of a manual or automatic transmission. That power is enough to propel it to 60 miles per hour in less than six seconds and up to an electronically limited top speed of 155 mph. To keep that power under control, the Mazdaspeed3 gets bigger disc brakes and a stiffer suspension than its Mazda3 sibling.
The result is a fast car with seating for five and the cargo flexibility of a hatchback that's fun to drive, whether you're weaving through traffic on your daily commute or blasting through a curvy country road.
Volkswagen GTI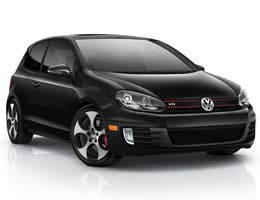 Starting MSRP: $23,664
The Mazdaspeed3's perennial rival among fast cars for the best cheap-and-speedy hatchback sold in the U.S., the Volkswagen GTI drops a turbocharged, four-cylinder engine in a two- or four-door compact car body. That engine produces 200 horsepower and 207 foot-pounds of torque in the GTI, propelling it to 60 mph in 6.8 seconds, according to Volkswagen.
The GTI is based on the best-selling Golf hatchback, which offers somewhat cramped seating for five and ample cargo flexibility, thanks to folding seats. Also like the Mazdaspeed3, the GTI jacks up the base Golf's economy-car suspension with performance parts and adds stouter brakes.
Like most Volkswagen cars, the interior is tastefully appointed, with a slick touch-screen stereo that comes standard on GTI models. The end result is a fun-to-drive, economical car that can take you to an estimated 130 mph and 31 mpg on the highway.
Subaru Impreza WRX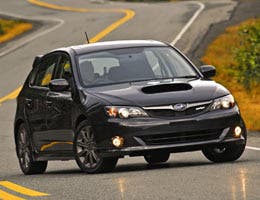 Starting MSRP: $24,995
The Subaru WRX's all-wheel drive and powerful engine make it a formidable competitor on the rally racing circuit, but it's also a favorite of moms and dads who like a fast car in addition to a family hauler.
The WRX is a variant of Subaru's entry-level Impreza sedan. To create the WRX, Subaru bolts a turbocharger to the Impreza's 2.5-liter, four-cylinder engine. The combination is good for 265 horsepower and 244 foot-pounds of torque, which is channeled to all four wheels.
That power propels the WRX to 60 mph in less than six seconds. Subaru pegs the top speed at 130 mph. Put that together with a stiffer, more nimble suspension, an interior that seats five and standard 17-inch alloy wheels, and you get a compelling combination of speed and frugality.
Chevrolet Camaro LS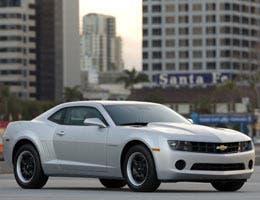 Starting MSRP: $22,680
Pony cars — an industry nickname for stylish, cheap and fast cars first coined for the Ford Mustang — featuring V-6s had been considered the choice of people who wanted exciting styling and didn't care about the car's tepid performance. The newest generation of pony cars blows away that stereotype.
The base V-6 Camaro packs a whopping 312 horsepower and 278 foot-pounds of torque under its curvaceous sheet metal. That power, delivered to the rear wheels in the time-honored muscle-car fashion, helps it sprint to 60 miles per hour in 6.1 seconds and reach a top speed of 118 mph.
And while the two-door coupe body style of the Chevrolet Camaro doesn't offer the cargo flexibility of a hatchback like the GTI, this fast car is relatively economical on gas compared to its predecessors: 17 city/29 highway mpg.
Ford Mustang V-6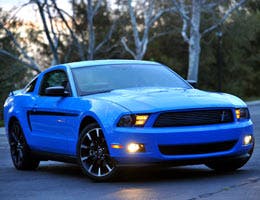 Starting MSRP: $22,145
Since its inception in 1964, the Ford Mustang has been all about offering fast cars at a budget price. Unfortunately, its base models didn't always meet that standard. But with the introduction of a 3.7-liter, direct-injection V-6, the Ford is bringing serious kick to this cheap and speedy Mustang.
The standard engine now produces a lofty 304 horsepower and 280 foot-pounds of torque, perfect for burning up rear tires or just passing on the freeway. In fact, thanks to the V-6 model's low weight and powerful motor, it reaches 60 miles per hour in the mid-five second range and tops out at 113 miles per hour.
Direct injection also helps the V-6 Mustang get excellent fuel economy for a pony car: 19 city/29 highway mpg.
Read more car stories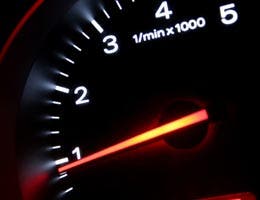 For more car stories, go to Bankrate.com and check out:
More From Bankrate