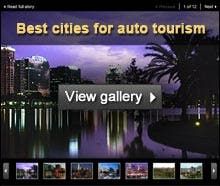 Shopping for a car online can be a journey with a real destination. As people have become more comfortable with the idea of selecting a car virtually, and as auto industry woes have resulted in fewer local dealerships in most markets, auto tourism has emerged, says John Sternal, spokesman for LeaseTrader.com, the car leasing site. The concept is simple: traveling outside of your region to retrieve a car you've found online.
Selection, convenience and price are the main online car-buying incentives, says Clayton Stanfield, senior manager of dealer training for eBay Motors. He hears every day from car dealers about customers who use their purchase as a good excuse for a vacation. About 75 percent of eBay car buyers are buying from different states.
LeaseTrader.com data show that about 38 percent of all transactions — in which people take over the remaining portion of a car's lease contract as a way to get a short-term lease with no down payment — are between people in different regions. That's up from 31 percent five years ago. More than half of these customers travel to where the car is located and drive the vehicle back, compared to 12 percent five years ago.
Thinking about becoming a statistic? Here are seven tips to help ensure you don't overspend on an auto tourism trip.
Check on restrictions. Stanfield's own parents, who live in Reno, Nev., joined the auto tourism trend recently by picking up a car purchased from a Houston eBay Motors seller. Originally, they'd requested delivery, but a 2.9 percent financing rate was available only for in-state transactions.
"That sealed the deal," Stanfield says. Fees may also vary by state. For instance, some states assess a tax or fee if a car has driven on the road there by the buyer. Paying for delivery might be the better deal.
Ensure the mileage makes sense. If you're traveling to pick up a lease, it's important to consider the distance, Sternal says. With vehicles that have significant mileage numbers, it might be better to have the car shipped to you instead.
Get creative in picking up the car. Stanfield's parents' flight to Houston was free, thanks to flight vouchers from Southwest Airlines. Susan Finch, a travel guidebook writer and blogger at CreativeGuideToLife.com, suggests using bartering and selling website Craigslist.com to find a rideshare. Others may be headed to the same destination and willing to split gas and expenses. Just get everything in writing in advance, she says.
Don't dawdle. LeaseTrader.com customers may have it right, with a little more than two days being the most popular trip length. The longer you stay, the more the trip will cost. But it doesn't hurt to see some sights during that stay. Some cities' tourism websites can help in building an itinerary. For example, the Dallas Convention and Visitors Bureau offers six different one- to two-day plans, and Baltimore helps you "find your happy place" in the city through a custom itinerary-building website at Bmorehappy.com.
Ask about incentives. Dealers may make auto tourism more convenient and less expensive, such as by offering a ride from the airport to the car, Stanfield says. Others go even further. Take Century Motors of South Florida. Frank Fuzy, president of the Fort Lauderdale-based dealership, says every buyer traveling for pick up gets a complimentary stocked beach bag, plus discounts at local hotels — oceanside or near the airport — and a free meal. Those who will be in the area down the road (say, for a wedding), can have the car held there until that trip. And through "Fuel for Feedback," the dealership provides a fill-up in exchange for customer feedback on the seller's eBay profile. Century Motors sells about 800 cars per year, 80 percent from out of state. In about half the cases, buyers retrieve their cars, even from across the country and Canada.
Go for cheap lodging. Depending on your style, this can mean anything from getting a good online deal on a chain hotel stay to camping to bedding down at a hostel. Finch even suggests renting out a university dorm room if it's not during the school year. And those who aren't shy might consider finding a place to crash for free, via CouchSurfing.com.
Make some cash on the trip back. On the website Craigslist, post an offer to drive artwork, small furniture, valuables or documents for a small fee from the city you're visiting back to your home area, Finch says. It just might be the best way to finance the ride home.
<< Back to the Winter Car Guide table of contents.