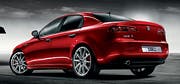 It seems Alfa Romeo finally will return to the U.S. in two years, bringing with it several cars that would compete with BMW and Volkswagen's Audi brand. Sergio Marchionne, chief executive of Fiat and Chrysler, said recently in a speech that he's increasingly confident that the struggling brand will be able to produce cars that are accepted globally, including in the U.S.
Alfa Romeo has been owned by Fiat since 1986. The brand was last sold here in 1995, ending its presence in the U.S. after years of declining quality and slow sales. An alliance with General Motors in the 1990s resulted in a planned return of the brand in 2003, but it never materialized and the partnership has since dissolved.
If the brand does return by 2012 as Marchionne said, Alfa Romeo's lineup of cars could be expanded, using platforms (the chassis, suspension and other key components on the underside of the body) now on Fiat and Chrysler cars. Chrysler and Italy's Fiat SpA formed an alliance after Chrysler emerged from bankruptcy in June 2009, giving Fiat a 20 percent controlling stake in Chrysler.
Among the new cars expected is a front-wheel-drive vehicle, called the Giulia that would replace the Alfa Romeo 159, which is currently sold only in Europe. The Giulia would be offered as a midsize sedan and a station wagon. The cars, built on Fiat-Chrysler platforms, would likely be manufactured in the U.S., beginning in mid-2012, according to reports by the industry magazine Automotive News. Introduced in 2005, the Alfa Romeo 159 is a compact sedan that comes with standard all-wheel drive and competes with the BMW 3 Series cars, which start at $33,150. Its 3.2-liter V-6 engine, which produces 260 horsepower, would most likely be used in the U.S. model.
A future, full-size sedan would likely be built on the Chrysler 300C platform. It would be considered the replacement for the Alfa Romeo 166, which was discontinued in 2007. Like the 300C, the Alfa Romeo full-size sedan would be a rear-wheel-drive car. It would likely be sold in the U.S. beginning in 2013.
The next year will be a telling one for the future of Alfa Romeo in the U.S., and as a brand in general. Fiat's plan to return the brand to the U.S. could be helped immensely by its Chrysler partnership, improving Alfa Romeo's technology, manufacturing and dealer infrastructure. But to become a competitor of BMW and Audi in the U.S. as well as Europe, it needs to be more successful as a brand.
Much of that success is riding on the launch of its newest model, the Giulietta, a five-door hatchback being introduced next month at the Geneva Motor Show. It will compete with the Volkswagen Golf, which starts at $17,620. The company is expecting to use the model to nearly double its annual sales, with plans to sell about 100,000 Giuliettas annually. If that happens, Fiat will be in a much better position to bring its Alfa Romeo brand back to U.S. soil.
Read more Driving for Dollars columns and Bankrate auto stories. If you have a car question, e-mail it to us at Driving for Dollars.