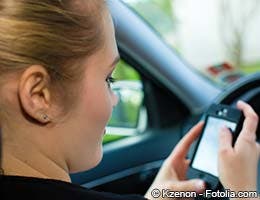 The best smartphone apps for drivers
Driving and apps. Do these two words even belong together?
After all, in many states it's illegal to use a cellphone while driving. And, yes, that includes fooling around with apps while your hand is on the wheel.
But, there's no denying that some smartphone apps are incredibly handy for drivers — from finding cheap gas or a parking spot to uncovering a reliable repair shop in a strange city or the best route to avoid snarling traffic.
Bankrate compiled some of the most useful and free smartphone applications for specific things you may need while you are on the road.
But for safety's sake and to avoid a ticket in most states, make sure you access your apps while in your driveway or pulled off the side of the road or in a shopping center parking space.
Find your way around town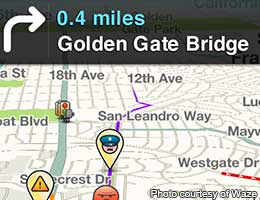 App: Waze
This clever navigation app does double duty. It gives you directions, and it monitors traffic. The program operates and fine tunes itself through passive and active user-generated content. Just by downloading the app and leaving it open while you drive, it collects and updates road information and conditions, such as how fast you are driving on a highway or if you should take any detours.
Those who want to participate more actively can log in road information or even take pictures of road problems, such as construction work, potholes or accidents, to benefit other Waze users. Navigating the app is primarily done through touch screen. Unlike other smartphone apps, typing in Waze is automatically disabled while the car is in motion unless the passenger is controlling it.
Score a parking spot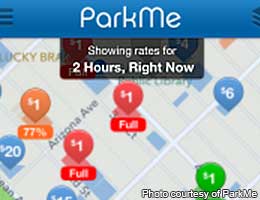 App: ParkMe
If you are driving in a strange city, you know how frustrating it can be to find a place to park your car. ParkMe, winner of a 2012 Appy Award for best location-based app, guides you to the cheapest and closest parking from where you are — be it meter parking, garage or even free lots.
ParkMe is not to be confused with the type of smartphone application that lets you know the minute someone is pulling out of a parking spot, such as the parking app operating in San Francisco. But it does give you helpful information about rates, hours, entrance points and occupancy information of a parking lot. If you like to plan ahead, you also can use this app before you get to your destination.
In addition to parking locations, you'll get handy advice on how much cash for parking you should bring along.
Score cheap fuel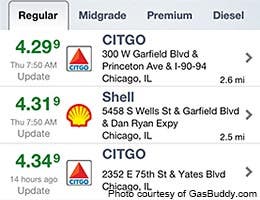 App: GasBuddy
This app locates all the gasoline stations near where you are driving and reports on all current prices at those stations. If you choose to contribute to its crowd-sourced data and report gas prices, you can earn points toward a giveaway. The prize? Gas gift cards, of course.
App: Alternative Fuel Locator
Own a car that runs on something other than gasoline? Download this self-explanatory app from the U.S. Department of Energy. It tracks down the closest gas station for one of the six alternative fuels: biodiesel, electricity, ethanol, hydrogen, natural gas and propane. The app gives you a map, business hours, detailed driving directions and an instant phone connection. To download it, go to http://apps.usa.gov.
Hitch a ride for your commute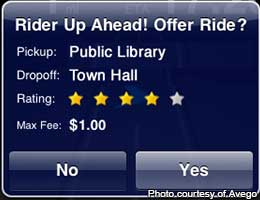 App: Avego
Have an empty seat in your car every day on your commute? Traveling across town and want some company? No mass transit where you live?
The Avego app lets you share your ride or find a ride in this high-tech version of hitchhiking. The app will alert you to an Avego-registered rider up ahead and how much the rider is offering for the lift. It's your choice whether to pick up the person.
If picking up an Avego rider sounds great on the surface but dangerous on second thought, the Avego site addresses these fears by listing some safety features of the app, including a self-policing rating system. That is, drivers and riders rate each other.
It also offers a system where drivers must authenticate riders by entering a PIN at the beginning of the ride. Plus, every user must be registered with Avego, and the journey is tracked with GPS.
Get your car fixed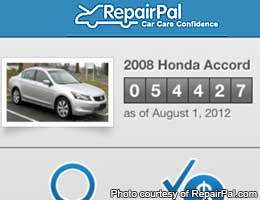 App: RepairPal
The worst car nightmare? A breakdown in a strange city ranks right up there. With this award-winning app, you can find a recommended "top shop" mechanic in the area ranked by training and experience of the technicians on staff.
The app also includes a handy RepairPrice Estimate, which is the result of what RepairPal creators say is more than 75,000 hours' worth of analyzing costs of parts and labor for specific repairs in the mechanic shop's ZIP code. You'll know precisely the cost of the repair because the estimated price range generated by this number-crunching feature must be honored by RepairPal's Top Shops.
What's more, the app can track all your car repairs and provides a maintenance checklist. The app works in the U.S. only and covers most auto models from 1990 and later.
Stay safe while driving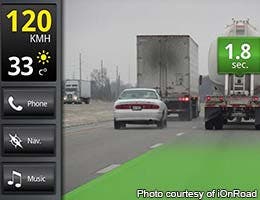 App: iOnRoad
IOnRoad turns your smartphone's camera and sensors into a sophisticated vehicle collision warning system. IOnRoad, which won a CTIA The Wireless Association award for best safe-driving app in 2012, needs a windshield mount with the smartphone camera pointing at the road.
The app starts working when the car is moving and detects other vehicles on the road and maps your distance to the car ahead of you. There's a visual and audio warning to let you know you're too close to the car in front of you for safe driving conditions. It also alerts you if you happen to veer out of your lane.
The app is free, but a full-featured version, called iOnRoad Pro, costs $4.99.
Stop texting and get discounts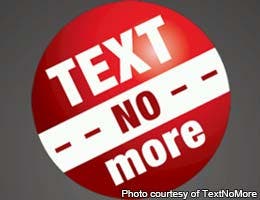 App: Text No More
Let's not forget that cellphone texting while driving is illegal in many states. Still, some of us could benefit from a little positive reinforcement to stop us from answering an incoming text while barreling down the highway.
Text No More is one of only a few free "no texting" smartphone apps available. But don't expect a punitive automatic disabling mechanism. It's up to you to turn it on before driving, at which point the app dutifully blocks all incoming text messages. The sender receives the message, "(Your name) is driving and cannot reply."
Will that alone stop you from texting? No, but here's where the positive reward system kicks in. Each time a text is blocked, the sender and receiver get valuable coupons and rewards specific to a driver's location — from free coffee to 50 percent off your tab in a restaurant. The app is available on BlackBerry and Android devices.

More On Smartphone Apps For Drivers: