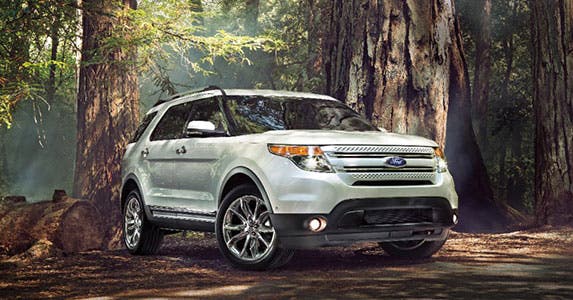 Trucks for a trip off the beaten path
Although camping means different things to different people, Bankrate assembled a list of great trucks for those adventurers wanting to stay overnight off the beaten path.
After considering 30 sport utility vehicles, crossovers, station wagons, pickups and minivans, Bankrate narrowed its picks to seven. To qualify, a vehicle had to carry at least four people and their gear off pavement. How much gear is determined by the type and duration of the camping. So, the picks range in size from a full-size pickup to a small crossover.
Every pick is priced with all-wheel drive, which affects fuel economy and the total purchase cost. Bankrate looked only at vehicles costing less than $46,000. Most of its picks cost much less. Every pick has highway fuel economy of at least 20 mpg.
Each pick has a rearview camera to help with maneuvering in the wilderness. Other shared standard equipment includes power windows, power door locks, power outboard mirrors, at least six air bags, air conditioning and Bluetooth connectivity.
When camping means more than sleeping bags and marshmallows, you'll need one of these trucks to get you there.
Compare car loan rates in your area.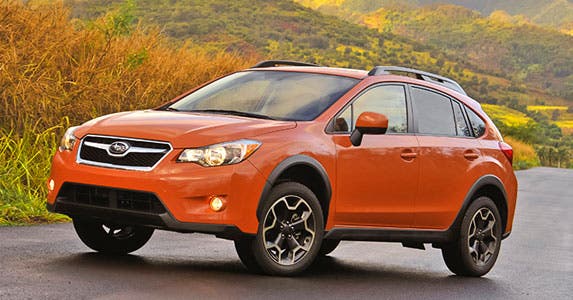 Subaru XV Crosstrek 2.0 Limited
Price: $24,495
Gas mileage: 25 mpg city/33 mpg highway
Costing the least while posting the best fuel economy on this list, the XV Crosstrek is a small crossover with a lot of attitude. Its all-wheel drive won't let you stray too far off the asphalt, but its 8.7 inches of ground clearance — an inch higher than the full-size Ford Explorer — will clear smaller rocks and forest debris. Think dirt and gravel as opposed to boulders.
Adding to XV Crosstrek's stability on the road or in the wild is its flat-design, horizontally opposed, 2-liter, four-cylinder engine that produces 148 horsepower. In Limited trim, a continuously variable automatic transmission, or CVT, sends output to all the wheels.
As long as you don't want to drag your bed along, this Subaru offers enough cargo space to carry all the gear you'll need for a weekend in the woods.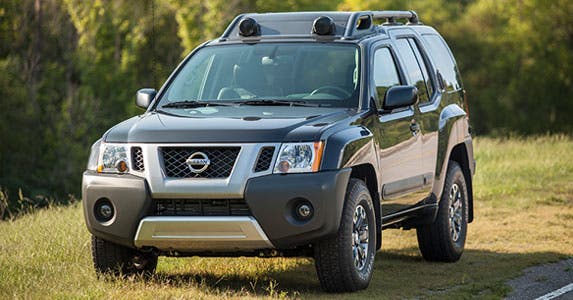 Nissan Xterra Pro-4X
Price: $30,320
Gas mileage: 16 mpg city/20 mpg highway
Born and bred to get you deep into the wild, the Xterra's rough-around-the-edges demeanor is quickly overshadowed by its off-road capability when it's time to cart you and yours to that clearing in the middle of nowhere. If you are worried about a little mud on your boots, there are much more refined vehicles to take you overnighting at the Hampton Inn.
Because of 4LO gearing, which adds more torque to the wheels for rugged terrain, all 4×4 Xterras are capable. However, the Pro-4X has a few extra off-road goodies like upgraded, heavy-duty Bilstein gas shocks and skid plates.
The interior is easy to clean with an ample cargo area festooned with tie-downs and cargo hooks. The 261 horsepower comes from a 4-liter V-6. As priced here, it's mated to a six-speed manual transmission.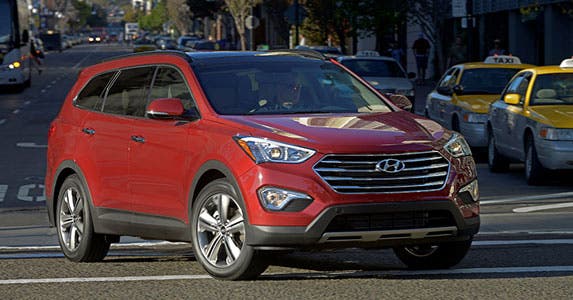 Hyundai Santa Fe GLS
Price: $31,650
Gas mileage: 18 mpg city/24 mpg highway
Hyundai furthers its value reputation with the Santa Fe. Even in its more affordable GLS model, it comes packed with content, such as heated front seats, a 4.3-inch color display and iPod integration.
Its all-wheel-drive system is more for foul weather, dirt and mud but can still get you away from the bustle of paved streets. Hyundai developed something it calls Active Cornering Control, providing better cornering stability on and off the road, as well as higher thermal capacity to slow down overheating when hill climbing.
Turning all the wheels is a 290-horsepower, 3.3-liter V-6 mated to a six-speed, driver-shiftable automatic transmission.
The cabin is roomy and well-constructed. Although it has a third-row seat, it must be folded flat to carry gear to the campsite, but there is plenty of space once folded.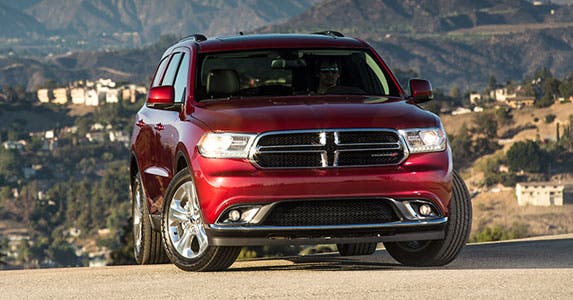 Dodge Durango Limited
Price: $38,595
Gas mileage: 17 mpg city/24 mpg highway
Although a full-fledged 4×4 system is available on the V-8 model, Bankrate chose the 290-horsepower, 3.6-liter V-6 with its all-wheel drive for lower price and better fuel economy. Still, both engines are mated to an all-new, eight-speed, driver-shiftable automatic transmission.
Durango features good looks outside and a user-friendly, nicely appointed cabin inside. Behind the reclining, split second-row seat is a third-row seat that folds flat to make room for a family's worth of camping gear.
There is a more-affordable SXT model, but the Limited provides some extras like a 115-volt household power outlet and 8.4-inch touch screen for Dodge's Uconnect interface with available Wi-Fi capability. That will make those wilderness forays more inviting for people who want or need Internet accessibility.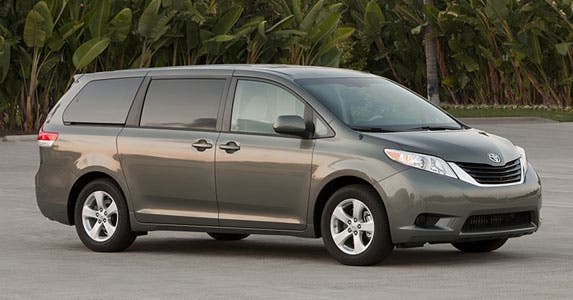 Toyota Sienna LE
Price: $33,780
Gas mileage: 16 mpg city/23 mpg highway
You might not think minivan when considering a vehicle to cart you to an off-road campsite, but this is the only minivan with available all-wheel drive. No, you won't be able to crawl the Rubicon Trail in the Sierra Nevada region, but Sienna's AWD can overcome snow, dirt and gravel to at least put the pavement in your rearview mirror.
It has the most cargo room among the picks on this list. In its LE model, Sienna is loaded with goodies like power-sliding side doors and rear liftgate, triple-zone automatic climate control and iPod connectivity.
A 266-horsepower, 3.5-liter V-6 turns the wheels via a six-speed automatic transmission.
Although it is nearly on the bottom of this list for fuel economy, no other pick can carry the number of people and amount of gear in air-conditioned comfort that the Sienna can.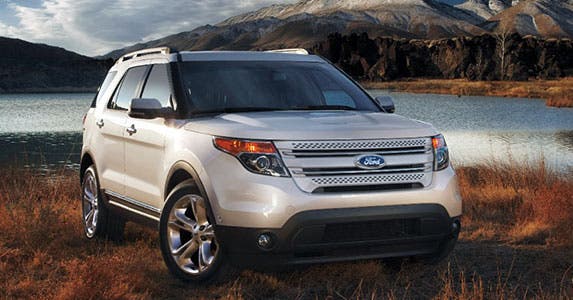 Ford Explorer Limited
Price: $40,100
Gas mileage: 17 mpg city/23 mpg highway
Ford intentionally engineered the Explorer to favor ride quality and fuel economy over off-road capability; but if you don't need to go too far off the beaten path to quench your camping thirst and want to do it in total comfort, the Explorer is tough to beat. Its all-wheel-drive system focuses more on foul weather than tackling the outback, but it's good enough to negotiate dirt roads and some mud.
The engine is a 3.5-liter V-6, generating 290 horsepower that it funnels through a six-speed automatic transmission to the wheels.
Limited sits atop Explorer's models with lots of standard equipment, such as 110-volt power outlet, power-adjustable pedals, MyFord Touch electronics interface with Wi-Fi capability and leather seating.
With the third-row seat folded, there is more than adequate space for a weekend's worth of camping gear.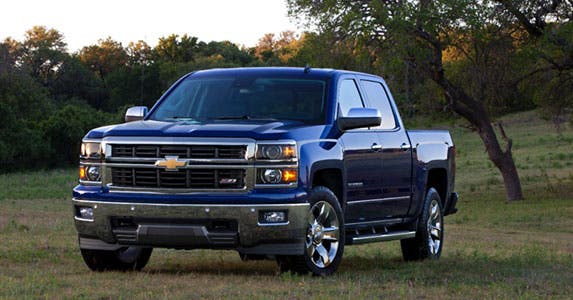 Chevrolet Silverado LTZ Crew Cab
Price: $45,665
Gas mileage: 16 mpg city/22 mpg highway
What better to haul your camping gear, canoe or bicycles and even pull a fishing boat than a full-size pickup like the redesigned Silverado? The priciest of these picks, it provides the best V-8 fuel economy and available tow ratings — up to 12,000 pounds — among all light-duty pickups.
Well-appointed with leather seating, a 110-volt power outlet, Chevrolet's MyLink with voice recognition and an 8-inch touch screen, Silverado's cabin is quiet and comfortable. A corner-step bumper with hand holds allows easy access to the cargo box, with its array of tie-down hooks.
As priced here, a 355-horsepower, 5.3-liter V-8 sends its output to the wheels by way of a six-speed automatic transmission. Its 4×4 system has a 4LO gear to help get you to those obscure clearings that just can't be reached with all-wheel drive.