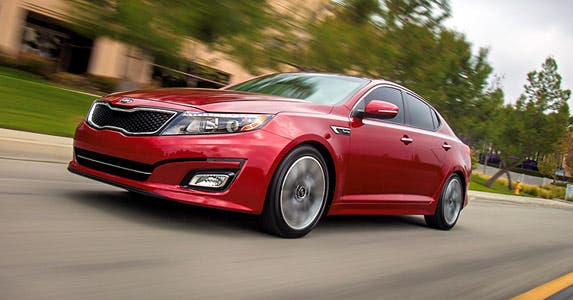 Cars to keep Mom happy
Because most of us never get too old to outgrow wanting to please Mom, Bankrate assembled seven sporty cars your mother won't hate.
Here are seven 2014 model-year cars that are fun to drive, yet they are safe, sensible and deliver solid fuel economy. Bankrate didn't place strict requirements on gas mileage; these cars are sporty after all. However, every pick gets at least an estimated 29 miles per gallon in highway driving. Some do much better than that.
Every pick did well in crash tests performed by the Insurance Institute for Highway Safety, which named them as either a 2013 top safety pick or top safety pick+. Because of recent changes in IIHS criteria for its top safety designations, several terrific cars that would have been on this list six months ago, such as the Volkswagen GTI and Chevrolet Sonic RS, no longer qualify.
Every one of these picks comes with power windows, door locks and outboard mirrors, air conditioning, anti-lock brakes and at least six air bags.
Prices don't include manufacturer delivery charges.
For the best auto loans, go to Bankrate.com.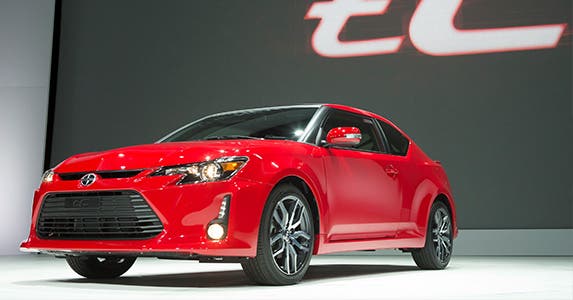 Scion tC
Price:

$19,210

Gas mileage:

23 mpg city/31 mpg highway
It doesn't matter whether you spring for an extra $1,000 for the six-speed driver-shiftable automatic transmission or stick with the slick-shifting six-speed manual, as Bankrate priced it here, the fuel economy is the same.
By the sporty looking exterior with its 18-inch alloy wheels, Mom may suspect the tC is a kick to drive, but the value and safety arguments should win her over. In addition to the safety gear found on all new cars, such as stability control, the tC has knee air bags for both front-seat positions along with the typical six air bags. A trip computer, Bluetooth connectivity, and an eight-speaker Pioneer audio system with HD radio and iPod interface are all standard.
A 179-horsepower 2.5-liter four-cylinder engine delivers the tC's go.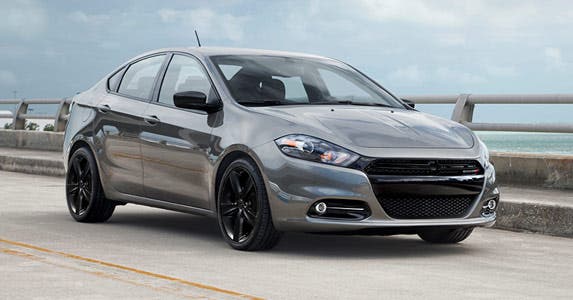 Dodge Dart GT
Price:

$20,995

Gas mileage:

23 mpg city/33 mpg highway
Not the most affordable of the picks, but close to it, the Dodge Dart GT is the first of two Dodges on this list. Mom will be happy with Dart's handsome outer wrapper, masking the aggressive 184-horsepower 2.4-liter four-cylinder engine lurking within. Bankrate priced it here with the standard six-speed manual transmission. A six-speed, driver-shiftable automatic tranny is a $1,250 option.
Providing an upscale look, the GT's leather seats should impress maternal units hoping for a better life for their offspring. Upgrading to the GT model also includes an 8.4-inch color touch screen, the backup camera and dual-zone automatic climate control to keep Mom comfortable when she's riding shotgun. Ten air bags are standard in every Dart.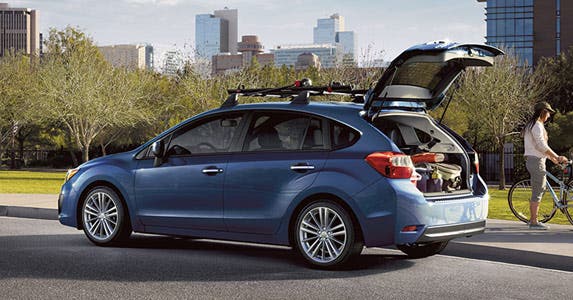 Subaru Impreza 2.0i Limited 5-Door
Price:

$23,490

Gas mileage:

27 mpg city/36 mpg highway
Most moms will like the fact that the Impreza has the least horsepower and the best fuel economy of any of these picks. That it isn't the most aggressive off the line won't seem to matter as much when taking advantage of the standard all-wheel drive to sweep the corners. Rack up a few more points with Mom, pointing out that the AWD makes the Impreza more stable in rain and snow.
Bankrate had to opt for the Limited to get all of its must-have features and an extra goodie or two like a backup camera. Along with that came the continuously variable transmission, with six-speed manual mode and steering wheel-mounted paddle shifters. A 148-horsepower 2-liter horizontally opposed four-cylinder engine supplies the go.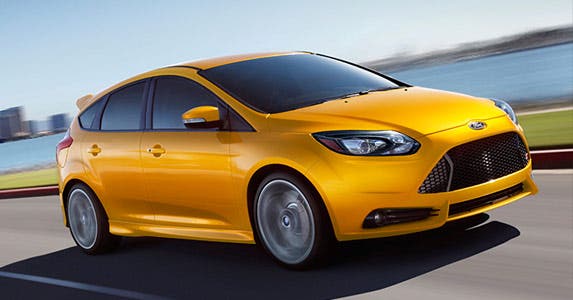 Ford Focus ST
Price: $24,910
Gas mileage: 23 mpg city/32 mpg highway
You're right; Mom isn't going to be fooled by the ST's in-your-face sporty sheet metal or its 18-inch aluminum wheels, with red brake calipers lurking behind them. Pop for the available Recaro bucket seats and prepare yourself for an earful if she ever rides with you. Pressing her into the seat back when you call on the 2-liter four-cylinder EcoBoost engine's 252 horsepower won't help matters either.
However, you may win her over by pointing out the seven air bags and dazzling her with the Ford Sync voice-activated communications and entertainment system with its six-speaker audio setup. Also standard are iPod interface, trip computer and aluminum pedals. To add those Recaro sport seats requires ponying up $2,505 for an options package that also includes a Sony audio system.
The only transmission offered is a six-speed manual.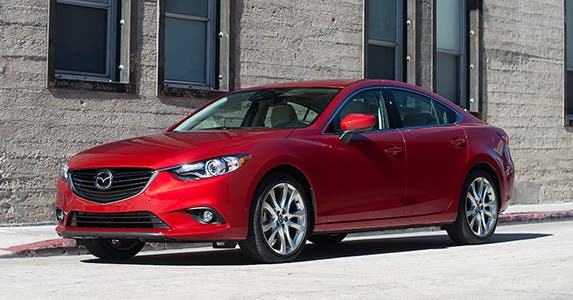 Mazda Mazda6 i Touring
Price: $23,645
Gas mileage: 25 mpg city/37 mpg highway
You'll score a few points with Mom for being sensible when she sees you pull up in this redesigned four-door, midsize sedan. You'll score even higher once you explain the 2.4-liter four-cylinder engine powering it has Mazda's fuel-thrifty SkyACTIV technology. Toss in that it gets 29 mpg in combined city and highway driving, and she'll be ready to head across the country with you.
Not just about fuel economy, the Mazda6's four-banger generates a robust 184 horsepower that is sent to the front wheels via either a six-speed manual or driver-shiftable automatic transmission. Pricing here is for the manual tranny.
Among the standard features are blind-spot monitoring, rear cross traffic alert, automatic dual-zone climate control, backup camera, Bluetooth connectivity with voice activation, a 5.8-inch color touchscreen and a six-speaker audio system with iPod connectivity.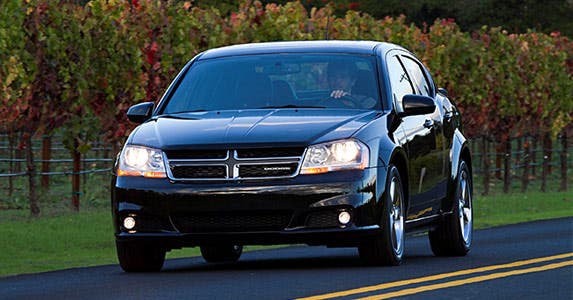 Dodge Avenger R/T
Price: $25,290
Gas mileage: 19 mpg city/29 mpg highway
Bankrate intentionally didn't look at American muscle cars like the Chevrolet Camaro and Dodge Challenger for this list because moms could well be put off by their boy-racer reputations. However, the Avenger R/T doesn't shoulder all that mega-horsepower baggage. If you refrain from engaging all 283 horsepower from its 3.6-liter V-6 when she's riding with you, she may never be the wiser. There may be better overall values on this list, but for pure acceleration, the R/T is the one.
A six-speed, driver-shiftable automatic is the only transmission Dodge offers in the R/T.
Surprisingly well equipped, the R/T has automatic climate control, auto-on headlamps, remote start, trip computer, Bluetooth connectivity, Chrysler's Uconnect infotainment interface and a six-speaker Boston Acoustics-infused audio system with satellite radio capability and iPod interface.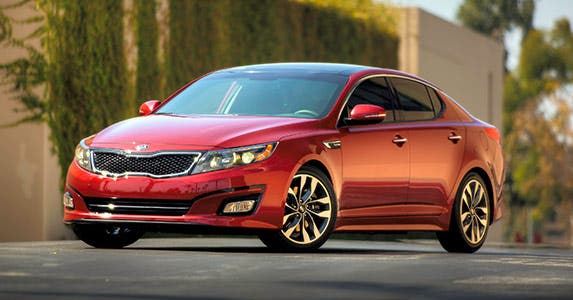 Kia Optima SX Turbo
Price: $27,500
Gas mileage: 20 mpg city/31 mpg highway
Mom will think you've really arrived when you scoop her up in the Kia Optima SX Turbo, the priciest of these picks. She'll settle back in her leather seat and fiddle with her side of the dual-zone climate control, without realizing there is a bit of razzle-dazzle in the turbocharged four-banger stashed under the hood. It's a 2-liter four-cylinder that generates 274 horsepower. Ushering those ponies to the front wheels is a six-speed, driver-shiftable automatic transmission with steering-wheel-mounted shift paddles. Every SX gets a sport-tuned suspension for more dynamic cornering.
Thanks to its family-hauler look, the Optima SX will lull Mom and others into thinking it's just another sedan, but you'll know otherwise.