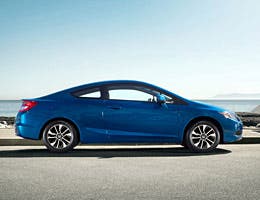 Tuner cars find a resurgence
When you put together a list of the seven most popular tuner cars, you are bound to get the question: What are tuners?
By the 1990s, the trend in Japan that had young, mostly male drivers customizing older Hondas, Nissans and Subarus with body kits, cold-air intakes, cat-back exhaust systems and other assorted parts found its way to Southern California. Thanks in no small part to the "Fast and Furious" movie franchise, the movement soon spread into every corner of the U.S. Those involved called themselves "tuners."
Although the bulk of cars that tuners loved to customize were Japanese brands, it wasn't long before Hyundai Tiburons, Dodge Neons, Chevy Cavaliers and others fell under the tuners' wrenches.
Much of the air went out of the tuner industry with the 2008 recession, but it didn't entirely evaporate. And, along with the automobile industry in general, tuning is enjoying a resurgence today.
Bankrate wondered which were most popular among today's crop of tuner cars. To find out, it turned to expert Jose Gonzalez, who served as a consultant for NOPI Street Performance Compact magazine and is a salesman for Miami-based National Auto Parts Warehouse, Florida's largest auto parts operation.
This is his list of the seven most popular tuner cars. Although tuners often trick out older models, prices and other information here are based on 2013 models.
Honda Civic LX coupe
Tradition requires that Honda's Civic lead off this list. It was the prominent tuner car in the 1990s and remains highly popular today.
"What can I say about the Civic except what can't be done to it?" Gonzalez says. "There isn't a (modification) it hasn't seen. This car in all of its versions — coupe, hatchback and sedan — will always be a favorite of tuners."
In the Civic, Honda has created something for nearly everyone. The range of models is astounding. That, as well as its affordable pricing, is what has attracted tuners for more than 20 years. Delivering power to most current Civics is a 140-horsepower, 1.8-liter, four-cylinder engine. Sending engine output to the front wheels falls to either a five-speed manual or five-speed automatic transmission.
Nissan 370Z coupe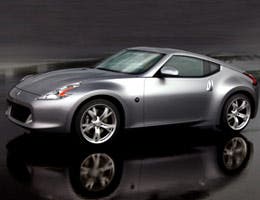 Although the Nissan GT-R is considered the holy grail among tuners, its $100,000 price tag puts it out of reach of most 20-year-olds who must then make do with the 370Z. Offered in coupe and convertible, the 370Z is an ideal platform for tuning because it's remarkably sporty right out of the box.
"Of all the tuner cars out there, none are more loyal to their heritage than the Z car," Gonzalez says.
From the Fairlady Z introduced in this country as the 240Z in 1970 to the current 370Z, Nissan hasn't changed the Z's performance formula, he says.
"With all the upgrade kits available for it, the toughest thing is to decide where to start modifying," Gonzalez says.
Go comes from a 332-horsepower, 3.7-liter V-6 mated to either a six-speed manual or a seven-speed driver-shiftable automatic transmission turning the rear wheels.
Subaru Impreza WRX sedan or hatchback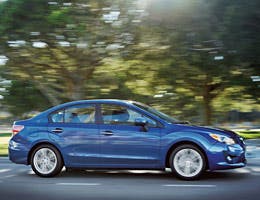 Tuners usually shortcut the name of this Subaru to just "WRX." Setting it apart from most other popular tuner cars is its all-wheel drive. Considering its high level of performance and AWD, its affordable base price makes it a bargain.
"What brought the WRX to life for many tuners were all of its rally race posters that seemed to be everywhere," Gonzalez says. "It's not a difficult car to modify with a wide range of kits from larger turbochargers to tighter suspension setups."
Percolating under the hood is a 265-horsepower, 2.5-liter, horizontally opposed, turbocharged four-cylinder engine bolted to a five-speed manual transmission. The engine's flat design provides a lower center of gravity for better handling. Those willing to spend an extra $8,500 can step up to the WRX STI with its 305-horsepower, turbocharged engine.
Hyundai Genesis coupe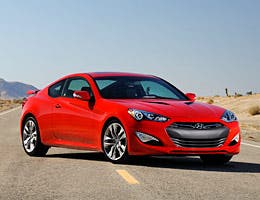 Hyundai's Genesis coupe is a lot of car any way you slice it. It's Hyundai's high-end nameplate, so it's well-stocked with features and amenities. Plus, it looks good from the curb, even without hanging any extra body cladding on it.
"When Hyundai said it would launch a new sports coupe that would be able to hold its own against such competitors as Nissan's Z, they weren't joking," Gonzalez says. "The Genesis coupe is all business with its four-cylinder turbo and V-6 power plants. And did I mention that it's rear-wheel drive?"
RWD offers an edge in performance, handling better when cornering, particularly at high speed.
The base engine is a 274-horsepower, 2-liter, turbocharged four-cylinder. Either a six-speed manual or an eight-speed driver-shiftable automatic transmission hustles power to the rear wheels.
Mazdaspeed3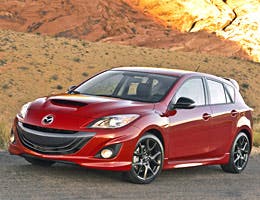 Exactly the size and shape that tuners seem to love, the Mazdaspeed3 combines hot styling with a raging pack of ponies under the hood. It's another choice that tuners like because it rolls right off the showroom floor with solid performance credentials.
"Once Mazda kicked the RX-7 to the curb, it had to come up with something to live up to its 'zoom zoom' image and get the brand back into the tuner game," Gonzalez says. "That something was the Mazdaspeed3. Equipped with its turbocharged four (cylinder), it has all the power and maneuverability to live up to the RX-7's legacy."
Making 263 horsepower, the Mazdaspeed3's 2.3-liter engine drives the front wheels through a six-speed manual transmission. Audiophiles will appreciate this hatchback's 10-speaker, Bose-infused surround-sound system.
Mitsubishi Lancer Evolution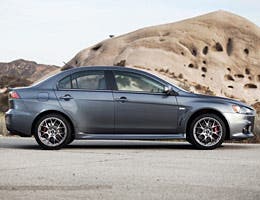 Tuners shorthand the name of the Mitsubishi Lancer Evolution to just "Evo." Like the Subaru WRX, Evo cut its teeth on the rally circuit. Its all-wheel drive and sport-tuned suspension lock it to the pavement as though nailed there.
"Mitsubishi really made the tuner community in this country wait for the Evo," Gonzalez says. "Drivers who love performance, like Evo fanatic Jackie Chan, love this car. And what's not to love? This is AWD-powered by a lightweight, all-aluminum, turbocharged engine. By the time the first Evo finally hit the market here, it was the eighth generation of the sedan in Japan. Can you imagine what we missed?"
Driving all of the wheels via a short-throw, five-speed manual transmission is a 291-horsepower, 2-liter, turbocharged four-cylinder engine. Standard gear includes Recaro front bucket seats and Brembo brakes.
Scion FR-S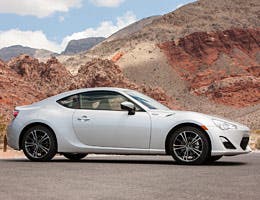 A relative newcomer to the tuner scene, the Scion FR-S shares nearly all of its mechanicals with the Subaru BRZ, equally popular among tuners. This includes the Subaru-engineered, flat, horizontally opposed four-cylinder engine, delivering a low center of gravity and almost perfectly balanced front-to-rear weight distribution.
"The FR-S traces its roots back to the front-engine, rear-wheel-drive Toyota AE86 coupe," Gonzalez says. "Owning one today is like having a cellar full of vintage wine. Toyota fans and tuners alike have been waiting for a new 86. Not until Toyota collaborated with Subaru to introduce the FS-R and BRZ was the wait over. The aftermarket responded with tons of modifying kits. The AE86 lives on."
The FR-S' 2-liter, flat four-cylinder engine develops 200 horsepower that goes to the rear wheels by way of either a six-speed manual or six-speed driver-shiftable automatic transmission.