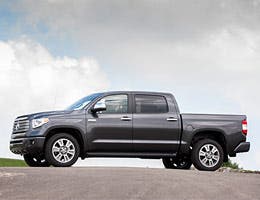 Must-drive cars at the Chicago Auto Show
Why settle for just gazing at cars at the 2014 Chicago Auto Show (Feb. 8-17) when you can actually experience a few of them? Go ahead and kick the tires, but what's really fun is taking a 2014 car for a spin. Several manufacturers have cars and trucks available for test rides inside the show or drives outside, now a nine-year auto-show tradition. More than 75,000 visitors to last year's Chicago Auto Show hopped behind the wheel.
Toyota, Chrysler and Jeep have ride-along opportunities on closed courses set up inside McCormick Place, where the show sprawls over 1 million square feet of space. Several more carmakers are staging driving experiences outside the exhibition hall.
These short courses aren't meant to replace those 30- to 45-minute test drives that a shopper should take before buying a car, but they do provide a snapshot of a car's comfort, space and drivability. It's also an opportunity to drive different cars, making back-to-back comparisons.
Bankrate picked seven of the cars and trucks that manufacturers have available for rides or drives that it believes should be at the top of your test-drive list. Because models may vary as the show progresses, Bankrate included a price range and miles per gallon for each vehicle.
Ladies and gentlemen, start your engines!
For the best auto loans, go to Bankrate.com.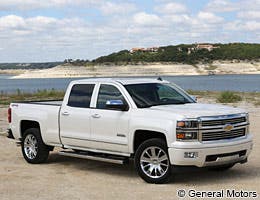 Chevrolet Silverado
Test-drive notes:

Quiet, comfort and the upscale cabin highlight this big truck's improvements.

Price Range:

$25,575 to $45,905

Best gas mileage:

City – 18
Highway – 24
Combined – 20
Chevrolet redesigned Silverado and its GMC sibling Sierra for 2014. Available in regular, double-cab and crew-cab configurations, Silverado comes in seven variations, from a basic work truck to the tricked-out High Country model. No matter the model, scheduled maintenance is free for two years or 24,000 miles.
Three EcoTec engines — a V-6 and two V-8s — offer a wide range of performance and fuel economy. The midrange 355-horsepower, 5.3-liter V-8, when properly equipped, can tow up to 12,000 pounds. A six-speed automatic transmission sends power to the rear wheels.
Most Silverados will feature MyLink systems interface with at least a 4.2-inch touchscreen, Bluetooth connectivity and USB ports.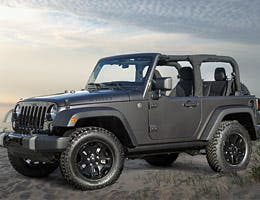 Jeep Wrangler
Test-drive notes:

Never pass up the rare opportunity to experience putting this highly capable off-roader to the test.

Price Range:

$22,395 to $36,095

Best gas mileage:

City – 17
Highway – 21
Combined – 18
You can't get much more basic than the no-nonsense Jeep Wrangler. Despite the current Wrangler being the most civilized version ever, it's an unpolished gem. In its entry-level Sport model, about the only creature comfort is a six-speaker audio system. And removing or reinstalling the soft top is frustrating enough to make you want to pull your hair out. But that's some of the charm of this go-anywhere, do-anything rock crawler.
Every Wrangler comes standard with four-wheel drive. A 285-horsepower V-6 sends output to the wheels via either the standard five-speed automatic or optional six-speed manual transmission. Available in two-door or four-door models, Wrangler is about as capable as a vehicle gets. Jeep's off-road course at the auto show is the ideal place to put Wrangler through its paces in a safe environment.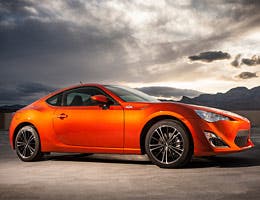 Scion FR-S
Test-drive notes:

Any chance to drive this sports car at the Chicago Auto Show is worth the wait in line.

Price Range:

$24,700 to $25,800

Best gas mileage:

City – 22
Highway – 30
Combined – 25
Scion pretty much left the FR-S alone for 2014. No worries there; it's a terrific car just as is. It may not look like it from the outside, but this sleek road runner seats four. The price range reflects the cost difference between the six-speed manual and the six-speed, driver-shiftable automatic transmission.
Whichever transmission you choose, get up and go comes from a 200-horsepower, horizontally opposed four-cylinder engine. The engine's flat design helps keep the center of gravity low for better stability. Not as quick as some other sports cars, the FR-S makes up for it with its agility and superb handling.
Standard features include an eight-speaker Pioneer audio system with Bluetooth connectivity and iPod interface.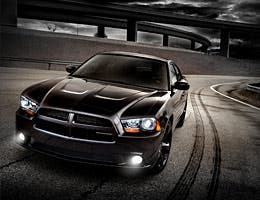 Dodge Charger SE
Test-drive notes:

Chrysler is providing the Hemi V-8-equipped R/T for co-pilot test drives: Oh, Momma!

Price Range:

$26,495 to $32,495

Best gas mileage:

City – 18
Highway – 27
Combined – 21
Don't be fooled by its four doors. Whether motivated by the 292-horsepower V-6 standard in the SE and SXT models, or the 370-horsepower Hemi V-8 in the R/T, the Charger looks every inch the muscle car that it is. Its brutish, chiseled exterior lines scream, "Get out of the way!"
A five-speed, driver-shiftable automatic transmission turns the rear wheels in the SE and R/T versions, while a more fuel efficient eight-speed, driver-shiftable automatic is standard in the SXT. Dodge also offers all-wheel drive.
Every Charger comes with a Uconnect system interface and color touchscreen. The SXT and R/T get more sophisticated versions with a larger touchscreen.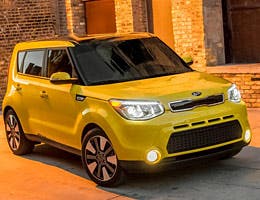 Kia Soul
Test-drive notes:

The ideal urban warrior, Soul is easy to park yet has loads of interior space.

Price Range:

$14,900 to $20,300

Best gas mileage:

City – 24
Highway – 30
Combined – 26
Kia credits Soul with changing its culture and amping up brand-wide sales. Redesigned for 2014, Soul is longer and wider than last year's model. When driving it, you can feel the extra heft. It's sort of a grown-up version. Still, it comes in a bunch of fun colors, and its upper trim levels have silly names ("+" and "!").
But, there is nothing silly about the gobs of standard features found in even the base model that include Bluetooth connectivity, a trip computer and full-power accessories.
Powering the base model is a 130-horsepower, four-cylinder engine matched to a six-speed manual transmission. Moving up to the higher-end models adds a 164-horsepower, four-cylinder engine with a six-speed automatic transmission.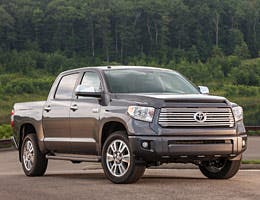 Toyota Tundra
Test-drive notes:

Toyota is providing TRD Pro Series 4×4 Tundras on a course with a 14-foot-tall hill at the Chicago Auto Show.

Price Range:

$26,200 to $44,550

Best gas mileage:

City – 16
Highway – 20
Combined – 17
Toyota completely redesigned Tundra for 2014, offering it in three cab configurations, five grades and with three engines — one V-6 and two V-8s. Although the 270-horsepower V-6 delivers better fuel economy, the 381-horsepower, 5.7-liter V-8 is the most popular Tundra engine with owners. A five-speed automatic transmission comes with the V-6, and a six-speed automatic with the V-8s.
Every grade of Tundra sports a distinct look and theme; however, no matter the grade, each comes equipped with a backup camera and Bluetooth connectivity. Tundra is the only full-size pickup to offer a blind-spot monitor with cross-traffic alert on some grades.
Tundras scheduled for auto-show test drives will be outfitted with Bilstien shocks, 18-inch off-road alloy wheels and skid plates.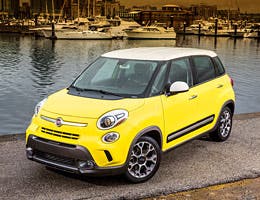 Fiat 500L
Test-drive notes:

You will be surprised by the remarkable amount of room inside this little car.

Price Range:

$19,195 to $24,395

Best gas mileage:

City – 24
Highway – 33
Combined – 27
Convinced it was losing sales to shoppers looking for a larger passenger space, Fiat stretched its tiny 500-by-27 inches and added two rear doors. Mission accomplished: The interior grew by 42 percent and seats five.
Fiat makes personalizing the 500L easy by encouraging buyers to mix and match several body, roof and interior color schemes, as well as all manner of dealer-offered accessories.
Even the base Pop comes with popular creature comforts, in addition to a range of upgrades in the form of option packages and higher-end trim levels.
Every 500L comes with a 160-horsepower, four-cylinder turbocharged engine. A six-speed manual transmission is standard. A $1,350 six-speed, driver-shiftable automatic is available on all but the base Pop model.