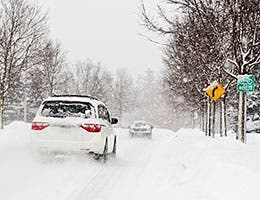 Safe driving with vehicle safety features
Winter can be a drag on driving, especially if you have to deal with snow and ice. But due to advanced safety technology, you can now log some cold-weather miles without as much worry.
"Advanced crash-avoidance features started out as options on a few luxury vehicles and have steadily spread to more of the fleet, including mainstream cars," says Russ Rader, spokesman for the Insurance Institute for Highway Safety.
Because many of the newer safety options are bundled, it's nearly impossible to split the features out one by one in terms of cost, says Carroll Lachnit, features editor for auto website Edmunds.com. "In 2012, bundles ranged in MSRP from $100 to $30,000," she says, referring to the manufacturer's suggested retail price.
Of course, one of the most important safety aspects of winter driving isn't technology. It's the driver. A lot of these technologies rely on driver reaction, and Lachnit says that all of the alarms in the world won't make up for an inattentive driver or one who doesn't know what to do in an emergency situation.
However, until you can take an advanced driver-training class, as Lachnit suggests, here are six car safety features that can help out on those winter roads.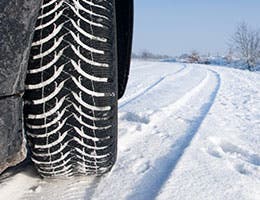 Electronic stability control
Electronic stability control, or ESC, is one of the most important car safety features for winter driving. "ESC is an important feature for all weather situations, but especially when the roads are slippery," Rader says. It helps prevent loss of control and spinout crashes that are common in winter conditions.
ESC uses sensors and a microcomputer to continuously monitor steering. It applies the brakes or modulates engine power to help the driver maintain control of the car. As of the 2012 model year, the government has required ESC on all passenger vehicles, according to the National Highway Traffic Safety Administration.
ESC has proven very effective in reducing crashes. A study by the Highway Loss Data Institute found that for cars and SUVs, ESC reduced fatal single-vehicle crash risk by 49 percent and fatal multiple-vehicle crash risk by 20 percent.
In addition, the NHTSA notes that electronic stability control can help prevent rollovers.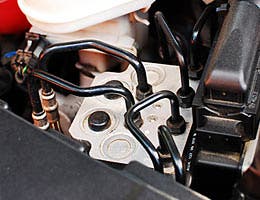 Antilock brakes
Because antilock brakes are part of electronic stability control systems, they are now standard equipment on passenger vehicles as of the 2012 model year, according to the Insurance Institute for Highway Safety.
In general, antilock braking systems use sensors to monitor the rotational speeds of selected wheels when you hit the brakes. If a wheel locks up, the electronic control unit of the system applies and releases braking pressure multiple times per second.
The main benefit of antilock brakes is their application on wet and slippery roads, like the ones you often encounter during the winter.
However, antilock brakes haven't had a significant impact on passenger vehicle crashes, even during winter months, and it's unclear why. The IIHS says the average motorist rarely experiences total loss of control, which antilock brakes prevent. In addition, many drivers in the early days of antilock brakes didn't know how to use them effectively.
"To be effective, the driver must step firmly on the brakes without pumping them. That's an aspect that many drivers don't understand," Lachnit says.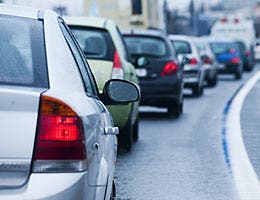 Forward-collision avoidance
Forward-collision avoidance systems are one of the more promising car safety features available, IIHS's Rader says.
Lachnit says that these systems use various types of sensors, such as cameras, radar or light detection and ranging, also called lidar, to detect vehicles in front of you. "If your car approaches within a 'danger zone,' you'll get warning alerts," she says.
After a warning alert, the car may brake automatically. According to the IIHS, most of these systems pre-charge the brakes to maximize the effect if the driver responds, and some systems brake automatically even if there is no driver response.
SUVs equipped with Volvo's City Safety feature — a low-speed forward-collision avoidance system — had 27 percent fewer property damage liability claims, according to a study by the Highway Loss Data Institute. The technology essentially prevents rear-end collisions.
In a separate HLDI analysis of forward-collision systems that function at higher speeds on Acura and Mercedes-Benz vehicles, there were 14 percent fewer insurance claims under property damage liability.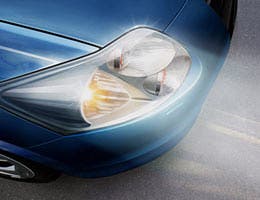 Adaptive headlights
Adaptive headlights can help drivers see better on dark, curved roads. And while they aren't as common on today's vehicles as other technologies, Lachnit says they could provide great assistance in the fog or rain.
For example, BMW's adaptive headlight system works by using sensors to measure speed and the steering angle. Based on information sent from the sensors, small electric motors adjust the headlights so they fall directly on the road ahead.
This car safety feature was found to be even more effective in preventing crashes than Highway Loss Data Institute researchers expected. They analyzed adaptive headlights offered by Acura, Mazda, Mercedes and Volvo, and found that property damage claims fell by as much as 10 percent.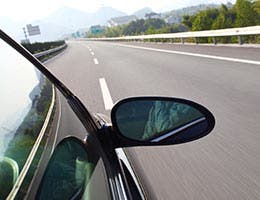 Lane-departure warning and prevention
Similar to forward-collision avoidance, a lane-departure warning system monitors lane markings on the road. It then alerts drivers about unintentional lane drift. Some vehicles warn drivers of lane drift through a steering wheel or seat vibration. Other vehicles use audible or visual warnings.
"The caveat is many of these alarms depend on the driver to react, and multiple alarms might be confusing and difficult to respond to," Lachnit says.
Buick, Mercedes and Volvo have lane-departure warning systems, but the real promise comes with lane-departure prevention. They actively resist moving out of the lane by automatically using slight braking and steering adjustments.
When combined with other technologies, lane-departure warning technology could help prevent crashes. The Insurance Institute of Highway Safety predicts that if all passenger vehicles were equipped with forward-collision warning, lane-departure warning, blind-spot detection and adaptive headlights, about 1 in 3 fatal crashes and 1 in 5 injury crashes could potentially be prevented or mitigated.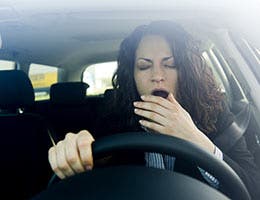 Fatigue warning
Drowsy driving causes more than 100,000 crashes a year, resulting in 40,000 injuries and 1,550 deaths, according to the NHTSA. That's where fatigue-warning technology comes into play.
Lachnit says there are two types of fatigue warnings — one that monitors the driver's face or eye movement and another that monitors driving behavior, such as sudden lane or steering changes. When fatigue is detected, an alarm sounds.
Because fatigue warning is relatively new, the jury is still out on how effective this technology is, says the Insurance Institute for Highway Safety. "Those features that include automated braking or correction are far more effective than those with just a warning," Lachnit says.
In other words, this car safety feature might wake you up if you fall asleep, but it won't automatically correct driving to avoid a crash like forward-collision avoidance would.
Currently, fatigue warning is confined to just a few high-end manufacturers, and it might not ever become standard, Lachnit says.