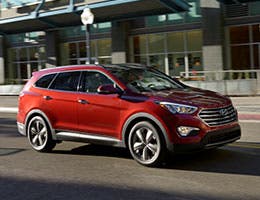 Safe SUVs that are fun to drive
Sport utility vehicles are high-performance cars that are popular with families. However, they haven't had the solid safety reputation that other types of cars and trucks have had.
Fortunately, many of today's SUVs are earning high safety ratings from organizations such as the Insurance Institute for Highway Safety and the National Highway Traffic Safety Administration.
Here is a list of five of the safest midsize SUVs on the market. All of them are IIHS top safety picks, meaning they've earned the highest score of "good" in four crash test categories.
These vehicles have advanced technology designed to help drivers maintain control in bad driving conditions and protect occupants in the event of a wreck. They also have enhanced designs and color options that help make them fun to drive. We include their starting price, gas mileage and mpg rating. If you're buying a new car, look for the best auto loans in your area.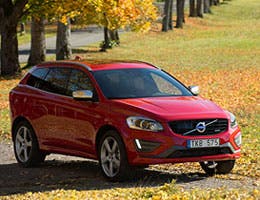 2014 Volvo XC60
Starting price: $34,850
Engine specs: 3.2 liters, six cylinders
Gas mileage:
City – 18 mpg
Highway – 25 mpg
The XC60 midsize SUV recently received a five-star overall rating from the NHTSA, the highest available. This is especially notable because NHTSA imposed stricter standards in 2011, making it harder for many vehicles to earn top scores.
The XC60 has dual-stage front air bags, side air bags and an inflatable curtain to protect passengers. It also comes standard with anti-lock brakes.
Volvo calls the XC60 "the car that stops itself" because of its city safety feature. If a driver is going 31 mph or less, the SUV can detect a stopped or slower-moving car in front and appropriately apply the brakes. It is meant to help prevent collisions in stop-and-go traffic.
The city safety technology is part of the SUV's standard safety package, which also includes adaptive cruise control and collision warning with full auto brake and pedestrian and cyclist detection.
Style-wise, this auto combines the "high waistline" of other XC models with the sporty contour of a coupe, creating a crossover that is designed to provide an enjoyable driving experience.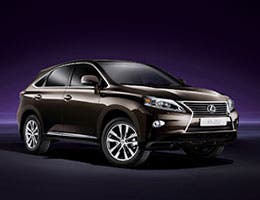 2014 Lexus RX 350
Starting price: $39,760
Engine specs: 3.5 liters, six cylinders
Gas mileage:
City – 18 mpg city
Highway – 25 mpg highway
Both the 2013 and 2014 models of the Lexus RX 350 have received five-star overall ratings from the NHTSA.
This luxury vehicle provides some of the latest enhancements available for safety, such as a four-sensor, four-channel, anti-lock braking system. It also includes brake assist technology, which can sense a panic braking situation and apply additional brake pressure until the driver releases the pedal. The vehicle also has electronic brake-force distribution, which helps keep the car stable when a driver presses the brakes.
The RX 350 has a 10 air bag system that includes driver and front passenger air bags, as well as side and rear-side air bags. The SUV includes front passenger seat detection that is designed to determine whether the seat is occupied by an adult, a child or is vacant, and to react accordingly in the event of a collision. The front, side and knee air bags won't deploy if the system detects a child or empty passenger seat.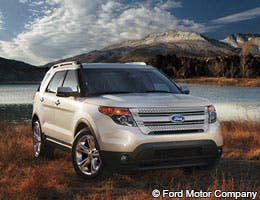 2014 Ford Explorer
Starting price: $29,600
Engine specs: 3.5 liters, six cylinders
Gas mileage:
City – 17 mpg city
Highway – 24 mpg highway
The Explorer has enhanced technology to deal with adverse road conditions, including rain, gravel and ice.
Specifically, its AdvanceTrac with roll stability control technology uses sensors to monitor the vehicle's roll rate and "yaw rate" (rotational speed). In the event of a wheel slip, roll motion, understeer or oversteer, this technology helps the driver keep control of the vehicle. The roll stability control also includes a curve control feature that will slow down the vehicle if it senses that the SUV is going too quickly around a curve.
The Explorer has an air bag system called Safety Canopy. It includes side-curtain air bags combined with a rollover sensor to protect occupants' heads and chests in certain rollover and side-impact accidents. The Safety Canopy air bag remains inflated for up to several seconds to help prevent an occupant from being ejected from the vehicle after an accident. The Explorer also comes standard with a front passenger knee air bag.
The Explorer received a five-star overall rating from NHTSA. It comes with a selection of 10 sporty colors, including ruby red, deep impact blue and Kodiak brown.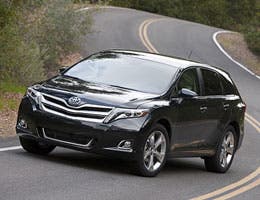 2014 Toyota Venza
Starting price: $27,950
Engine specs: 2.7 liters, four cylinders
Gas mileage:
City – 20 mpg city
Highway – 26 mpg highway
This SUV has the lowest price in this roundup and it is packed with safety enhancements.
The Venza comes standard with its own Star Safety System, a group of six technologically advanced safety features, including an anti-lock brake system, electronic brake force distribution, enhanced vehicle stability control, traction control, Smart Stop Technology and brake assist.
The SUV boasts seven air bags strategically positioned around the vehicle, including along the driver and front passenger areas, a driver knee air bag and side-curtain air bags for all rows.
In addition to its affordability, the Venza has the best fuel economy in this roundup, boasting 26 mpg on the highway.
Both 2013 and 2014 models of the midsize SUV received a five-star overall rating from NHTSA.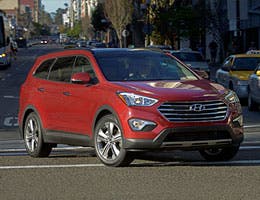 2013 Hyundai Santa Fe
Starting price: $28,600
Engine specs: 3.3 liters, six cylinders
Gas mileage:
City – 18 mpg city
Highway – 25 mpg highway
The carmaker hasn't yet released its 2014 model, but the Santa Fe is another affordable SUV that has scored well in crash safety tests. This IIHS top safety pick crossover has seven air bags, including driver, front passenger and driver's knee air bags.
This SUV also comes standard with electronic stability control, traction control and anti-lock brakes.
In the event of an accident, new Santa Fe owners have access to the manufacturer's Assurance Connected Care, which can instantly connect drivers to help after an accident. With this plan, an agent is available to stay on the line until after help arrives. This feature comes standard with the Santa Fe Sport for the first three years of ownership.
Along with these safety features, drivers can choose from a range of nine colors for the Santa Fe, including Monaco white, Hampton green and frosted mocha.