Women may be common objects of humor when it comes to driving cars, but if you're talking about buying them, the auto industry gets very serious.
No wonder: Women account for more than half of the purchases for some models — from niche cars like the Volkswagen New Beetle and the Volkswagen Eos convertible, to big-volume sellers like the Nissan Sentra sedan and the nation's No. 1-selling crossover, the Honda CR-V.
According to J.D. Power and Associates, women directly accounted for 37.4 percent of car and light-truck purchases in the first half of 2009.
Even if they don't buy the car directly, women have a voice in most automotive purchases, the research firm says.
"Women are involved in, or represent the principal driver, in about 60 percent of purchases," says Gene Cameron, an executive director at J.D. Power.
Women influence every stage of development, from the drawing board to the dealership from original product concept to choices of features and options, plus media mix and advertising messages.
The Volvo brand is synonymous with safety, and that alone accounts for much of Volvo's success with women. The Volvo S40 is among the Top 10 models purchased by women, according to Power Information Network. "Safety is kind of a foundational issue for everybody, but I do believe it is relatively more important to women," says John Maloney, a Volvo spokesman.
That's true, but in fact, men and women prioritize most of the same things when it comes to choosing a car, according to AutoPacific, an auto industry research and consulting firm. Where men and women diverge, it's a matter of degree.
At the very top of the list of priorities, there's little difference. For instance, more than 90 percent of both men and women in an AutoPacific survey say "Reliable/Dependable" and "Overall Quality" were very important or extremely important reasons to purchase the vehicles they bought.
Further down the list there are some notable differences. AutoPacific says women were more likely than men to prioritize "Price/Monthly Payments" (75.8 percent of women, versus 63 percent of men) and "Fuel Economy/Gas Mileage" (77.5 percent women, 65.2 percent).
These differences may reflect the fact that, on average, women still earn less than men. The U.S. Census Bureau says women who worked fulltime, year-round in 2007 earned an average of 78 percent as much as corresponding men.
On the Power Information Network, only one of the Top 10 models purchased by females — the Volkswagen Eos — has a starting price higher than $30,000, a price point that often is used to divide luxury cars from nonluxury.
To a smaller but still significant extent, AutoPacific says women also were more likely than men to these factors among their most important reasons for purchase:
Environmental friendliness.
Included service/maintenance package.
Feeling safe while driving.
Safety features.
Flexible/changeable seating.
Top 5 cars women really want
1. Volkswagen Beetle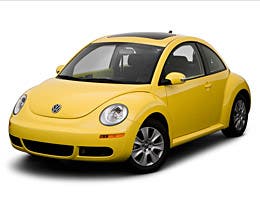 Female buyers: 58.1 percent.
Why women like it: It's cute.
Starting price: $18,290
"Almost from Day One, the car attracted a female audience," says VW spokesman Steve Keyes. VW introduced the New Beetle back in 1998. "The feedback we get from customers is that it's very friendly, it has a personality, it looks cute,"Keyes says.
2. Hyundai Tucson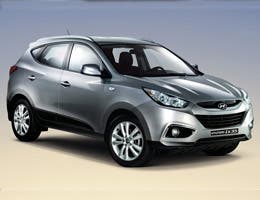 Female buyers: 55.2 percent.
Why women like it: Practicality, value.
Starting price: $18,795
The crossover SUV is a segment that's especially popular with women. The Tucson has practical, flexible cargo space; a higher ride height and better visibility than most cars; plus hooks for a pocketbook and/or grocery bags. It's also smaller and more manageable than traditional, big SUVs.
3. Volvo S40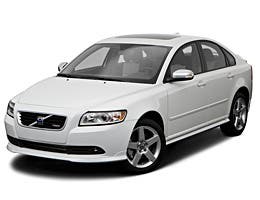 Female buyers: 54.9 percent.
Why women like it: Safety, brand image.
Starting price: $27,050
Volvo's safety reputation attracts families and women shoppers. For a premium brand, Volvo is not ostentatious, which also appeals to women in their business-career roles, says Volvo's spokesman Maloney. The S40 is Volvo's entry-level sedan.
4. Nissan Rogue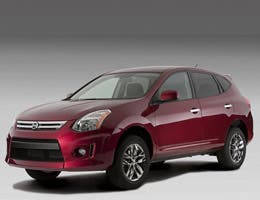 Female buyers: 54.4 percent.
Why women like it: Practicality, styling.
Starting price: $20,340
The Nissan Rogue is a small crossover SUV, a genre which Erich Marx, director of marketing and media for Nissan North America Inc., says are popular with women. The Rogue was introduced in 2007 as a 2008 model.
5. Volkswagen Eos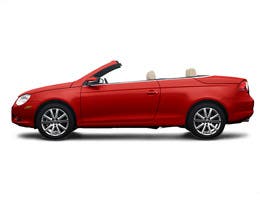 Female buyers: 54.2 percent.
Why women like it: Styling, free maintenance.
Starting price: $31,615
Designed with women in mind? The Eos is named for the Greek goddess of the dawn. It is part of a trend toward convertibles with folding hard tops. Female-friendly promotions for the Eos have included a lineup of fashion clothing accessories. On the practical side, all VWs also come with free scheduled maintenance for three years/36,000 miles.