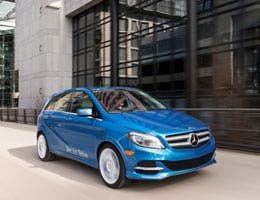 Auto show invades the Big Apple
While New York City may tout itself as a terrific place to be without a car, that doesn't stop tens of thousands of its residents and those in the surrounding areas to make the jaunt to the Jacob K. Javits Convention Center this week to check out the many cars on the show floor at the 2013 New York International Auto Show.
And many of those folks are anxious to see the latest small cars that are perfect for city driving. Check out Bankrate.com's choices of small cars that make them easier to park, and the engine characteristics that make them great on fuel economy so you're not wasting gas while sitting in traffic.
2015 Volkswagen Golf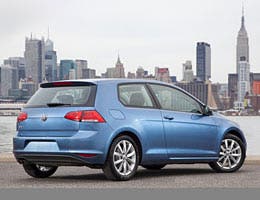 Volkswagen used the New York auto show to unveil a fully redesigned version of its Volkswagen Golf, which is larger overall with a more spacious interior than the outgoing model. The 2015 Golf is estimated to improve fuel efficiency by as much as 15 percent more than current Golf models.
The 2015 Volkswagen Golf will be offered with a choice of three engines: a 1.8-liter turbocharged four-cylinder, a 2-liter turbocharged direct-injection diesel, and a 2-liter turbocharged four-cylinder that will be offered in the sporty GTI model. In addition to the redesigned exterior, the new interior is more spacious with more front-seat shoulder and elbow room, more rear-seat legroom and more cargo space.
The center console has been redesigned to be more ergonomic for the driver, while many functions will use touch-screen technology similar to that in smartphones to allow for operating controls with the swipe of a hand. Standard safety features include six standard air bags and Volkswagen's automatic post-collision braking system, which automatically applies the brakes during an impending collision to reduce the impact.
2014 Subaru XV Crosstrek Hybrid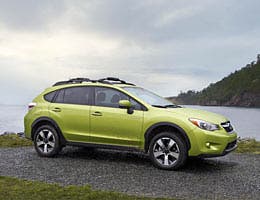 Subaru has joined the ranks of automakers offering hybrid versions of its cars. The 2014 Subaru XV Crosstrek Hybrid, unveiled at the New York auto show, will use a 2-liter boxer-style engine that Subaru is known for combined with an electric motor to improve fuel economy, though no mpg numbers were available at press time.
Like other hybrid small cars, the XV Crosstrek Hybrid will use the electric motor for initial acceleration, while the gasoline engine and electric motor work in tandem to reduce fuel consumption when more power is needed. The 2014 Subaru XV Crosstrek Hybrid will have essentially the same passenger space as the nonhybrid model, though cargo space is reduced by 1.7 cubic feet. The all-wheel-drive system and chassis capability, including the 8.7 inches of ground clearance, are identical to the gas model. The 2014 Subaru XV Crosstrek Hybrid will arrive in showrooms in fall 2013.
2014 Mercedes-Benz B-Class Electric Drive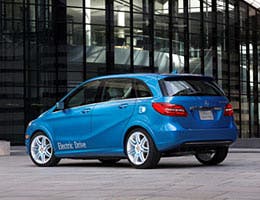 Making its world debut in New York, the 2014 Mercedes-Benz B-Class Electric Drive is an electric version of the B-Class small car that is popular overseas. On sale in the United States in early 2014, the B-Class Electric Drive is powered by an electric motor that has the acceleration capability equivalent to a 3-liter gasoline engine, with a driving range of about 115 miles.
The B-Class Electric Drive can be recharged with any standard household outlet, though a 240-volt outlet will provide a faster charging time — about two hours to charge for a range of 60 miles. Safety features include Mercedes-Benz's collision prevention assist with adaptive brake assist, which visually and audibly warns the driver of an impending collision and can apply the brakes if necessary to reduce the impact in a rear-end collision.
Other standard features include a color information screen, an audio system with CD, USB and MP3 capability and a power display that provides instant feedback on the electric drivetrain, including how much power is being used and when power is being regained through regenerative braking.
2014 Kia Soul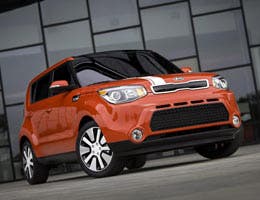 Kia took the wraps off the redesigned Kia Soul at the 2013 New York International Auto Show. The boxy little compact that was introduced in 2009 now features styling similar to Kia's Track'ster concept, which was unveiled last year.
The redesign makes the Soul larger and wider overall, which increases both passenger and cargo space, while seating design changes and the car's overall step-in height make entering and exiting the vehicle easier. Chassis and suspension improvements improve handling, while reducing exterior noise and vibration to create a more pleasant driving experience.
Arriving in showrooms in the late spring of this year, all 2014 Kia Soul cars will come standard with power windows and door locks, heated exterior mirrors, telescopic steering wheel and a six-speaker audio system, while available features include leather seats, ventilated driver and front passenger seats, panoramic sunroof, string light-emitting diode mood lighting and a navigation system.
2015 Audi A3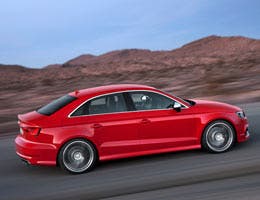 Audi will bring its popular A3 to the U.S. market in early 2014. Redesigned for the American market, the 2015 Audi A3 will be offered as a sedan and a five-door Sportback. The sedan model will be available with four engines — three gasoline power plants, including a high-performance model that will be called the S3, and a clean-diesel engine.
The A3 Sportback will come only as a plug-in gasoline electric hybrid, a first for Audi in the U.S. All engines will be paired with a six-speed automatic transmission with manual capability.
Like the higher-priced Audis, the new A3 will feature Audi drive select, which allows the driver to select from four settings to customize the overall driving experience, including shift points, steering feel and throttle response. The 2015 Audi A3 will come standard with leather upholstery, Bluetooth hands-free technology, rain-sensing wipers and a panoramic sunroof.