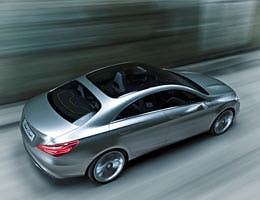 Concept cars at the Chicago Auto Show
There is no better place than an auto show to get a glimpse of the cars of the future. That's where carmakers show off concept cars and upcoming production models.
Manufacturer concept cars are the ultimate "what if" vehicles. Think of them as a starting point in a negotiation between a carmaker's design departments and its engineering and production departments.
Concept cars are a design department's opening bid. Although a few have come pretty close, concepts that do make it into production never turn out exactly like the futuristic vehicles we see at auto shows.
Manufacturers also use auto shows to introduce the public to all-new or redesigned vehicles that will make it into its showrooms. Some of these actually began life as concepts in previous auto shows.
Several concept cars and upcoming production vehicles populated the 2013 Chicago Auto Show. Here are five cars of the future Bankrate thought had pizazz — and our prediction for their future.
Kia Cross GT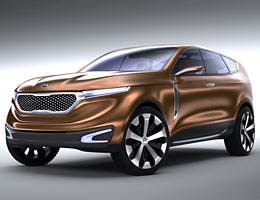 Status: Concept car
Forecast: Likely to be produced in some form
Kia is moving upmarket, as illustrated by the unveiling of its premium Cadenza sedan earlier this year at the North American International Auto Show in Detroit. The Cross GT would provide Kia access to the luxury crossover arena.
Bigger than Kia's freshly redesigned Sorento, the Cross GT is a large crossover utility vehicle, or CUV. Its height offers not only enhanced visibility for the driver, but also more ground clearance for its all-wheel drive. Flowing exterior lines highlight its wrapper painted in fusion copper.
Its advanced hybrid powertrain has at its heart a 3.8-liter V-6 engine mated with an eight-speed automatic transmission. A pancake-shaped electric motor lies between the V-6 and the transmission. The motor and engine conspire to produce 400 horsepower. Torque is the power that gets the wheels turning, and the Cross GT's hybrid system can generate 500 foot-pounds of it.
Seating four in bucket seats, the cabin is loaded with technology, including access to the Internet through flat-panel screens located in the rear of the front-seat headrests.
2014 Acura MDX Prototype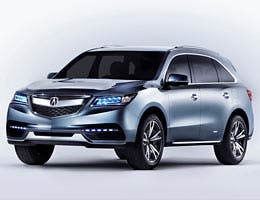 Status: Preproduction truck
Forecast: Slated for production
This is a preproduction vehicle that actually will roll off the assembly line. Acura may tweak here or there on the seven-passenger MDX Prototype making the rounds of the auto show circuit, but it is virtually the same crossover that will be in showrooms this summer.
The first MDX offering front-wheel as well as all-wheel drive, it features new front and rear suspensions. An all-new 3.5-liter V-6 engine provides variable cylinder management, which allows the engine to deactivate two or three cylinders when cruising for improved fuel efficiency.
With a longer wheelbase than the 2013 model, the 2014 MDX promises improved ride quality and more second-row legroom.
In addition to safety technologies, such as forward collision warning, lane departure warning and a multiangle backup camera, the MDX features satellite radio, Pandora and Harman's cloud-based Aha.
Toyota Corolla Furia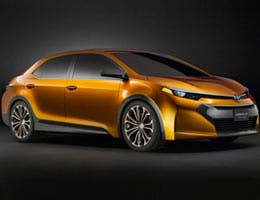 Status: Concept car
Forecast: Expect many of these styling changes on the next-generation Corolla.
Despite being one of the best-selling small cars, the Corolla is in need of an update. The Corolla Furia concept is an exercise in exterior design and a clear indicator of where Toyota thinks it should be taking its wildly popular compact.
Although this color — referred to by Toyota executives as fuego furioso — probably won't make it into production, it grabs onlookers' attention, directing it to Furia's sloping roofline and budding fender flares. Both headlights and taillights are light-emitting diodes, or LEDs.
Because of cost factors, the carbon fiber elements found in lower-front spoiler and rocker panels probably won't make it to the next-generation Corolla either, but you can expect a more aggressive front end similar to the Furia's.
Historically, Toyotas have not been spectacularly stylish, but the carmaker's management is promising to change that in its cars of the future. Corolla is as good a place as any to start.
Mercedes-Benz Style Coupe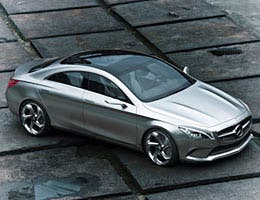 Status: Concept car
Forecast: Expected in showrooms in fall 2013 as the 2014 Mercedes-Benz CLA-Class
In the Style Coupe, we have a concept car that Mercedes-Benz brought to the Chicago Auto Show despite already introducing the production model that evolved from it. That would be the new CLA-Class scheduled to go on sale this fall.
In a real departure for Mercedes-Benz, the CLA-Class will be front-wheel drive and powered by a 208-horsepower 2-liter four-cylinder turbocharged engine. A driver-shiftable seven-speed automatic transmission will hustle engine output to the wheels. All-wheel drive will be available.
Mercedes-Benz retained many of the concept's styling cues in the CLA. The production car will share the concept's four-door coupe look. The grille, headlights and rear-end treatment are all similar.
Available technology features on the production car include attention-assist drowsiness detection, collision-prevention assist, blind-spot assist, the connectivity services of the mbrace2 hard-drive-based navigation system, 10GB music memory and satellite radio.
Lexus LF-LC Blue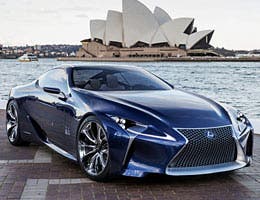 Status: Concept car
Forecast: Although some components will appear in production cars, this concept car won't make it into showrooms.
Highly stylized and covered in its opal blue wrapper, the LF-LC uses weight-reducing carbon fiber and aluminum alloy materials.
It is also an ideal opportunity to show off the next-generation Lexus Hybrid Drive system that mates an Atkinson gasoline engine with a new high-energy battery pack. This smaller battery pack delivers greater power than today's larger battery arrays. Reaching a combined 500 horsepower, this hybrid system is the most powerful of any Lexus hybrid.
Highlighting the exterior styling are L-shaped daytime running lights, vertical fog lamps, a panoramic glass roof and honeycomb grille.
Dominated by twin 12.3-inch LCD screens, the cockpit allows the driver to stay informed and easily control the car. An interface connects the control of key systems, such as navigation, audio and climate.