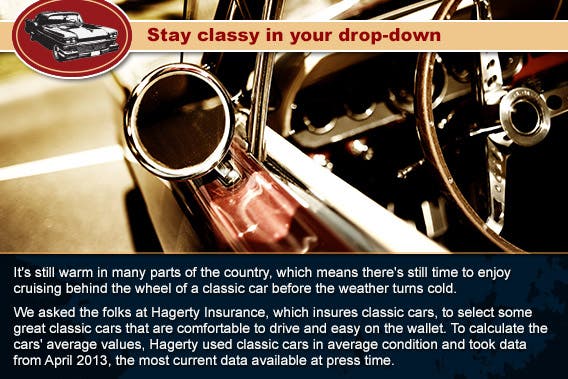 Stay classy in your drop-down
It's still warm in many parts of the country, which means there's still time to enjoy cruising behind the wheel of a classic car before the weather turns cold.
We asked the folks at Hagerty Insurance, which insures classic cars, to select some great classic cars that are comfortable to drive and easy on the wallet. To calculate the cars' average values, Hagerty used classic cars in average condition and took data from April 2013, the most current data available at press time.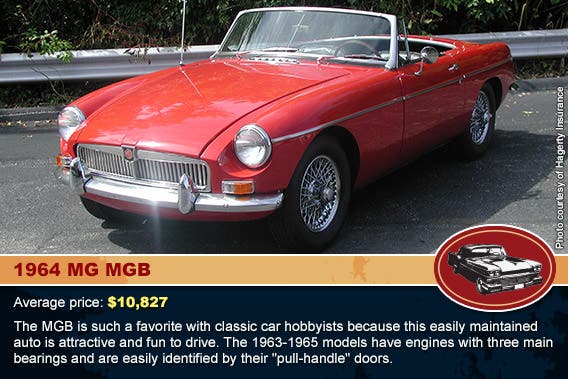 The MGB is such a favorite with classic car hobbyists because this easily maintained auto is attractive and fun to drive. The 1963-1965 models have engines with three main bearings and are easily identified by their "pull-handle" doors.
1964 MG MGB
Average price: $10,827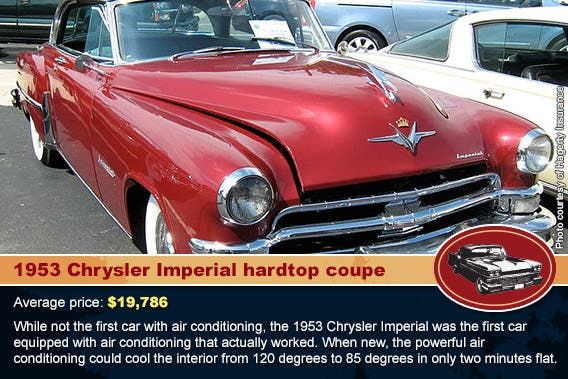 While not the first car with air conditioning, the 1953 Chrysler Imperial was the first car equipped with air conditioning that actually worked. When new, the powerful air conditioning could cool the interior from 120 degrees to 85 degrees in only two minutes flat.
1953 Chrysler Imperial hardtop coupe
Average price: $19,786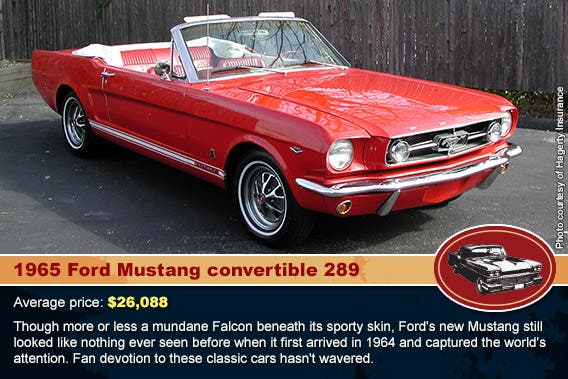 Though more or less a mundane Falcon beneath its sporty skin, Ford's new Mustang still looked like nothing ever seen before when it first arrived in 1964 and captured the world's attention. Fan devotion to these classic cars hasn't wavered.
1965 Ford Mustang convertible 289
Average price: $26,088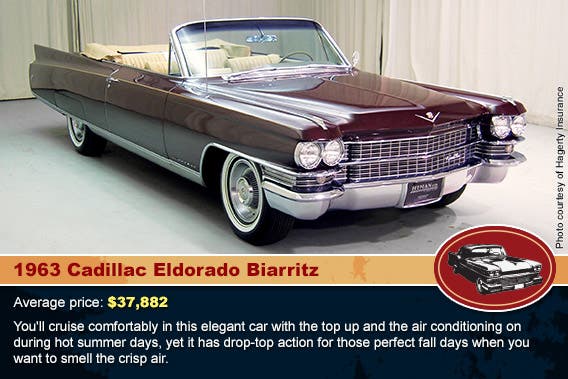 You'll cruise comfortably in this elegant car with the top up and the air conditioning on during hot summer days, yet it has drop-top action for those perfect fall days when you want to smell the crisp air.
1963 Cadillac Eldorado Biarritz
Average price: $37,882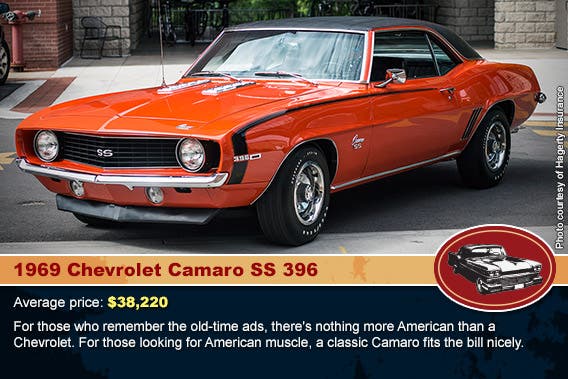 For those who remember the old-time ads, there's nothing more American than a Chevrolet. For those looking for American muscle, a classic Camaro fits the bill nicely.
1969 Chevrolet Camaro SS 396
Average price: $38,220