5 cars for a down economy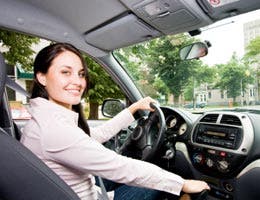 Buying a bargain car in a down economy is different than in good times. Instead of lusting for horsepower, it's miles per gallon to save cash. Instead of hot styling, it's cargo capacity for a potentially unexpected move.
Recessions typically bring a huge drop-off in car sales, and this one was no exception. The year 2008 was the worst for auto sales since 1992, with overall industry sales falling off 18 percent from 2007, according to Edmunds.com.
Now, auto sales are coming back, but they're coming in the form of bargain car models that are miserly on gas, reasonable in price, reliable, and practical enough to do the work of two cars if need be. Sedans in particular have seen a renaissance, now accounting for 17.8 percent of sales compared with 13.3 percent in the bubble year of 2005.
But not all recession-mobiles are sedans. While you're not usually going to find low-slung coupes or brawny trucks, thrifty autos do come in a variety of shapes and sizes. Here are five of the best bargain cars.
2010 Hyundai Tucson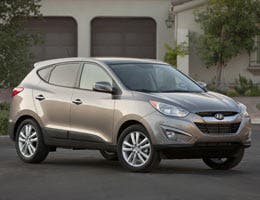 Carmaker Hyundai has made great strides in its bargain-car designs, steadily transforming itself from a maker of drab, unreliable cars into a leading import brand.
The recently redesigned 2010 Hyundai Tucson is a crossover SUV for penny pinchers. For under $20,000, it comes with a six-speed automatic transmission that helps it achieve a miserly 23 city/31 highway mpg, not bad for a four-cylinder engine that generates 176 horsepower.
The $20,000 base model isn't overly generous with standard features, but it does have the essentials: CD player with auxiliary jack, antitheft system, keyless entry and air conditioning. And nothing quite ruins a cheapskate's day more than an expensive car repair, so the Tucson comes with a 60-month/60,000-mile warranty, with a 100,000-mile/120-month powertrain warranty.
2011 Ford Fusion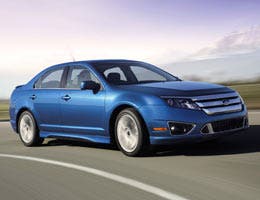 Ford has made something of a comeback. The company has seen its sales improve dramatically, up 43 percent year over year in the second quarter of 2010, and the company's new focus on quality appears to be paying dividends. J.D. Power's 2010 Initial Quality Study ranked it fifth overall out of 33 brands.
Its reliability is part of what sets the Fusion apart as a bargain car. Keeping your car out of the mechanic's garage is a key way to save money on transportation, and that's one area where the Fusion excels. J.D. Power rates the current Fusion sedan 4.5 out of 5 in predicted reliability, and Consumer Reports predicts new Fusions will have "much better than average" reliability.
Frugal-minded consumers will also appreciate the relatively low asking price. In the base four-cylinder trim package with an automatic transmission, the 2010 Fusion starts at $20,570. While the base model won't have Ford's flashy SYNC in-car communications system at that price, it comes with a better set of standard features than most of its peers. Buyers get a CD stereo with an auxiliary jack, power windows and locks, cruise control and alloy wheels. And the standard four-cylinder engine provides an adequate 175 horsepower and and gets 23 city/34 highway mpg, excellent mileage for a sedan.
Honda Fit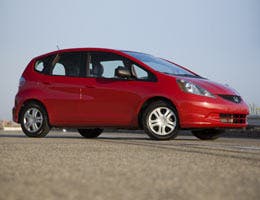 The hatchback could be the perfect bargain car: versatile, good on gas and capable of hauling a large pile of junk relative to its size. The Honda Fit is no exception. Equipped with a five-speed automatic transmission, it gets an impressive 28 city/35 highway mpg. Its upright shape and high roof conceal a roomy cabin, and with its back seats folded down, it can swallow 57 cubic feet of stuff.
The Fit is also adept at dodging one major cost of car ownership: depreciation. After three years of ownership, Kelley Blue Book projects the Fit will retain 55 percent of its value. That's better than the Toyota Yaris, Hyundai Accent and Chevrolet Aveo.
Reliability is another key requisite for a miser-mobile, and the Fit gets high marks from J.D. Power. The Fit received a 2010 award for highest dependability among subcompacts.
One quibble that frugal folks might find with the Fit is its asking price. A new Fit comes in at $15,700 for the base car model with an automatic transmission. But its standard features include power windows and door locks, CD stereo with auxiliary input and air conditioning.
Mazda5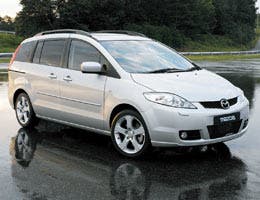 The Mazda5 isn't quite as big as the typical minivan; call it a "mini minivan." But this smallness gives it some clear benefits over its full-size minivan brethren when it comes to being a bargain car. For one thing, it gets better gas mileage than a typical minivan — 21 city/27 highway mpg with an automatic transmission.
For another, its base asking price is lower than any minivan on the market. For $19,670, you get the base car model with an automatic transmission, 17-inch alloy wheels, stability control, a six-speaker CD stereo and two sliding doors.
While the Mazda5 doesn't have the cavernous interior of a full-size minivan, it seats six passengers and has enough cargo flexibility to pack in 44.4 cubic feet worth of stuff, thanks to second- and third-row seats that fold flat.
Toyota Prius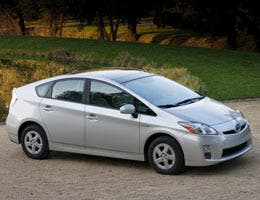 For drivers who log a lot of miles, gas is a huge expense and no car works quite as hard to minimize that cost as Toyota's Prius hybrid. Rated at 51 city/48 highway mpg, the Prius is the most efficient vehicle this side of an electric car. And if that's not enough for your inner gas scrooge, this bargain car's digital mileage display helps you tailor your driving habits to get even higher mileage.
But beyond the mileage, the base Toyota Prius, priced at $22,800, has features to recommend it as a daily driver. Frugal buyers probably won't opt for additional bells and whistles. Still, the Prius comes standard with alloy wheels, cruise control, a CD stereo, and power door locks and windows. The cockpit has room for four adults and the hybrid hatchback provides cargo flexibility when you need it.
When the time comes to sell or trade in the Prius, the savings continue. Kelley Blue Book says the 2010 Prius is the best hybrid for expected resale value.
Additional resources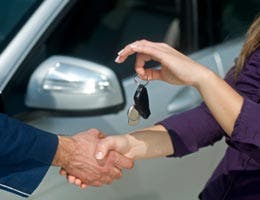 For more car stories, go to Bankrate.com and check out:
More From Bankrate