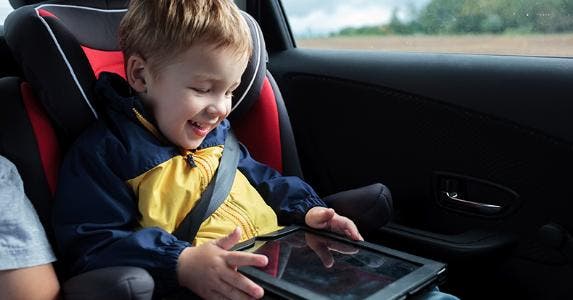 If you've ever been on a long car trip with children, you know how valuable it is to access the Internet while on the go. It's become an indispensable part of the drive — whether it's to research a landmark you visited or to give the kids something to pass the time.
That's why the idea of turning your car into a mobile hot spot is so intriguing. You won't have to eat up your phone's data plan — meaning you can stream music, watch movies or download a great road trip app with no worries.
Auto manufacturers are increasingly integrating Wi-Fi into new vehicles. Roughly one-quarter of all new cars offer built-in wireless Internet connections, according to Edmunds.com. It's either a standard or optional feature in 90 models for 2015, including most cars from Audi, Buick, Cadillac, Chevrolet, Chrysler, Dodge, Fiat, Ford, GMC, Jeep, Lincoln, Ram and Volvo.
In almost all instances, the systems have a free trial period and then require an additional charge — whether via buying a monthly subscription, adding to an existing wireless plan or purchasing blocks of time when the service is active.
But is it really worth it? There are a few ways to get connected, but not all are ideal choices for everyone. Your decision on which to choose (or whether any option works) largely comes down to how much you use in-car Internet and how much you're willing to pay.
"The best solution may be to keep the car you have and get a portable Wi-Fi hot spot," says Ron Montoya, consumer advice editor at Edmunds.com. "It offers more flexibility and doesn't limit you to just the car. If you're in the market for a new car anyway, the added perks of having a connected car make a better case than adding the Wi-Fi in at a later time."
Here are four choices for getting connected.
1. Smartphone
Using your smartphone to create a mobile hot spot may seem like the easiest choice, and it is certainly one that is very popular. This, of course, assumes your phone has this capability; many don't.
Even if you can create a hot spot with your phone, it may not be the best choice. If you use a lot of data already, connecting in the car could certainly push you to your plan's limit. In addition, using your phone in this way will drain the battery, so you'll need to keep it charged while on the road.
The biggest advantage and disadvantage have to do with the phone itself. The phone is designed to be mobile — that's an advantage because you can take it with you anywhere. A built-in car hot spot can't go with you unless you are in or very near the car. A phone's mobility is also its biggest disadvantage over in-car Wi-Fi. The smaller antenna in the phone means its signal strength can't compete with in-car Wi-Fi, which uses a much larger antenna located inside the vehicle.
Still, if you rarely take long car trips or don't use your smartphone often while in the car, this is probably the cheapest, best alternative available.
2. Mobile hot spot device
Mobile hot spots are small, square or rectangular-shaped routers that allow multiple devices to connect to the Internet simultaneously. You can grab one of these devices for no cost as part of certain carriers' promotions or for as much as $300 without a subsidy, according to CNET.com's top-rated mobile hot spots for 2015.
Using a mobile hot spot gives you the flexibility of having Internet connectivity that is truly portable, without taxing your smartphone battery. Because they have separate data plans, they also won't eat up your smartphone's allowance, but that also usually means an added cost on a daily or monthly basis — and may require another contract.
AT&T, for example, offers a free hot spot with a two-year contract. Mobile hot spot plans start at $40 a month. Or, you can find plans that start at $20 a month without a contract when you purchase an AT&T device for as little as $150.
There is also a spate of stand-alone companies that sell mobile hot spots without a contract, such as Karma Hotspot, which offers a $149 device that comes preloaded with 1 GB of data and costs $14 to "refill" when you use it up.
Tim Stevens, editor at CNET.com, says portable hot spots are good alternatives if you own an older car or want to buy a new car that doesn't offer built-in Wi-Fi. "Since it's relatively easy to bring a personal hot spot with you, it isn't worth dismissing a car that you're otherwise fond of just because it doesn't have Wi-Fi," he says.
3. Aftermarket wireless router
While portable hot spots are essentially wireless routers, they are still small devices with relatively small antennas. Installing an aftermarket wireless router directly in your car eliminates the portability of your Wi-Fi connection, but can boost your signal to something comparable to built-in Wi-Fi.
Using one of these devices might require substantial expense. You have to purchase the device, pay to have it installed (especially if you want an in-dash display unit) and pay for the data plan associated with it. And, "the car may have to be partially disassembled by someone of varying skill level versus a technician at the car factory," adds AutoTrader.com editor Brian Moody.
There are some cheaper alternatives, such as Delphi Connect, which costs $200, not including a wireless service plan. The hot spot module, which Delphi says you can install yourself by plugging it into your onboard diagnostic system located under the dash, is compatible with most vehicles less than two decades old.
4. Built-in Wi-Fi
Wi-Fi that is integrated into the car is the best in terms of signal strength and ease of use, experts say. Plus, since the onboard systems are installed as factory equipment, they have been tested to work with a large number of devices and are covered by the manufacturer warranty should there be a problem.
"If someone is looking to buy a new car, get the in-car, factory-installed system for sure," Moody says. "I don't see how anyone could beat OnStar or Uconnect in terms of ease of use and flexibility." OnStar works with General Motors brands, and Uconnect works with Chrysler, Dodge, Fiat, Jeep and Ram cars.
Since the car is connected, it can send diagnostic information to the manufacturer or receive updates remotely, which in turn "will lead to more reliable software in the vehicle," Montoya says.
However, because use is limited when in or near the car, owners of these vehicles would likely need to be streaming a lot of data to make a monthly subscription worth the cost. Automakers are experimenting with different plans to see what consumers are most interested in purchasing after the free trial period.
OnStar allows consumers to choose between blocks of time or a monthly subscription, while Uconnect offers daily, weekly and monthly connectivity. "The blocks of time are perfect for people who need the connectivity occasionally, such as for family road trips," says Moody.
OnStar plans range from $5 to $50 per month or one-time data packages from $5 to $150. Uconnect charges from $10 a day to $35 a month for access.
More From Bankrate