Want the excitement of riding a motorcycle while enjoying a super economy and not worrying that you're polluting the air? An electric motorcycle just might be a good fit for you, especially if you primarily make short-distance trips.
Electric motorcycles have been on the market for a few years now, but they got off to a slow start and didn't seem to attract a lot of interest in the mainstream marketplace. However, recent tax incentives, coupled with the introduction of new faster and sexier-looking models, have given the electric bike market a jumpstart.
Imagine driving from New York to Pittsburgh on $2.63 worth of fuel. It's possible on some of the new electric motorcycles coming onto the market.
Electric advantages
Just as with electric/hybrid cars, the upside of electric bikes is that they are better for the environment and more cost efficient (on a per-mile basis) than their gas-guzzling counterparts. They also tend to be much lighter than traditional motorcycles. As anyone who has ever had to lift or support a heavy bike knows, this is an important consideration. The bikes have also gotten more affordable, with many models now in the $10,000 price range. A big factor in the bikes' price is the cost of the lithium battery packs most of them use. These packs tend to be pricey, but several manufacturers are working on developing new versions of the battery packs, which should help bring bike prices down in the near future.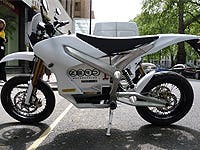 Zero S
Drawbacks
A major downside? Electric vehicles of any kind tend to be slower than fuel-powered vehicles. This is especially undesirable to serious bikers, many of whom really feel the need for speed. Until recently, most electric bikes available to consumers had a top speed of around 50 miles per hour. In fact, many of the early models — and some of the slower models currently for sale — bill themselves as an "electric scooter," perhaps to avoid any unrealistic expectations on the part of would-be buyers. Another problem: Some electric bikes — especially the ones capable of reaching higher speeds — are designed for off-road use and aren't street-legal.
But bikers no longer need to stick to off-road areas or the slow lane if they want to be earth-friendly. For example, the new Zero S bike can travel 60 miles on a four-hour charge. "The Zero S is a revolutionary motorcycle that is designed to tackle any city street, hill or obstacle," said Neal Saiki, inventor and founder of Zero Motorcycles, based in Murrieta, Calif. "The Zero S is a high-performance motorcycle that also happens to be fully electric and green."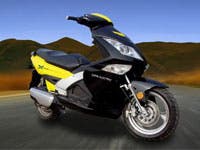 X Rider
Zero claims this bike — which sells for under $10,000 — is the fastest production electric street bike, able to reach speeds of up to 60 miles per hour.
However, Xtreme Green Products, a Las Vegas-based eco-vehicle company, says its X Rider bike can reach speeds of 65 mph and travel more than 100 miles on a single charge. The X Rider requires two to three hours to recharge and can plug directly into a power outlet.
Another manufacturer, Mission Motors, has announced plans to release an electric bike in 2010 that the company claims can reach speeds of up to 150 miles per hour. The bike will cost around $68,000.
Still, even the newer models on the market don't go as fast as traditional gas-powered motorcycles. That, combined with the need to recharge periodically, is why they are touted mainly as a good choice for commuters or casual drivers, as opposed to riders who plan to hit the highways and make long-distance trips.
Financial factors
How much can you save on a daily or yearly basis by riding an electric bike? Here are some figures provided by David M. Isserman of Xtreme Green Products: "If you commute to work 6,000 miles per year in a car, it will cost you approximately $3,300 based on the government's 2009 reimbursement rate of $0.55/mile. If you do the same commute on an X Rider electric motorcycle, it would cost approximately $200 — including the cost to replace brake pads during the year."
Consider financing your motorcycle with a personal loan. Check rates on bankrate.com.
Brammo, an Ashland, Ore., manufacturer of the Enertia electric bike, illustrates the savings like this: If you consider the cost of gas (at an average cost of $2.63 per gallon) and compare that to the cost of electricity ($.007 per mile), you are essentially getting 376 miles per gallon by using an electric bike. The Enertia Web site features a savings calculator tool, where you can enter information about your current vehicle and driving habits and see what kind of savings you can expect by switching to an Enertia bike.
There are other financial advantages to owning an electric bike. Consumers can take advantage of two new tax incentives that were included in the recently passed federal stimulus packages. The government will now give you a 10 percent tax credit for the purchase of plug-in vehicles, including motorcycles. In addition, there's a federal tax deduction for state sales tax paid on the purchase of these vehicles. Plus, many states have also passed their own tax breaks and other initiatives to encourage consumer to buy electric vehicles.
Combined, "This effectively reduces the final cost of purchase of a Zero S bike by a minimum of almost $1000," says Saiki.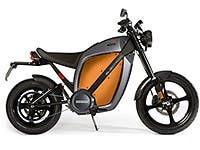 Enertia
On the horizon
So far, small and/or startup companies have produced most electric bikes available to consumers, although major manufacturers reportedly have new models of electric bikes in the works. Honda has said it plans to have an electric bike on the market by 2010, and Yamaha reportedly is developing an electric bike to be released in the next year or so.
Brammo recently announced plans to have its Enertia bikes for sale at Best Buy stores starting later this year. That will help attract the attention of a more mainstream consumer base, but carries the risk of alienating some of the die-hard biker crowd, who tend to like buying their rides at a traditional bike shop. On the plus side, Enertia customers will be able to get their bikes repaired right at the store by Best Buy's Geek Squad technicians.
Bobbi Dempsey is a freelance writer based in Pennsylvania.
More From Bankrate