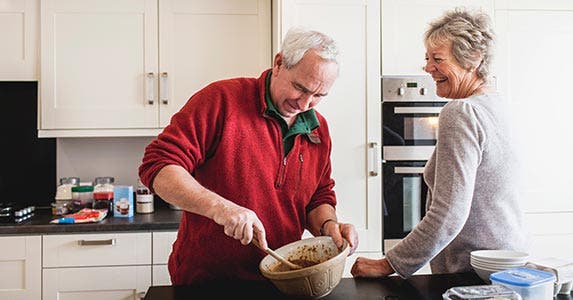 How to decide where to live in retirement
Once you don't have to go to work every day, you have more freedom to choose where to live in retirement.
A national survey conducted for Bankrate last year found that 60% of Americans would like to move to another city or state after they retire.
That leaves about 40% who want to stick closer to home.
Will you stay or will you go? And if you go, in what kind of place will you choose to hang your hat? The decision, of course, depends on your needs and desires, as well as your finances. Knowing which states are the best and worst for retirement also helps.
If there is one piece of advice to take seriously, it is this: Don't make this decision without giving it a lot of thought. Read on to learn how others made their decisions about where to spend the final decades of their lives.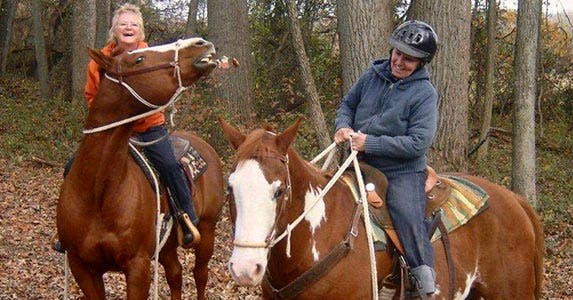 The merits of staying where you are
Photo courtesy of Nancy Butler
Nancy Butler, shown above at left, is a 75-year-old widow who continues to operate a working farm in southern Delaware. "I still ride — yesterday, in fact," she says. "And I clean stalls, and move hay and mow pastures. … A comfy retirement condo just doesn't appeal to me."
If you like where you are, don't hesitate to stay put, says CFP professional Jim McCarthy, managing director of Directional Wealth Management in Rockaway, New Jersey.
"Selling the house and downsizing in order to buy something isn't necessarily the best decision," he says. "If you sell your home and buy something else, you don't know how long you'll live there. It may not be worth it to incur the costs of moving."
If you can manage the costs and the responsibilities and you're in your 60s, "You could have another 20 or more good years," he says.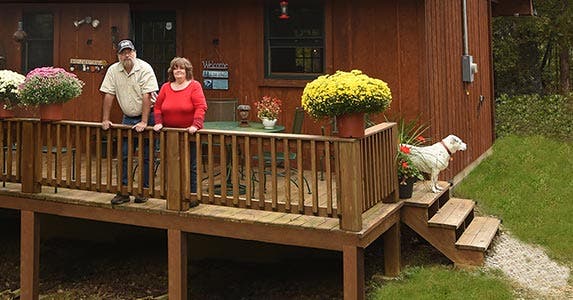 Be deliberate about making a move
Photo courtesy of Dale and Kerri Fivecoat
Above, Dale and Kerri Fivecoat-Campbell stand on the deck of the 480-square-foot house they built in 2007 in the Ozark Mountains to escape from their suburban life in Kansas City, Missouri. They planned to add on so that when they were ready to retire, they would have a comfortable place to live. But Kerri says that somewhere along the way, they learned to live comfortably in the small space.
"There is less maintenance, so we can spend more time on the things we want to do. It's also not as financially burdensome, and we have less stuff, which means less clutter in our lives," Kerri says.
She has written a book on the experience, "Living Large in Our Little House: Thriving in 480 Square Feet With Six Dogs, a Husband and One Remote — Plus More Stories of How You Can, Too." She sometimes misses the convenience of city life. But after experimenting with a return to Kansas City, she and her husband realized that the urban life was no longer the life for them.
"At least we're not confused anymore," Kerri says.
The best piece of financial advice she can offer others considering shrinking their housing is to pare ruthlessly before making the move. "Purge and then purge some more. Don't go to the expense of storing anything. Most items that go into storage don't ever come out," she says.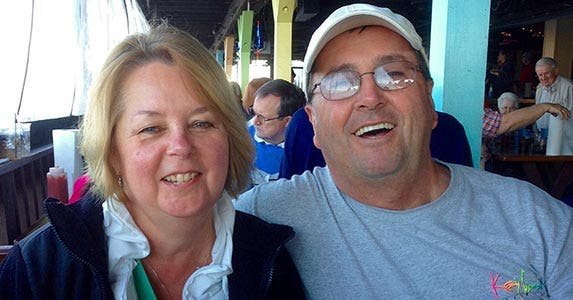 Cost matters, but it isn't everything
Photo courtesy of Walt and Linda Thomas
Walt and Linda Thomas, 65 and 55, respectively, inherited a house at the New Jersey shore from Walt's mother. They own a home in Pennsylvania in an area where the taxes and cost of living are much lower than they are in New Jersey.
But they have a mortgage on the Pennsylvania home, while they own the shore house free and clear.
Would they be better off selling the home at the shore and remaining in Pennsylvania, or selling the Pennsylvania house and investing their equity while moving to the shore? The answer wasn't obvious.
New Jersey levies a progressive income tax, while Pennsylvania has a flat 3.07% tax. And in Pennsylvania, Walt's pension wouldn't be taxed, whereas in New Jersey it would be.
Ultimately, they went to a certified public accountant familiar with their finances and the tax situation in both states and got some good advice: "Happiness is worth money," their accountant told them.
So New Jersey won out, for both emotional and financial reasons. The shore home has undeniable appeal, not only as a place to live but also because it is more likely to be valuable as a place to leave to their children — even with the prospect of some daunting estate taxes.
"The bottom line: Our family loves it down (on) the shore," Walt says.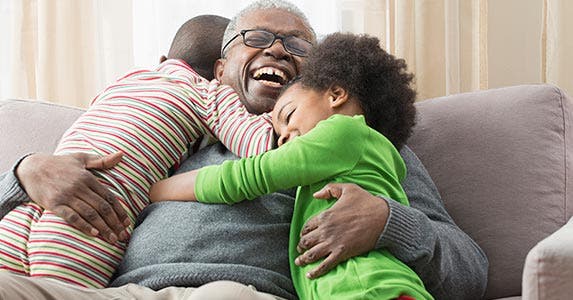 Figure out what works for you
KidStock/Blend Images/Getty Images
"There is a qualitative side to this and a quantitative side," New Jersey financial planner McCarthy says.
He thinks you should consider these factors when you decide where to live in retirement:
Do you want to keep the house where your kids and grandkids like to visit?
Are you financially and physically capable of maintaining the property — or can you hire someone to do it for you?
Could you stay there if you develop a mobility issue?
Do you have a Plan B? What will you do if this home no longer works for you?
Are you unsure? Would renting be a better option for you?
"You have to look at your whole situation," McCarthy says.