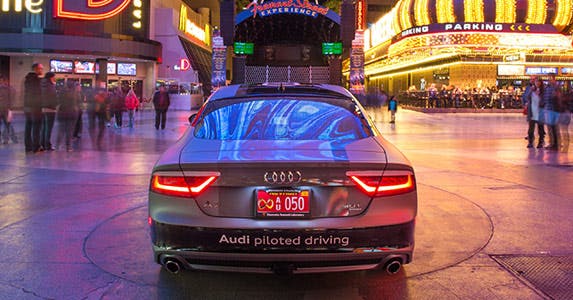 The future of driverless vehicles
Driverless vehicles, otherwise known as autonomous, automated or self-driving cars, are no longer science fiction. The technology is here, and several companies are already testing them on the roads.
Not all of these vehicles are fully autonomous today. Many are considered "partially" or "highly" automated and still require some driver intervention. Predictions vary on when fully autonomous vehicles will be available for purchase.
But John O'Dell, senior editor at Edmunds.com, says it could happen by 2025. Even then, "humans still will be required to remain in the driver seat, ready to take control at a moment's notice when the car's technology stops working its magic."
View the best car loan rates in your area
It could be decades before cars come standard without a steering wheel or pedals, O'Dell says.
Undeniably, there will be a lot of things to figure out — government regulations, liability insurance rules and the development of infrastructure needed to support driverless vehicles, to name a few.
"Still, though, the benefits of a self-driving car — like the projected drop in accidents, increased fuel economy and, at some time in the future, the joy of being able to enjoy your paper and coffee en route to work — may give even the most tentative adopter cause to consider purchasing," O'Dell says.
Here are six companies testing driverless vehicles.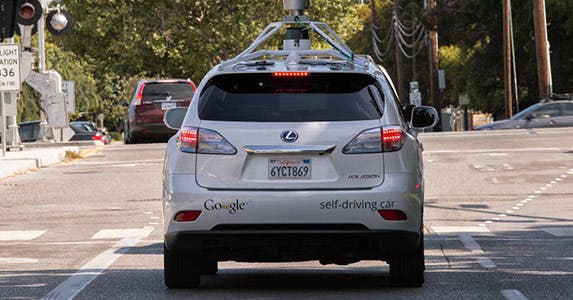 Google
Since 2009, Google has been developing its self-driving technology in Toyota Prius and Lexus models on the streets of Mountain View, California, near the search giant's headquarters. So far, Google has kept its testing close to home, but the company says it's adding new streets every week.
Google has made big strides since it first started testing. The technology can now recognize pedestrians and cyclists, detect hundreds of objects simultaneously and even "read" stop signs.
In May 2014, Google revealed plans to build fully autonomous vehicles for testing, and in January it revealed the prototype. These cars don't have a steering wheel, brake pedal or accelerator pedal, because, well, "they don't need them," notes Google. The sensors and software do the work.
The company hopes to test the prototypes on public roads in California later in 2015, with pilot tests elsewhere to follow.
Google believes driverless vehicles could significantly improve road safety and help those who are disabled, blind or otherwise can't drive.
There are no plans to bring these vehicles to the market — they're just for learning, notes Google. But if the technology proves successful, the company hopes to work with partners to bring it into production.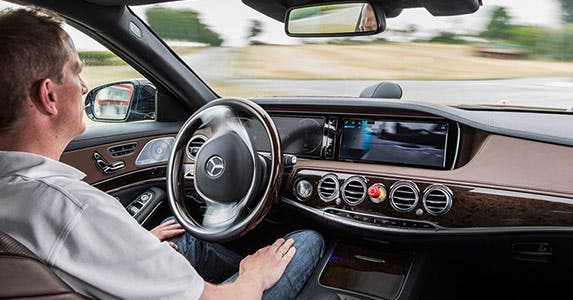 Mercedes-Benz
Mercedes-Benz has been testing driverless vehicles on public roads in California since September 2014; in October, it started testing at Concord Naval Weapons Station, northeast of San Francisco. It's also been testing in Germany.
In fact, back in August 2013 the Mercedes-Benz S 500 Intelligent Drive drove fully autonomously 100 kilometers — a little more than 62 miles — between the German cities of Mannheim and Pforzheim.
But the most recent accomplishment for Mercedes-Benz was revealing the F015 Luxury in Motion driverless car in January at the 2015 International Consumer Electronics Show, or CES, in Las Vegas.
"The car is growing beyond its role as a mere means of transport and will ultimately become a mobile living space," Dieter Zetsche, CEO of Daimler AG, the manufacturer of Mercedes-Benz cars, said in a press release.
The F015 concept car offers a variable-seating system with four rotating lounge chairs that allow a face-to-face seat configuration. It also continuously exchanges information between the vehicle, passenger and outside world.
There are no plans to bring the F015 to market. Rather, the purpose of the vehicle is to show ideas and future technologies that could find their way into the company's series models, a company spokesman said.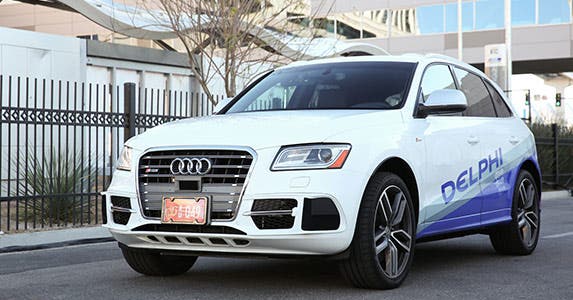 Delphi Automotive
For about six months, Delphi has been testing four self-driving Audi SQ5s, which are SUV crossovers, in California and Nevada, according to Kristen Kinley, global communications manager of the electronics and safety division for Delphi Automotive, the big auto parts manufacturer.
In January, Delphi showed off two of its automated cars on the streets of Las Vegas during the CES, says Kinley.
In fact, the cars performed well enough to be named as one of Mashable.com's top picks of CES.
"Our cars were able to handle a variety of urban driving scenarios — a key differentiator for us — such as handling pedestrian crossings, intersections and traffic lights," Kinley says. The car also was able to adjust to "unexpected obstacles," such as a cyclist or another vehicle pulling in front of the self-driving car.
Self-driving vehicles come with a number of potential benefits, notes Kinley, including increased road safety and boosted fuel economy.
But it could be a while before its fully autonomous vehicle goes mainstream. These cars are very costly, and the technology needs to be fail-proof, notes Kinley.
Delphi believes it will be "many years" before drivers can completely relinquish control of the vehicle, she says.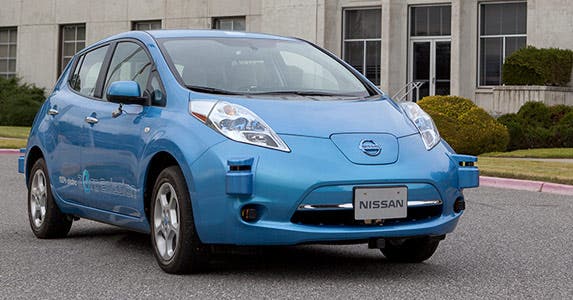 Nissan
Nissan is using the all-electric Leaf for various stages of autonomous vehicle testing at its Advanced Engineering Center in Atsugi, Japan, and in California at the Nissan North American Silicon Valley Research Center, according to Travis Parman, director of corporate communications.
Nissan has been testing the vehicles since October 2013.
The company plans to commercialize autonomous driving technology in stages, but Parman says its vehicles could have the ability to navigate busy city intersections without a driver by 2020.
Plus, Nissan and NASA just announced a five-year research and development partnership to advance autonomous vehicles and prepare for commercial application of the technology.
Parman says autonomous driving is one of the many technologies that will be important in the future of transportation. Also important are technology used in zero-emission vehicles, like the Leaf, and the connected car, in which vehicles communicate with one another and transportation infrastructure such as traffic lights.
Nissan's autonomous driving features will be brought to production in phases, and before the end of the decade, the company says its vehicles will be able to negotiate city crossroads without driver intervention.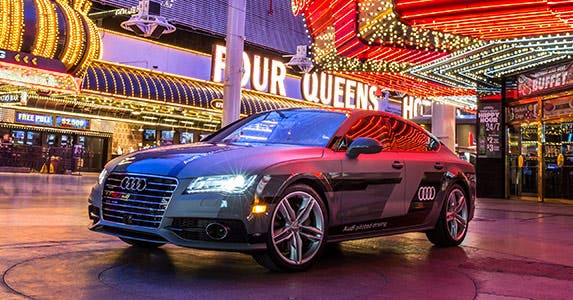 Audi
Audi got its start in the autonomous-vehicle industry with the DARPA Grand Challenges in 2004, when 15 autonomous vehicles, including an Audi, attempted to navigate a desert track outside in Barstow, California.
None of those cars finished, says Bradley Stertz, corporate communications manager for Audi. In fact, the farthest any of them got was 7.3 miles, he notes.
Contrast that with January 2015, when Audi used its piloted driving system in an A7 Sportback to autonomously drive more than 560 miles on a highway from Palo Alto, California, to Las Vegas.
Audi's concept car accelerates and brakes independently and initiates lane changes and passing maneuvers automatically.
When the system reaches its limits and the driver needs to take control — in city environments, for example — multiple warning systems are activated simultaneously to notify the driver.
Stertz says a fully automated vehicle with no driver is still 20 or 30 years away. "To have the car understand every single possibility is a massive challenge," he says.
However, certain autonomous features will be available in stages. Audi's traffic-jam technology, where the car takes over in traffic moving less than 37 mph, could be available in two or three years, Stertz says.
Along with traffic management and increasing transportation availability, Stertz says Audi, like other companies, sees accident prevention as a major benefit of self-driving vehicles.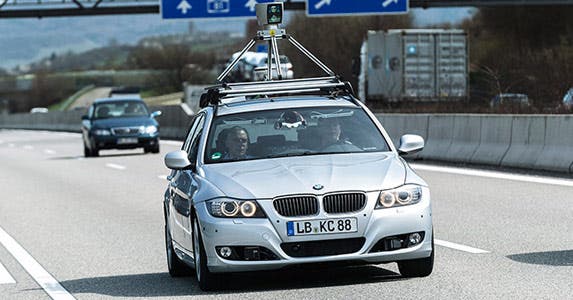 Bosch
For about three and a half years, Bosch has been developing and testing automated functions and automated-driving features on BMW 3 Series vehicles in both California and Michigan.
And in May 2013, the engineering and electronics company started testing its automated driving technology on the Autobahn in Germany.
Improved safety, traffic management, reduced greenhouse gases and reduced burden on older drivers are just some of the possible benefits of autonomous vehicles, says Frank Sgambati, director of marketing and product innovation for Robert Bosch LLC, the North American arm of Bosch.
But from the Bosch perspective, there will be a number of steps before fully autonomous driving is a possibility.
For instance, in the 2000s, Bosch launched adaptive cruise control, a first step toward "assisted automation," notes Sgambati.
Then in 2010, the company launched the predictive emergency braking system, an advanced automated braking system.
Today, the company is in the process of launching traffic-jam assist, a "highly automated" feature that will go into the market later this year.
But the "fully automated" Bosch vehicle is a long way off. Sgambati guesses that fully driverless vehicles are beyond the 2025 time frame.