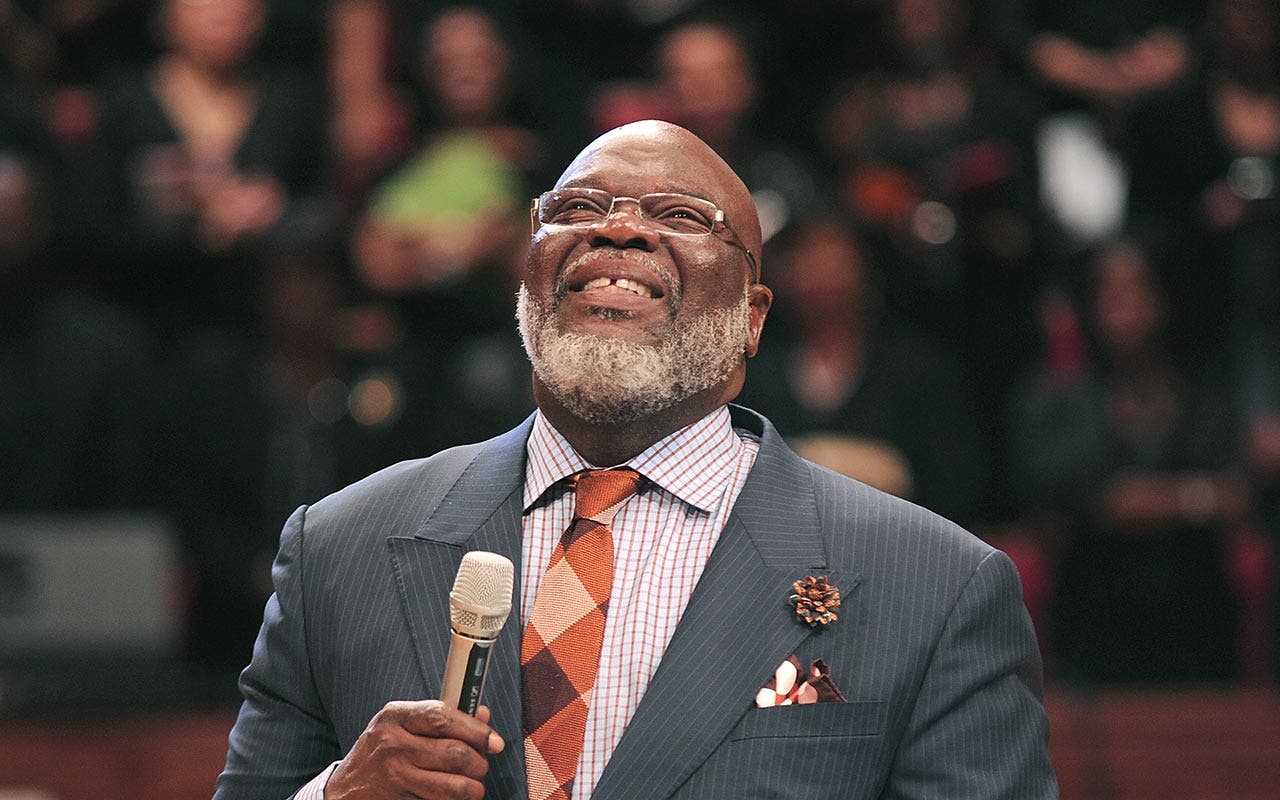 How T.D. Jakes' net worth was built
Thomas Dexter Jakes Sr., better known as Bishop T.D. Jakes, is the bishop of The Potter's House, a nondenominational Christian megachurch whose sermons are broadcast on Trinity Broadcasting Network and several other religious networks. He was a speaker at the inauguration of President Barack Obama in 2009 and accompanied President George W. Bush to areas devastated by Hurricane Katrina in 2005. He has met with several other world leaders, the king of Jordan and president of Ghana being among them.
Jakes got his start at age 23 when he took on his first pastor role at a storefront church in West Virginia that had only 10 members. His congregation grew to a racially diverse audience of over a thousand people. That success led to "Get Ready," a weekly radio and nationally syndicated TV show. In 1996, Jakes moved his family and his employees to Dallas, where he founded The Potter's House.
Jakes has a net worth of $18 million as of April 2017, according to TheRichest. In a 2012 interview with Oprah Winfrey, Jakes talked about his wealth, noting that he is not just the founder and leader of a megachurch, but also a best-selling author and movie producer, which has opened many financial doors for him.
Use this net worth calculator to see how you stack up against T.D. Jakes.
T.D. Jakes
Born: 1957
Birthplace: Charleston, West Virginia
---
What he's up to now
Jakes remains heavily involved in The Potter's House, which has more than 30,000 members. During the year, The Potter's House hosts festivals, conferences and a revival called MegaFest. Jakes also hosts a large conference for pastors and other leaders called LeaderShift and an annual women's conference called Woman Thou Art Loosed, which focuses on gospel music.
---
Accolades
Jakes has received numerous honorary degrees and doctorates throughout his career. He has also won accolades for his gospel albums. "A Wing and a Prayer" won a Grammy in 2003 for Best Gospel or Chorus Album. He also received Grammy and Dove award nominations for the album "Live at The Potter's House." Jakes was named one of America's Top 10 Religious Leaders by PBS Religion and Ethics Newsweekly. He was on the cover of Time magazine on Sept. 17, 2001, with the headline, "Is This Man the Next Billy Graham?"
See how T.D. Jakes' net worth compares with that of "Duck Dynasty" patriarch Phil Robertson.