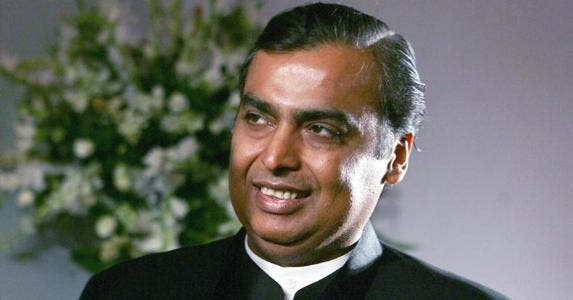 Mukesh Ambani
Net worth: $21.1 billion (as of November 2016)
Year of birth: 1957
Education: University of Mumbai, Stanford University (dropout)
---
How Mukesh Ambani's net worth was built
Mukesh Ambani's net worth is estimated at $21.1 billion, according to Forbes. India's richest person is chairman of Reliance Industries Limited, an oil and gas, textile, retail and telecommunications giant. Ambani has maintained his position as the richest person in India despite hits to shares of Reliance Industries.
Ambani's family moved from Yemen to India to escape an unstable political climate in 1958 and lived modestly while Ambani's father co-founded Reliance Commercial Corp.
In 1981, Ambani left Stanford to join his family's business and started diversifying the company by exploring areas such as communications, infrastructure, petrochemicals and gas and oil production.
After their father's death in 2002, he and his brother ran the company jointly until their mother split the assets, giving Mukesh the gas, oil and petrochemical portion of the company.
Since that time, he has been credited with creating the world's largest startup refinery and creating facilities that greatly increased the company's production capabilities. Ambani was India's first rupee trillionaire by 2007.
You can use Bankrate's net worth calculator to see how you compare with Mukesh Ambani's net worth.
---
What he's up to now
Ambani is still the chairman and managing director of Reliance Industries Limited, which remains part of the Reliance Group.
He also serves as a member of organizations such as the Advisory Council for the Stanford Graduate School of Business, the Prime Minister's Council on Trade and Industry and the Indo-U.S. CEOs Forum.
Ambani also attends the games of the Mumbai Indians Premier League cricket team, a franchise his firm bought in 2008.
---
Accolades
Ambani was named by PricewaterhouseCoopers in 2004 as one of the world's most respected business leaders. Two years later, he received the Economic Times Business Leader of the Year award and was chosen to co-chair the World Economic Forum's India Economic Summit.