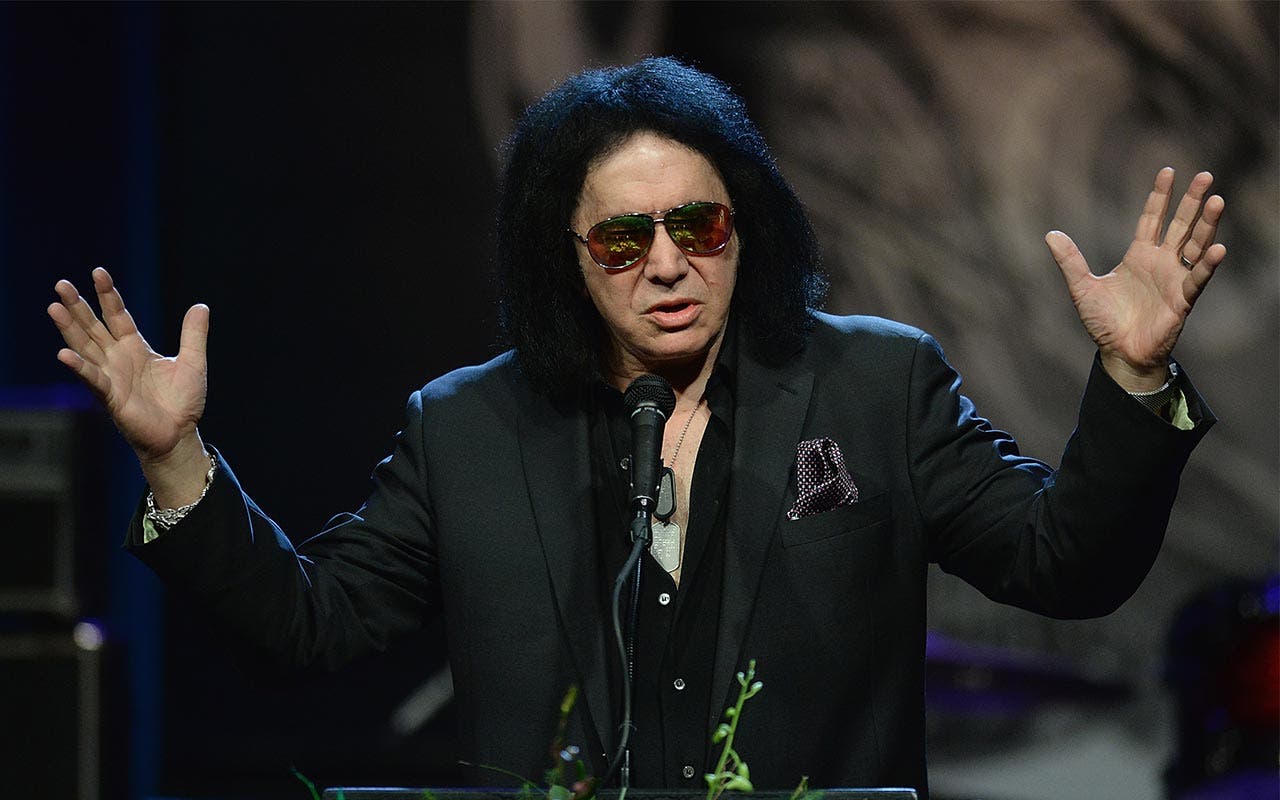 Michael B. Thomas/Getty Images
How Gene Simmons' net worth was built
Gene Simmons was born in Israel as Chaim Witz. When he was 8, he and his mother moved to New York City and he changed his name to the more Americanized Eugene Klein. The Beatles inspired his interest in music, and in high school he formed his first band. After earning a degree in education, he taught grade school and worked as an editorial assistant at Vogue and Glamour magazines. He eventually changed his name again, to Gene Simmons, in honor of rockabilly performer "Jumpin'" Gene Simmons.
Simmons became rich and famous as a member of the hard-rock band Kiss, which was formed in the early 1970s and reached a popularity peak during the latter half of the 1970s. Kiss was known for pyrotechnic shows, elaborate makeup that concealed the bandmates' identities, flashy costumes and fire-breathing, blood-spitting stage antics.  Simmons was the group's "demon" face with a long tongue.
After five successful years, Kiss' popularity started to fade. The band performed in 1983 without the face makeup and enjoyed a bit of a comeback. Kiss has had several lineup changes through the years.
In 1999, Simmons produced a film about Kiss called "Detroit Rock City." In the mid-2000s, he starred with his wife, son and daughter in a reality TV show,  "Gene Simmons: Family Jewels." Celebrity Net Worth puts Simmons' net worth at $300 million as of April 2017.
You can use this net worth calculator to see your net worth.
 Gene Simmons
Born: 1949
Birthplace: Haifa, Israel
---
What he's up to now
Simmons has a busy schedule of live appearances in 2017. At ComicCon events, he will meet fans and perform. He's booked for speaking engagements around the U.S. and Canada, including the Young Presidents' Organization Conference (where business leaders gather to discuss the future); the Gene Simmons Master Class at Millionaire Gallery in Key West, Florida; and Nashville Bike Week in Tennessee.
There are rumors the original Kiss members will reunite for a tour in 2017.
---
Accolades
Simmons was nominated for a People's Choice Award for his TV show, "Gene Simmons: Family Jewels," which ran from 2006 through 2012.
His band has won many awards. Kiss is known for having the most gold records of all time, and has sold over 100 million albums worldwide. Kiss won the People's Choice Award in 1977 for Best Song for "Beth." The band got a star on the Hollywood Walk of Fame in 1999 and was inducted into the Rock and Roll Hall of Fame in 2014. In 2015, Kiss received the prestigious ASCAP Founders Award.
Who do you think is worth more? Simmons — or fellow Rock Hall of Famer Billy Joel?