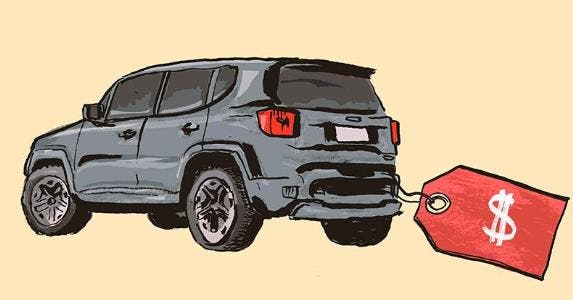 Bankrate used median incomes, average insurance costs and sales tax data to determine an affordable sale price for a new vehicle in each of the 50 largest U.S. cities. We also factored in the national average rate for a 48-month new car loan during the week when we conducted our study this spring: 4.24%.
The chart below shows how those affordable price points compare. The lower a city appears on the list, the more difficult it would be for the typical car buyer to come up with the money for what Kelley Blue Book said was the average price for a new car or light truck at the time of our analysis: $33,865.
RATE SEARCH: Shop today for an auto loan for your next car.
Car affordability survey

| City | Median income | Annual insurance | Affordable price |
| --- | --- | --- | --- |
| San Jose, CA | $87,210 | $782.63 | $32,855.81 |
| San Francisco | $85,070 | $782.63 | $31,970.09 |
| Seattle | $70,975 | $838.30 | $25,660.20 |
| Washington, DC | $71,648 | $1,187.49 | $25,236.88 |
| San Diego | $67,799 | $782.63 | $25,033.41 |
| Charlotte, NC | $55,178 | $624.76 | $21,654.58 |
| Portland, OR | $54,624 | $783.46 | $21,483.58 |
| Austin, TX | $58,458 | $895.44 | $21,082.73 |
| Raleigh, NC | $53,475 | $624.76 | $20,900.91 |
| Boston | $56,902 | $1,007.98 | $19,940.77 |
| Denver | $54,941 | $777.74 | $19,765.33 |
| Minneapolis | $50,791 | $744.51 | $18,406.92 |
| Oklahoma City | $49,119 | $768.25 | $18,283.02 |
| Los Angeles | $50,544 | $782.63 | $17,630.60 |
| Chicago | $48,734 | $744.75 | $17,136.18 |
| Sacramento, CA | $48,829 | $782.63 | $17,115.08 |
| Las Vegas | $50,291 | $935.90 | $17,056.50 |
| New York | $52,996 | $1,181.86 | $17,018.78 |
| Columbus, OH | $46,481 | $659.37 | $16,744.64 |
| Salt Lake City | $46,711 | $733.55 | $16,653.50 |
| Phoenix | $47,929 | $811.45 | $16,562.65 |
| Nashville, TN | $47,211 | $704.20 | $16,532.25 |
| Atlanta | $46,777 | $800.58 | $16,183.62 |
| Louisville, KY | $45,503 | $772.80 | $16,134.49 |
| Virginia Beach, VA | $44,591 | $718.72 | $15,975.94 |
| Houston | $45,460 | $895.44 | $15,547.11 |
| San Antonio | $45,339 | $895.44 | $15,495.57 |
| Kansas City, MO | $44,173 | $704.22 | $15,437.50 |
| Indianapolis | $42,370 | $621.71 | $15,264.16 |
| Dallas | $43,003 | $895.44 | $14,500.71 |
| Tampa, FL | $45,709 | $1,143.83 | $14,469.48 |
| Baltimore | $42,665 | $979.28 | $14,040.40 |
| Jacksonville, FL | $44,591 | $1,143.83 | $13,997.45 |
| Pittsburgh | $41,074 | $841.42 | $13,789.34 |
| Philadelphia | $39,043 | $841.42 | $12,784.87 |
| Orlando, FL | $41,081 | $1,143.83 | $12,587.83 |
| San Bernardino, CA | $37,659 | $782.63 | $12,417.29 |
| Milwaukee | $35,049 | $621.05 | $12,375.08 |
| St. Louis | $35,959 | $704.22 | $11,977.84 |
| Memphis, TN | $34,704 | $704.20 | $11,384.78 |
| Providence, RI | $37,420 | $1,066.25 | $11,297.32 |
| Cincinnati | $32,688 | $659.37 | $11,017.31 |
| Birmingham, AL | $30,043 | $811.45 | $9,823.00 |
| New Orleans | $35,504 | $1,146.29 | $9,812.08 |
| Miami | $31,917 | $1,143.83 | $8,646.34 |
| Buffalo, NY | $31,919 | $1,181.86 | $8,319.28 |
| Hartford, CT | $28,826 | $1,011.27 | $7,960.44 |
| Cleveland | $24,701 | $659.37 | $7,558.23 |
| Rochester, NY | $29,527 | $1,181.86 | $7,391.73 |
| Detroit | $25,769 | $1,131.40 | $6,174.03 |
More From Bankrate