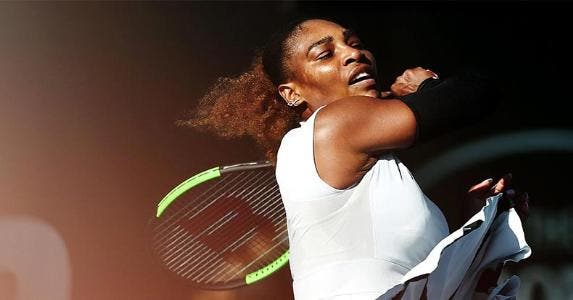 Serena Williams
Net worth: $150 million (as of January 2017)
Year of birth: 1981
Education: University of Massachusetts Amherst
---
How Serena Williams' net worth was built
Serena Williams' net worth is estimated at $150 million, according to Forbes. Her successful career as a pro tennis player has made her one of the world's highest-paid athletes. It has also earned her lucrative endorsement deals with companies including Nike and Wilson.
Williams was born in Michigan but grew up in Compton, California. Her father taught her and her sister, Venus, to play tennis, starting at age 3.
By 1991, Serena was 46-3 on the junior United States Tennis Association tour. Just four years later, in 1995, Serena turned pro. In 2002, she won the French Open, U.S. Open and Wimbledon. In each tournament, she defeated her sister in the finals. That year, she took home around $12 million and was ranked as the top female tennis player. Her career prize money as of 2016 totaled $81.7 million, according to ESPN.
But while her time on the court has added to her total wealth, endorsement deals have made her more than twice as much. Her original five-year deal with Nike was worth as much as $40 million. And she gets bonuses from Nike for Grand Slam titles. Williams also has deals with Chase, Delta Airlines, Pepsi, IBM and several other companies. Plus, she has a clothing line and owns stake in the Miami Dolphins.
You can use this net worth calculator to see how your net worth compares with Williams'.
---
What she's up to now
Williams continues to play tennis, winning Wimbledon in July 2016. She also appeared at the Rio Olympics but was eliminated in the third round of women's singles and shut out in the first round of women's doubles.
She also works on the Serena Williams Foundation, which aims to provide educational opportunities for underprivileged youth and has built schools in Africa.
Williams recently got engaged to Reddit co-founder Alexis Ohanian.
---
Accolades
In 2016, Serena won her 22nd Grand Slam title at Wimbledon, which tied Steffi Graf's record but is shy of Margaret Court's record of 24. She has a total of 71 singles titles and 23 doubles titles under her belt.
RATE SEARCH: Build up you own net worth. Shop money market accounts at Bankrate.com and earn some interest on your savings today.
More From Bankrate