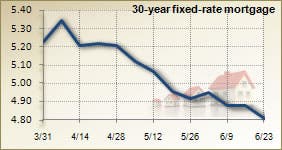 Mortgage rates dropped to yet another modern-day record low.
The benchmark 30-year fixed-rate mortgage fell 7 basis points this week, to 4.81 percent, according to the Bankrate.com national survey of large lenders. A basis point is one-hundredth of 1 percentage point.
That 4.81 percent is a record low in the nearly 25-year history of Bankrate's weekly survey. For the previous two weeks, the benchmark 30-year rate had stood at 4.88 percent, and that had been the record low.
According to records kept by the National Bureau of Economic Research, rates of FHA-insured mortgages averaged 4.81 percent in June and July, 1956, and 4.78 percent that May. That seems to be the last time rates were lower than now.
The mortgages in this week's survey had an average total of 0.44 discount and origination points. One year ago, the mortgage index was 5.8 percent. Four weeks ago, it was 4.92 percent — at the time, also a modern-day record low.
The benchmark 15-year fixed-rate mortgage fell 6 basis points, to 4.26 percent.
The benchmark 5/1 adjustable-rate mortgage fell 6 basis points, to 4.13 percent. The jumbo 30-year fixed-rate fell 7 basis points, to 5.63 percent.
Weekly national mortgage survey
Results of Bankrate.com's June 23, 2010 weekly national survey of large lenders and the effect on monthly payments for a $165,000 loan:
Low rates, no takers
Even with mortgage rates dwelling in the basement, fewer people are applying for mortgages. Home sales are slow and it's hard to find a homeowner who is qualified to refinance and hasn't yet done so.
With rates so low, and with real estate being such a buyer's market, houses are relatively affordable now. Yet would-be buyers are reluctant.
"I think that people are just concerned about their jobs and their income in the future," says Dick Lepre, senior loan consultant for Residential Pacific Mortgage in San Francisco.
Lepre says people are "probably ill-disposed" to take on anywhere from $200,000 to $500,000 worth of debt when, "in their opinion, there is uncertainty about what their income is going to be over the next few years."
On top of job insecurity, there's the impression among some borrowers that it's hard to get a mortgage nowadays. And it does take more work and more time than it did a few years ago.
"The people that go through this process today certainly demonstrate that they want their money," says Jim Sahnger, mortgage consultant for Palm Beach Financial Network in Stuart, Fla.
Documentation is king
Three or five years ago, Sahnger says, "if you had a credit score of, realistically, 640 or above, and you had 10 percent in the deal, the odds were that you were going to get an automated approval and you were done."
In other words, a computer would say yes to the loan, without the borrower having to provide much documentation.
Now borrowers have to document income and explain how they came up with the down payment.
"It's no different from 15 years ago," Sahnger says.
Jeff Lazerson, president of Mortgage Grader, a mortgage brokerage in Orange County, Calif., says he spends a lot of time at the front end of the process, making sure the application is complete and that the borrower will qualify.
"I don't want to put files in my pipeline that aren't going to go anywhere," he says.
It's true that lenders are stingy with credit, Lazerson adds. But qualified borrowers, who are willing and able to document their income and savings, can get mortgages — so long as the home appraisal comes out OK.