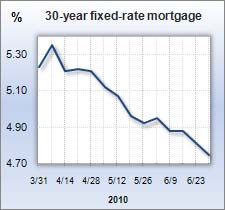 Interest Rate Roundup
Mortgages
4.75% (30-year fixed)
0.41 (average points)
Here's a look at the state of mortgage rates from Bankrate.com's weekly national survey of large banks and thrifts conducted June 30, 2010.
Mortgage rates fell again this week, to lows probably not seen since the mid-1950s.
The average 30-year fixed-rate mortgage fell 6 basis points, to 4.75 percent. A basis point is one-hundredth of a percentage point.
Meanwhile, this week's average 15-year fixed-rate — a popular option for refinancing — fell 6 basis points, to 4.2 percent.
The average jumbo 30-year fixed fell 8 basis points, to 5.55 percent.
Adjustable-rate mortgages declined this week. The one-year adjustable-rate mortgage fell 4 basis points, to 4.81 percent. The popular 5/1 ARM fell 6 basis points, to 4.07 percent.
Mortgage applications increased a seasonally adjusted 8.8 percent when compared to a week earlier, according to the Mortgage Bankers Association. Applications for new purchases fell 3.3 percent, while refinance applications went up by 12.6 percent.
In other mortgage news, rates on the 30-year fixed, 15-year fixed and 5/1 ARM reached record lows. Bankrate has collected rate information on the 15- and 30-year fixed since 1985, and on the 5/1 ARM since the beginning of 2005.
— Holden Lewis