National auto loan rates for Oct. 21, 2010
Interest Rate Roundup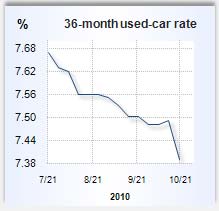 Auto Loans
6.58% (60-month, new car)
7.39% (36-month, used car)
Here's a look at the state of auto loan rates from Bankrate.com's weekly national survey of large banks and thrifts conducted Oct. 20, 2010.
Auto loan rates were down across the board this week. New-car rates were down modestly, with the average rate for a 60-month new-car loan falling 3 basis points to 6.58 percent and the 48-month new-car loan down just 2 basis points, to 6.61 percent. Used-car rates were down substantially. The benchmark 36-month used-car loan fell 10 basis points to 7.39 percent.
You might notice Fiat signage being added to the marquee of your local Chrysler dealer soon. That's because Chrysler began awarding Fiat franchises to U.S. dealers this week, according to Bloomberg. The Chrysler dealers chosen will be able to take orders for the subcompact Fiat 500 almost immediately, the company said. The automaker hopes to eventually have franchises in 119 U.S. markets.
To find updated auto rates in your area, visit Bankrate's auto rate table.
— Claes Bell
More From Bankrate