National auto loan rates for Oct. 14, 2010
Interest Rate Roundup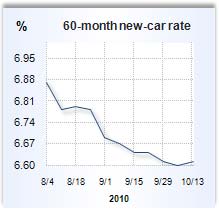 Auto Loans
6.61% (60-month, new car)
7.49% (36-month, used car)
Here's a look at the state of auto loan rates from Bankrate.com's weekly national survey of large banks and thrifts conducted Oct. 13, 2010.
Auto loan rates were mixed again this week. New-car rates were split, with the average rate for a 60-month new-car loan rising 1 basis point to 6.61 and the 48-month new-car loan average staying put at 6.63. Used-car rates were up. The benchmark 36-month used-car loan rose 1 basis point to 7.49 percent.
This week, the EPA approved the use of fuel that's 15 percent ethanol and 85 percent gas in cars built in 2007 and later. The move will help the federal government meet the Renewable Fuel Standard, which mandates ethanol consumption to more than triple the current annual consumption of 12 billion gallons by 2022. The move is controversial in part because ethanol, unlike pure gasoline, is corrosive and can harm emissions and fuel system components in cars, according to a report by Consumer Reports.
To find updated auto rates in your area, visit Bankrate's auto rate table.
— Claes Bell
More From Bankrate