Interest Rate Roundup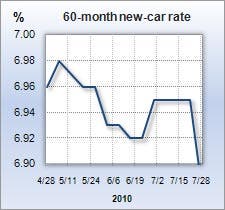 Auto Loans
6.88% (60-month, new car)
7.63% (36-month, used car)
Here's a look at the state of auto loan rates from Bankrate.com's weekly national survey of large banks and thrifts conducted July 28, 2010.
Auto loan rates dropped significantly this week for the first time since March. The average rate for a 48-month new-car loan fell 6 basis points, to 6.91. The average rate for a 60-month new-car loan also dropped, falling 7 basis points, to 6.88 percent. Used-car rates weren't down quite as much; the benchmark 36-month used-car rate fell just 4 basis points to 7.63 percent.
Yesterday General Motors announced pricing for its plug-in hybrid Chevrolet Volt ahead of its release for the 2011 model year. The Volt will retail for $41,000, but a federal tax credit of $7,500 will lower the price to $33,500. A three-year lease will also be available, starting at $350 per month. The much-hyped gas-electric vehicle will be able to run up to 40 miles using only battery power. To assuage consumer fears about the reliability of the car's batteries, General Motors also announced it would warranty the Volt's powertrain, including its batteries, for up to eight years or 100,000 miles.
Not to be outdone, Nissan announced that its soon-to-be-released Leaf all-electric car would also carry an eight-year 100,000 mile warranty. The automaker also announced it would sell 500 Leafs to Enterprise Rent-A-Car for rental in eight cities beginning in November, according to the Detroit Free Press.
To find updated auto rates in your area, visit Bankrate's auto rate table.
— Claes Bell
More From Bankrate