National auto loan rates for Aug. 26, 2010
Interest Rate Roundup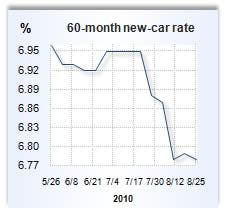 Auto Loans
6.78% (60-month, new car)
7.56% (36-month, used car)
Here's a look at the state of auto loan rates from Bankrate.com's weekly national survey of large banks and thrifts conducted Aug. 25, 2010.
Auto loan rates were down slightly this week. The average rates for 60-month, new-car loans and 48-month, new-car loans each drifted down 1 basis point to 6.78 and 6.8 percent, respectively. Used-car rates, on the other hand were flat; the benchmark 36-month, used-car rate stayed put at 7.56 percent for the third week in a row.
Owners of older Jeep Grand Cherokees might want to keep an eye out for a recall notice in the months ahead. The National Highway Traffic Safety Administration is opening an investigation into whether fuel tanks in 3 million Cherokees from model years 1993 to 2004 are prone to fire in a crash, according to a report by Edmunds.com. While the investigation is just the first step in determining whether the NHTSA will issue a recall, federal data attribute 55 passenger deaths in Cherokees to fire.
To find updated auto rates in your area, visit Bankrate's auto rate table.
— Claes Bell
More From Bankrate