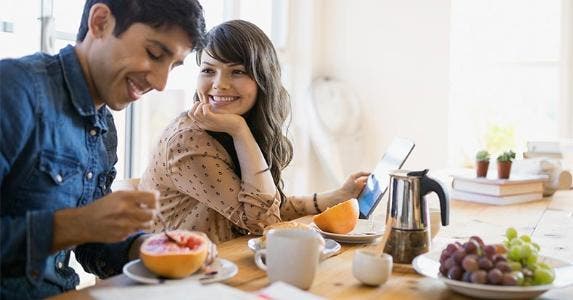 There's a funny thing going on with personal loan interest rates: Depending on where you look, they're moving in opposite directions.
That's why it remains important to shop around before settling on a particular lender, be it a bank, credit union or online firm. You have to do a bit of homework to find the best deal for you.
Here are 2 examples that illustrate what's happening:
One key lender — facing problems with defaulting loans that may be turning off investors — has raised rates for the 3rd time this year.
A big Wall Street bank has debuted a new online consumer lender that promises to hand out personal loans with no fees at super-competitive interest rates.
All in all, though, borrowers with solid credit should continue to find great deals in this competitive market, as long as they look at the right numbers when comparing offers. In this case, the annual percentage rate rules.
"When consumers go to evaluate the products, they need to look at the total cost of the loan," says Dan Matysik, vice president of personal loans for Discover. The APR will disclose whether there's an origination fee attached to the loan, for example.
RATE SEARCH: Find the lowest personal loan rates today. Let Bankrate show you how.
In Bankrate's national survey of interest rates from banks and thrifts for Oct. 19, 2016, the rate on personal loans remained at their low point of the year for the 8th consecutive week at 10.68%.
This week's average rate is down nearly three-quarters of a percentage point from its 2016 high. A year ago, interest on the average personal loan was 11.11%.
The country's biggest marketplace lender this week announced another rate increase on its loans. This increase — about 26 basis points on average — will primarily affect riskier borrowers. A basis point is one-hundredth of a percentage point.
In a note to investors, Lending Club Chief Investment Officer Siddhartha Jajodia also announced plans to cut off some borrowers with weak credit.
"The platform will no longer approve loans for certain sub-segments of borrowers who meet a combination of several risk factors, such as high revolving debt, multiple recently opened installment loans, and higher risk scores on our proprietary scorecard," Jajodia wrote.
Bob Ramsey, an analyst for research firm FBR Capital Markets, wrote this week in an investment note that the changes "may be a negative indicator for loan volume."
"The updated pricing is expected to cut out 1% of borrowers who would have been able to obtain a loan under the previous underwriting criteria (earlier change this year cut out 9% of potential borrowers)," Ramsey wrote.
CARD SEARCH: Consider a balance transfer credit card as another option.
Lending Club's interest rates are now between 5.32% APY and 30.99% APY, depending on creditworthiness. The company also charges an origination fee of between 1% and 6% of the loan.
Welcome a new competitor
Those numbers don't compare all that favorably with the newest lender, Marcus by Goldman Sachs, which opened shop just last week. It reportedly closed its first personal loan earlier this week.
Goldman Sachs' Marcus has no origination fees, no late fees, or any fees at all. Just interest. How will marketplace lenders compete???

— Sean Murray (@financeguy74) October 16, 2016
The online lender currently is offering loans only to consumers who receive an offer code in the mail. Even so, Fitch ratings this week called Marcus "a formidable competitor to existing players."
That's because the firm is using its bank deposits to fund the loans, which means it can offer competitive interest rates without any fees.
The company will offer loans of up to $30,000 with APRs ranging from 5.99% to 22.99%. Marcus is targeting consumers who want to consolidate credit card debt.
"For many who manage debt payments on high-interest rate credit cards, a straight-forward personal loan is a better solution," Harit Talwar, the head of Sachs' lending division, said in a statement. "Marcus offers an option for consumers who are searching for a simpler alternative to credit card borrowing, where rates can change and multiple fees can be charged."
What to look for in a personal loan
Of course, interest rates aren't the only thing to consider when shopping for a personal loan. Discover's Matysik also says consumers should consider whether the lender:
Has a track record you can trust.
Offers a streamlined application process.
Charges fees on top of the interest rate.
"I think the total cost of credit is key for the consumer here," he says.
RATE SEARCH: Open a new savings account today. Let Bankrate help.