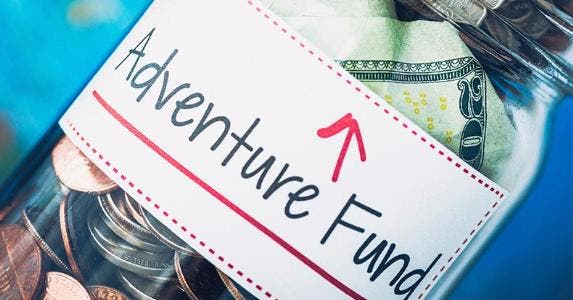 By her own admission, Nicole Roberts is "awful" at saving money. But even she managed to save for something fun.
"I don't have an emergency fund, and I should have," Roberts says. "And yet I was able to identify that I really wanted to go to Comic-Con, and if I was going to do it, I needed a certain amount of money."
The event pass to Comic-Con International — an entertainment and comic convention held annually in San Diego — hotel room and costume supplies cost $600. For Roberts, a 39-year-old fundraiser in Los Angeles, that sum represented a significant financial commitment.
Search for the best banks for savings accounts
How did Nicole Roberts spend her savings? Along with purchasing a ticket to the 2015 Comic-Con International, she also bought materials to make a costume, featured in this video. Roberts is in the white dress and the elaborate yellow hair.
Most saving advice focuses on putting money away for retirement or for a rainy day, but people also need to know that "it's OK to put some money aside for something fun," says Justin Krane, founder of Krane Financial Solutions, an investment management and financial planning firm in Calabasas, California.
"Not everyone is going to live forever, and you can't just save, save, save so you can live the life you want when you're 85," Krane says. "People want a sense of now. If you have a balanced (approach to saving), you can get it."
Separate savings
For help, Roberts turned to SmartyPig, one of a number of online services that help people save for a specific financial goal. The money you save through SmartyPig is held in a federally insured account at BBVA Compass.
"It worked really well for me because I didn't have to think about it," Roberts says. "It took the money straight from my bank account, and I was able to schedule it so it was timed with my paycheck. The money was never there for me to spend."
Experts say setting aside money in a separate account is a smart strategy.
"Transfer the money to a savings account," says Ronit Rogoszinski, wealth adviser at Arch Financial Group on New York's Long Island. "Don't leave it in your pocket and say, 'Hey, I can buy another pair of shoes with it.' Physically write a check or make a transfer because (otherwise) you would have spent it."
Out of reach
For some people, a separate account still isn't enough to motivate them to save, even when the goal is something fun.
"I have a savings account that's connected to my checking account with my same bank, and it's still, for me, too accessible," Roberts says. "I needed it to be really, really separate and a difficult process for me to pull the money out again if I wanted to get to it."
A mechanism like SmartyPig can make saving easier, says PJ Wallin, founder and lead adviser at Atlas Financial, a financial planning company in Richmond, Virginia.
"If it takes 1 extra hoop to get to it, that truly becomes our side savings," he says.
And if even that doesn't work, perhaps the goal isn't actually that important to the saver.
"If they aren't motivated, the fun doesn't mean enough," Krane says. "If it doesn't mean enough to you, you won't be motivated to do it."
New goals
Roberts not only attended Comic-Con, but also set up 2 more savings goals with SmartyPig: She wants to attend Comic-Con again next year and visit her sister in another state.
"It demonstrated to me that I was capable of doing it," Roberts says. "It was easy and seamless, and it gave me confidence and willingness to do it again."