Now that Fiat owns controlling interest in the new Chrysler, the obvious question is, "Which cars made by Fiat are going to be showing up in Chrysler showrooms in the near future?"
The answer: No one really knows — yet.
When the new Chrysler emerged from bankruptcy in early June 2009 it was owned by a partnership of Fiat S.p.A., the UAW, the Canadian and U.S. governments, and bondholders in the former Chrysler Corp.
Other than Fiat, the partnership is a mishmash of entities hoping to recover money owed to them. Each has representation on the new company's board of directors. And trying to get a quick decision from these groups and trying to get them to pull in the same direction will be like herding cats.
Fiat's 20 percent stake didn't cost it a penny initially. However, the deal has it bringing its small-car technology to Chrysler, while opening up to Chrysler a vastly larger global distribution network. It will also give Fiat entry to the U.S. market for its Fiat and Alfa Romeo brands. If successful in making Chrysler profitable again, Fiat S.p.A. could wind up increasing its ownership percentage or even owning Chrysler lock, stock and barrel.
Fiat and Chrysler are still fleshing out the future product lineup. Rumor and speculation abound on the topic with very little in the way of substantiated fact. What is known, however, is that Chrysler must soldier on in the short term with products it already has; the first Fiat-based product isn't scheduled to go on sale here until 2011. Eighteen months in a weak, but very competitive market could be a lifetime for Chrysler.
The current strategy has Fiat helping Chrysler develop its stable of small and midsize cars — an area where Chrysler has been historically weak. Although there has been plenty of speculation regarding exactly which of Fiat's cars would find their way into Chrysler Group U.S. showrooms, the most likely is the Fiat 500, according to Richard Gadeselli, a Fiat spokesman. It will be built at a Chrysler plant in North America and is scheduled to debut in 2011.
"Future Chrysler products will utilize Fiat platforms and powertrain solutions," Gadeselli says. "But the cars will be designed, built and sold as pure Chrysler products."
With the situation still murky at best, here's a look at the Fiat products that Chrysler dealerships could be marketing in the next two to five years (prices based on suggested retail in the United Kingdom):
500 — According to Automotive News, four versions of this uber-small retro-styled two-door eventually will be assembled and marketed in North America. Earmarked for our shores are the basic two-door hatchback, new convertible, station wagon and the Abarth-tuned hatchback. The 500 is a styling throwback to a highly popular original, the Cinquecento of the 1950s, but is larger than the original. It weighs about 2,050 pounds. Several engines power European versions but it's likely North America will initially get two or three of the gasoline engines that include the 100-horsepower 1.4-liter four. The 500 Abarth will arrive equipped with a 135-horsepower turbocharged version of the 1.4L. It gallops to 60 from a stop in less than eight seconds.
Base price: approximately $17,700.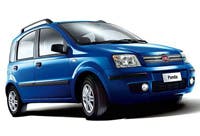 Fiat Panda
Panda — With a top speed of 93 miles per hour, this four-door hatchback measures a scant 139 inches long and weighs just 1,852 pounds. It generates its power from a 54-horsepower 1.1-liter four-cylinder mated to a five-speed manual transmission. (There is also a 99-horsepower model that retails for about $3,700 more.) It meanders to 60 mph from a standstill in about 15 seconds. Seating four, it comes standard with antilock brakes, tilt steering wheel, audio system with CD player and front airbags. A 4×4 Panda version may wind up in the Jeep camp.
Base price: approximately $11,500.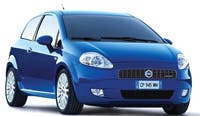 Grande Punto
Grande Punto 5-Door — Also sold as a two-door hatchback, the sleek-looking Grande Punto 5 Door measures 158.6 inches long and seats five. Weighing 2,436 pounds, it uses a 95-horsepower 1.4-liter four-cylinder engine to turn its front wheels. Automatic dual-zone climate control, cruise control, anti-lock brakes, leather-wrapped steering wheel with redundant audio controls and reverse parking sensors are all standard.
Base price: approximately $20,400.
The picture of Alfa Romeo products coming here is no more clear.
Bringing Alfa Romeo back to North America has been high on Fiat's wish list for a long time, but the projected costs of developing a U.S. distribution network frustrated those hopes. Now it has nearly 2,400 Chrysler Group dealerships, any of which theoretically could offer the Alfa-branded vehicles.
Alfa currently has nine models. Initially, as many as three models are likely to find their way to North America by 2011 in some form — including the compact MiTo and the mid-size 159. "Alfa Romeo brand will return to the U.S. with a range of products. Following this is the intention to manufacture Alfa Romeo models in the U.S. in an as yet undisclosed Chrysler plant," Gadeselli says.
The cost of retooling Chrysler plants to build the projected seven to 10 smaller Fiats, Fiat-based Chryslers and Alfas will be staggering — well into the hundreds of millions. Neither Chrysler nor Fiat has that kind of cash. When push comes to shove this downpour of planned new 2011 models may be reduced to a trickle.
Meanwhile, Chrysler has already given the ax to several models:
Dodge Aspen.
Dodge Durango.
Chrysler PT Cruiser convertible.
Chrysler Pacifica.
Other slow-selling products may also wind up on the chopping block, including:
Chrysler PT Cruiser.
Chrysler Sebring/Dodge Avenger.
Dodge Caliber/Jeep Compass.
Dodge Viper.
Dodge Nitro.
Jeep Commander.
Jeep Patriot.
Certain Chrysler bread-and-butter products are probably safe for the foreseeable future. As Chrysler Group's core products, they will remain despite current sales difficulties. They are:
Chrysler Town & Country.
Dodge Grand Caravan.
Dodge Ram.
Jeep Wrangler.
Jeep Grand Cherokee.