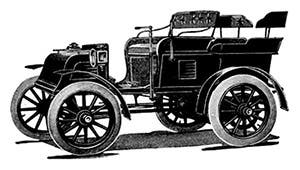 Don't let the minimalist design or ultralow emissions fool you. Electric vehicles may look every bit like cars of the future, but they've been around for years.
1800s
1830s

The birthplace of the electric vehicle is split between the U.K. and U.S. Robert Anderson of Scotland built an electric-powered carriage, while Thomas Davenport of Vermont invented an electrical car motor that operated on a track.
1897

The Pope Manufacturing Co. of Hartford, Conn., built around 500 electric cars over a two-year period. The first commercial electric vehicles enter the New York City taxi fleet.
2000s
2010

Numerous automakers roll out sleek new electric vehicles and hybrids. Nissan launched its all-electric Leaf in 2010. A year later, Autolib, a Paris-based electric car sharing service, started with a fleet of 3,000 vehicles.
2012

Chevrolet's Volt, a plug-in hybrid, outsells half the car models in the U.S. market.
Source: International Energy Agency, hybridCARS.com.